Iraq War Veterans Brew 'Jet Noise' and 'Pineapple Grenade' Beers
Associated Press | Updated: August 22, 2013 12:36 IST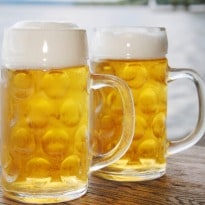 Two Iraq war veterans eager to slake the growing American thirst for craft beers are setting up a brewery about a mile from a Navy jet base in Virginia Beach. Their beers have words like 'jet noise' and 'pineapple grenade' in their names. And their motto strikes a military chord: "Brewing With the Freedom We Fought For."
Young Veterans Brewing Co. is set to open in September in military-heavy Hampton Roads. For brewery president Thomas Wilder and brewer Neil McCanon, the business was born of struggles the two co-founders endured after they returned to American soil in 2005 from their overseas assignments.

Young Veterans Brewing Co. is one of a growing number of craft breweries popping up in Virginia and the nation.