Join the Dark Side: A Black Burger?
Pragati Shukla , NDTV | Updated: September 12, 2014 11:18 IST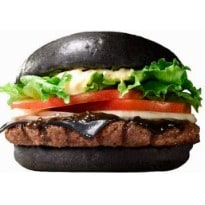 Burger King in Japan is heading down the goth way.

It's soon going to launch an all black burger, complete with black buns, black cheese and yes, black sauce. I can just imagine your contorted face as you read this and you're not alone. Reactions are pouring in with fans exclaiming "why?" and "gross" to "I can't wait to try this!"

The black buns and cheese are made using bamboo charcoal, the patties are sprinkled with black pepper and the sauce is made with garlic, onion and squid ink.

The 'Kuro' (meaning 'black') burgers are on sale in Japan and come in two varieties: Diamond and Pearl.

Black buns aren't something new though. Burger King had introduced them before, but this is the first time they're rolling out black cheese. In 2012, to promote the release of 'Star Wars: The Phantom Menace' in 3D, France based food chain 'Quick' launched the black bun 'Darth Vader Burger.' McDonald's China had released Black and White burgers in 2012 as well.
Come to think of it, ordering with a friend could become that much more fun now - "Hi, yes, I'm going to have a burger that's as black as my friend's soul."



Source: Facebook/Burger King Japan