Kerala Gets Ready for Onam
IANS , Thiruvananthapuram | Updated: August 27, 2012 10:09 IST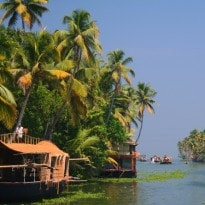 Onam, Kerala's famous harvest festival, will be celebrated this year from August 26.

Until August 31, when the festival ends, Keralites will push concerns over the deficient monsoon to the background and celebrate the annual visit of mythical King Mahabali.

"The beauty of this festival is that it is celebrated across religion, gender and age. I have noticed that over the years, levels of participation are actually rising. It is nice that traditional games are still played, not just in rural parts of the state but also in cities," said E. Draupadi, a retired teacher.

Onam falls in the month of Chingam, the first month of the Malayalam calendar. Thiruvonam, the most important day in the Onam calendar, falls August 29 this year.

Traditionally, Onam celebrations start on Atham day, 10 days before Thiruvonam.

Among the first signs of Onam is the large number of swings that can suddenly be spotted at many homes, especially in rural areas.

Incidentally, there are different sets of games for men and women organized by local clubs and resident associations. The women folk take part in the traditional Onam dance Kaikotti Kalli.

The men have archery contests and Talappanthukali (played with a ball) and there are also combat games called Kayyankali and Attakalam.

A colorful spread of flowers is arranged on the floor as part of Onam.

These days, many offices organize competitions around such decorations.

Onam is known for the lavish 25-dish lunch, served on a banana leaf. "One significant difference in the Onam cuisine is while the southern districts of the state serve only vegetarian lunch, in the northern districts, non-vegetarian dishes are also served," said Arun Abraham, a caterer in Kottayam.

His hands are full at this time of year. He has numerous orders for the Onam lunch.

Celebrations cannot be complete without a smashing sale of liquor. The state-owned Kerala State Beverages Corporation, the sole wholesalers, has stocked its outlets and godowns with more than adequate stock.

"Last year during Onam week, we had sales of close to Rs.300 crore and this time we expect the sales to go up by a minimum 25 percent," said an official.

Textile shops too will expect spurt in sales. It is common for Keralites to buy new pairs of clothes every Onam.

In recent years, Onam week has witnessed heavy rain. Deficient monsoon or not, rains won't be quite so welcome in Kerala during Onam.