Bollywood actor,
Kriti Sanon
, might be busy shooting for her upcoming film
Arjun Patiala
, but the Punjabi
kudi
made time to visit her home on
Navratri
this year. Sanon, who was shooting in Chandigarh recently, with her
Arjun Patiala
co-star, Varun Sharma, posted several pictures of her time at home, on her Instagram page. For the foodie Kriti, this was a very opportune time to be at home, as she got to enjoy the yummy delights that are prepared as a part of the
kanjak pujan
on the eighth day of the nine-day festival of
Navratri
.
Kriti posted a picture of some delicious-looking halwa and puri, that is typically served on Ashtami and we are drooling! Have a look: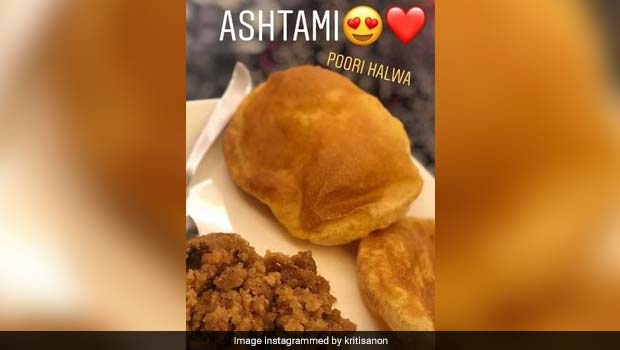 Doesn't that look absolutely lip-smacking? The mouth-watering combination of the halwa and puri is any North Indian foodie's favourite combination (after rajma chawal, of course!). Crispy hot puris (fluffed up Indian flatbreads made from wheat flour and deep fried till golden) go amazingly well with the popular Indian dessert halwa. The Ashtami halwa is prepared from suji, or semolina, and it is a scrumptious comfort food that is just too hard to resist.Also Read: This Halwa Paratha Is Tucked In The By Lanes Of Nizamuddin
This year, the Navratri was only eight days long as the Ashtami and Ram Navami dates coincided. Traditionally, the Kanya Puja is conducted on either of these two days. A lot many Hindu households conduct the Kanya Puja, or Kanjak, where nine pre-pubescent girls are invited to the house and fed the traditional Ashtami meal. An Ashtami meal includes spicy and flavourful kala chana served with piping hot puris and semolina halwa cooked in pure ghee and topped with raisins, and bits of pistachios and almonds.Also Read: Arjun Patiala Actors Kriti Sanon And Varun Sharma Had Authentic Punjabi Food At This Popular Dhaba!
The humble vegetarian meal is what fasting members of the family usually break their nine-day fast with. The Navratri fast is one where devotees of the Hindu Goddess Durga, exclude all sorts of food grains from their meals, during all nine days of the festival. Even root vegetables like onion and garlic are sometimes shunned during the fasting period.
Halwa and puri are sometimes enjoyed as a breakfast meal as well in some North Indian states. However, the Ashtami trio is pretty iconic, and this is why Kriti Sanon just couldn't resist but partake in the deliciousness of this festive meal!