Microwave Snacks: The Coronavirus outbreak has led to a nationwide lockdown. With everyone being locked inside the house, craving and snacking every other hour is normal. But preparing those snacks can be quite a task. Yet with certain cooking techniques and tools, making certain snacks has been simplified.


Microwave is one such kitchen tool that is super easy to use and extremely time-saving. And no, we don't mean just to re-heat the food. It can be of great use to whip-up something exciting and delicious when when hunger strikes, especially when working from home. So we've got you 3 stellar recipes that you can try cooking in a microwave. They are easy, quick and absolutely delicious!
3 Easy Microwave Snacks You Can Try At Home:
(Also Read: 13 Easy Microwave Recipes To Try At Home)
A Gujarati staple snack, dhokla is soft, fluffy and feather-light! Traditionally made with a fermented batter of gram flour (besan) and mild spices, dhoklas are great any time of the day. Here is a super quick and easy dhokla recipe that requires just about half an hour of total time. With a four-ingredient tadka on top, microwave dhokla comes with a mild punch of flour that you can pair with your favourite chutney.


Find the recipe here.
Yes, you can now savour your favourite paneer tikka at home in just a few minutes! Simply marinate the paneer cubes in aromatic spices and yogurt, arrange on a saucer like plate and leave in the microwave for about 10 minutes. Voila! Soft, succulent and juicy paneer tikkas are ready for you to nosh.


Find the recipe here.
This one is for all the chicken lovers! Tandoori chicken is a spicy, flavourful and succulent snack, which is quite synonymous to non-vegetarian north-Indian food. While 'tandoor' refers to a cylindrical clay or metal oven and 'tandoori' refers to anything that has been cooked in tandoor, you'll be surprised at how we can easily cook tandoori chicken in a microwave. It has marinated chicken pieces, laced in flavourful spices, covered and cooked to perfection in the microwave. Tandoori chicken is a mouth-watering snack recipe, perfect to relish with your family in the evenings!


Find the recipe here.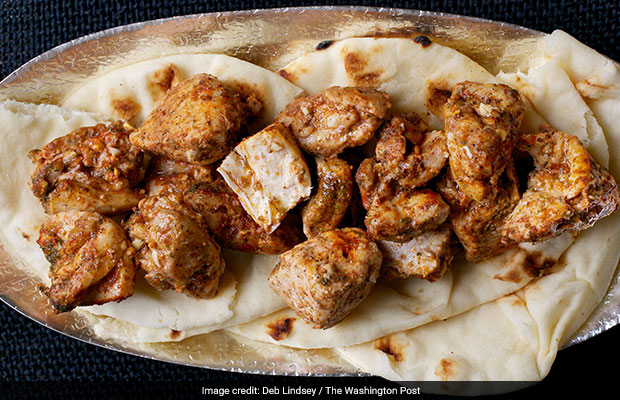 Do you know more such amazing snack recipes that you tried in a microwave? Let us know in the comments section below!
About Aanchal MathurAanchal doesn't share food. A cake in her vicinity is sure to disappear in a record time of 10 seconds. Besides loading up on sugar, she loves bingeing on FRIENDS with a plate of momos. Most likely to find her soulmate on a food app.