Story Progress
Back to home
Microwave Paneer Tikka Recipe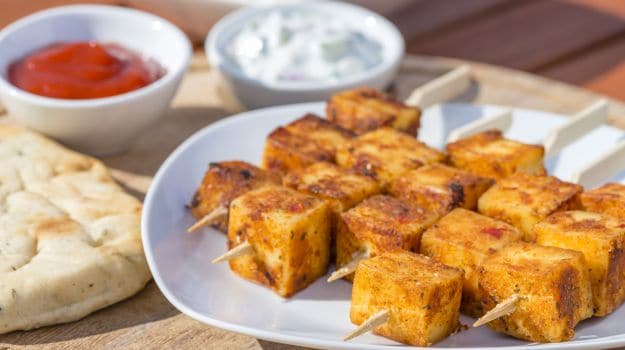 How to make Microwave Paneer Tikka
About Microwave Paneer Tikka Recipe: Crispy cottage cheese (paneer) pieces microwaved to make soft paneer tikkas infused with deep flavors. Paneer tikka is a perfect starter for any dinner party!

Ingredients of Microwave Paneer Tikka
1 Kg Paneer cubes (about 3 cm/1.5" each)
2 tsp Garlic paste
2 tsp Ginger paste
1 tsp Chaat masala
2 tsp Chilli powder
1 tsp Black pepper, powdered
1 tbsp Salt
A few drops of red color
3 tbsp Vinegar
Oil for brushing
1 Lemon (quartered)
1 Onion (sliced into rings for garnish)
2 tbsp Yogurt
1.
Mix the masalas in the yoghurt and leave for 20-30 minutes.
2.
Place a saucer like plate, greased in a bigger plate.
3.
Arrange the paneer pieces along the edge and cook, uncovered on HI for 4 minutes.
4.
Turn over, brush with a little oil and cook again on HI for 4 minutes and serve.