Make it whiskey barrel, Neat
Robert Simonson , The New York Times | Updated: November 13, 2013 15:09 IST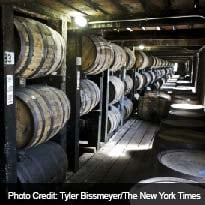 The old-fashioned served at Middle Branch, a stylish two-tier cocktail bar in Midtown Manhattan, is unlike any other old-fashioned in the world. It is not the recipe that makes it special, or the house-made cherry or the custom ice, or the way the bartender prepares the drink. It is the whiskey: Elijah Craig bourbon.

What's that, you say? You can buy Elijah Craig at your local liquor store for about $25? No, you can't; not this Elijah Craig.

Middle Branch's version is drawn from a barrel that the owners of the bar personally selected from Heaven Hill, the Kentucky distillery that makes the bourbon. They bought the entire barrel - 120 bottles' worth of whiskey - choosing the cask from among several samples sent to them. It had the right balance of char, smoke, caramel and vanilla they were looking for, said Lucinda Sterling, the bar's managing partner. Heaven Hill then bottled it, and now Middle Branch pours it.

This thirst for proprietary whiskey, a product that a bar can call its own, is spreading. Heaven Hill and other bourbon makers - including Buffalo Trace, Four Roses and Brown-Forman - are selling barrels to bars from San Francisco to Boston.

In the last year, Heaven Hill, a leading force in the proliferation of personalized whiskey, has sold full barrels to 109 bars in 27 states and three international markets. Forty-five of those businesses bought multiple barrels or were reordering.
"Over the past four or five years we've seen the on-premise sales just spike," said Larry Kass, the director of corporate communications at Heaven Hill.
The company has had what it calls a "barrel program" for a decade. But in its early days only big retailers like Binny's in Illinois and Beverages and More (BevMo) in California took advantage of it.
No more. While 98 percent of barrel buyers used to be stores, today about 25 percent of purchases are made by bars. The numbers are similar for Four Roses' barrel business.
For bar owners, the investment is considerable. Barrels cost anywhere from $5,000 to $15,000, depending on the whiskey and the distillery.

Some of the bars that indulge in this sort of luxury, like the Silver Dollar in Louisville, Ky., have a pronounced focus on whiskey. Others, like Bangers & Lace in Chicago, are beer destinations. Still others, like Trick Dog in San Francisco, Barrelhouse Flat and the Violet Hour in Chicago, and Middle Branch are haute cocktail bars.

But they all go in for a private barrel for roughly the same reasons.

"I like to have a unique expression," said Larry Rice, an owner of the Silver Dollar. "I'm looking for richer tastes. I don't want it to have a similar flavor profile from what's on the shelf. I want to buy it knowing there's nowhere else you can get it."

Kass, of Heaven Hill, said the bar owners "always want something different, something that others can't get."

Still, there are limits on what they can get. Heaven Hill offers only four of its whiskeys for sale as private barrels: Elijah Craig 12-year-old, Henry McKenna Single Barrel 10-year-old, and Evan Williams Single Barrel 10-year-old, all bourbons; and Bernheim, a wheat-based whiskey.
Some buyers ask that the chosen barrel be bottled at a higher proof, which some think lends the liquor extra flavor. But Heaven Hill, protective of its products, typically doesn't honor those requests.

"We won't stray too far from our brand attributes," Kass said.

Kris Comstock, the bourbon marketing director at Buffalo Trace, agreed. "You don't want it to be wildly different" from what customers are used to, he said.

Beyond that, the whiskey-makers aim to please.



A visit to Heaven Hill to pick out a barrel begins in the rick house, or barrel warehouse, near the visitors' center. The distillery offers the buyer a choice of three barrels. The casks are popped open and the deep amber liquor is fished out with a whiskey thief, a long cylindrical tool used to extract a small sampling of aging whiskey.

The customers are told everything about each whiskey: which rick house it came from, which floor of that rick house and its current proof. Tastes are compared and notes are taken. The whiskey is diluted to regular proof and tasted some more.

The Silver Dollar and Trick Dog recently went in on a barrel together. "There's lots of discussion," said Scott Baird, an owner of Trick Dog. "The first thing we learned was that everything smells great in the rick house. We took it out into the open air to get a better smell." They also took samples back to the Silver Dollar and tried them in cocktails.
If a trip to Kentucky is not feasible, the distiller will send samples by mail; in some cases, the conversation is conducted on Skype.

Once the barrel is selected, Heaven Hill bottles it for the bar, printing the bar's name on the label as proof of ownership. The bars also get the empty barrels, which some display.
Another dividend is bragging rights. Most proudly herald their "house barrel" on the menu, sometimes charging a little more for each glass.

The whiskeys are patron magnets. "They like to try it," Rice said. "In bourbon, people want a unique experience."

© 2013 New York Times News Service