The mason jar trend seems to have taken the food world by storm. From cocktails to salads, there's nothing that can't be served or packed in these good-looking glass jars. The internet is brimming with beautiful pictures of artfully stacked jars that can easily pack your favourite delight for a quick on-the-go meal. Assemble your all the ingredients in layers and carry your favourite salad, dessert, or even a pizza with you! Genius, isn't it? Here are eight creative ideas to pack your mason jar. Get going.
1. Instant Granola Jar
For a quick breakfast on-the-go, pack yourself a wholesome oatmeal jar. Layer the jar with oats, a pinch of salt and cinnamon. Then, add layers of your favourite fruits like cherries, diced mangoes and apples. Add some yogurt or coconut milk to your layered goodness and finally top with nut crushed nuts and raisins.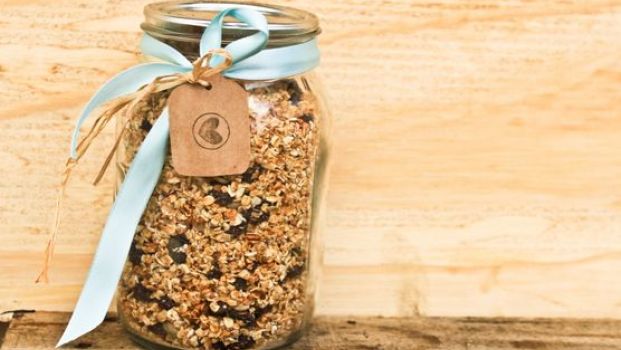 2. Salad Jars
The mason jar salad has become quite popular and we're not complaining. It's quite a trendy way to carry a delicious salad to work or if you don't have time for a sit down lunch. Here's a step by step guide on how to pack your greens for a make ahead lunch. It's important to add the dressing first, to ensure that the salad ingredients don't get soggy or limp. Then, add your go-to grain or a form of protein like quinoa. Finally, add nuts, seeds and raisins. Throw in the leafy greens at last, so if you empty the mason jar into a bowl, the greens make the salad bed. The internet is abuzz with unique ideas like the Cajun shrimp salad, Quinoia beet and vinaigrette salad or the Zucchini pasta salad. Experiment and explore.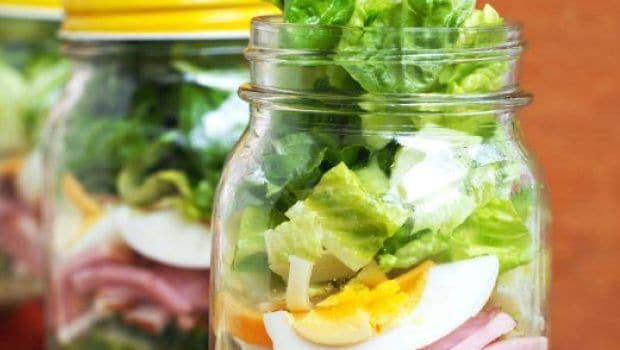 3. Burrito in a Jar
Make this quick burrito jar for a Mexican lunch. Layer your jar with quinoa (if you want to give it a healthy twist instead of corn tortillas), add some lettuce greens, spruce it up with spicy salsa and finally pour some Greek yogurt.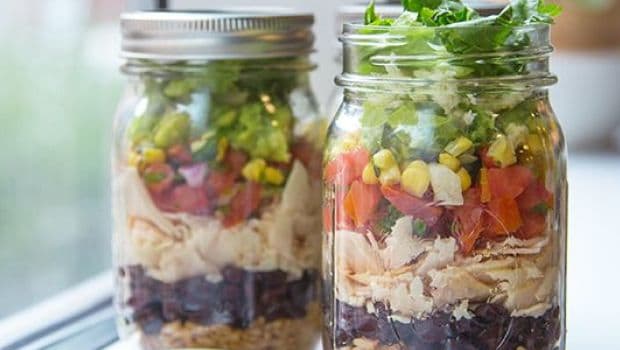 4. Deconstructed Sushi Jar
Sushi lovers, raise your hands! Deconstructed sushi jars are perfect to make your favourite dish portable for you. Just throw in some short grain brown rice, sushi vinegar, seaweed, shredded carrot, avocado, lime juice, ginger and a hint of wasabi and enjoy sushi on-the-go!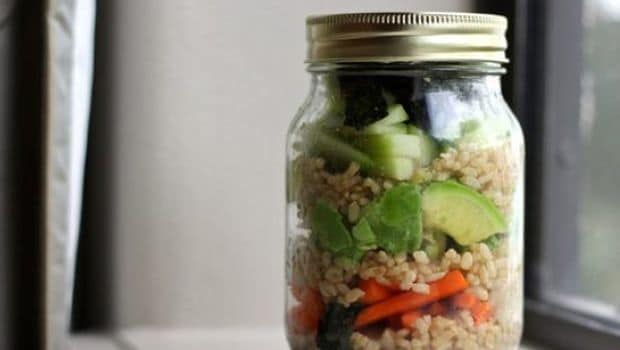 5. Pizza in a Jar
Pizza lovers will always find the ways to make sure that they aren't far from their love for too long. Here's a way to make your own pizza in a jar that you can carry anywhere with you. Add some dough to the bottom layer and bake it for 15-20 minutes. Later, top it with your favourite pizza ingredients such as marinara sauce, chicken pepperoni or throw in some veggies. Sprinkle some mozzarella or cheddar and bake again for 5 to 10 minutes or till the cheese melts. If you're serving this at home, the jar should be baked for the second time just before serving.
6. Lasagna in a Jar
Lasagna and mason jars are a match made in heaven. It the perfect dish to hold layers after layers of delicate lasagne sheets, tangy tomato sauce and oodles of cheese. Bake it for at least half an hour to 45 minutes and then, dig in!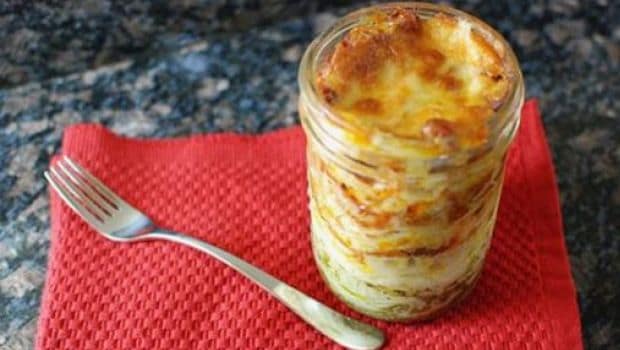 7. Chicken Pot Pie
Cut out the pie crust into quarters and cover the jar with it. Layer it with butter, onion, salt and pepper, chicken broth, shredded chicken and some vegetables if you like. Bake it for 15-20 Minutes (until the crust turns slightly brown) and there you have it a chicken pot pie ready to be relished - anytime, anywhere!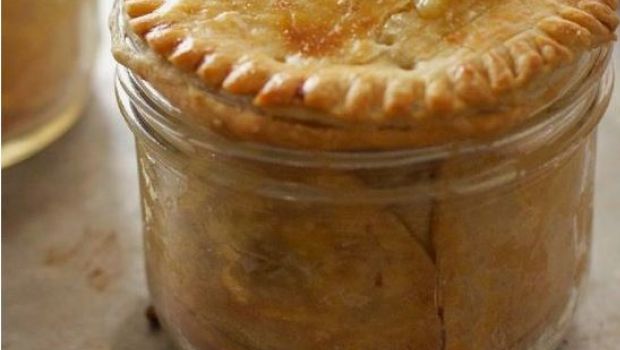 8. Barbeque Parfait
Now, you wouldn't have to wait for your Sunday supper to enjoy baked beans! Layer some beans, slaw, pork or chicken tossed in barbeque sauce. Top it up with pickle for garnish and you are good to go. You can even throw in some bread crumbs for that extra crunch.
About Sushmita SenguptaSharing a strong penchant for food, Sushmita loves all things good, cheesy and greasy. Her other favourite pastime activities other than discussing food includes, reading, watching movies and binge-watching TV shows.