The
ice cream
maker, the spiraliser, the
smoothie
maker - we've had them all. Now, the latest trend to shake up the food world is the low-key mason jar. Or specifically, a mason jar full of
salad
. The internet is awash with blog posts and
Instagram
pictures of these artfully arranged jars, giving a visual sneak peek into every enticing layer, texture and colour before you actually dig in. It may sound like a triumph of style over substance, but it's the perfect way to showcase a culinary masterpiece in such a portable
(and quite adorable)
manner. It's the perfect formula for a happy and healthy desk lunch, perhaps even a Sunday picnic. And if you're a fan of make ahead lunches or fed up of wilted vegetables and soggy crusts, it's time you hop on the
salad
-in-a-jar craze and make your coworkers jealous.
(Hint: It's all about the order).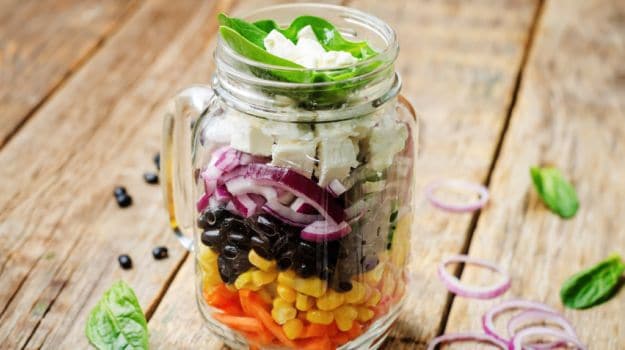 Here's a step-by-step guide to packing the perfect mason jar
salad
with a gorgeous mix of greens, high protein grains and nuts for that added crunch. A few tips:
1. It's important to add the dressing first, to ensure that the salad ingredients don't get soggy or limp.2. Then add your go-to grain or a protein, or anything that's big and chunky. 3. Finally add the nuts, raisins and cheese or everything else that you want to stay dry until just before you dig in.4. Throw in the leafy greens last, so if you empty the mason jar into a bowl, the greens make the salad bed.
(Genius!)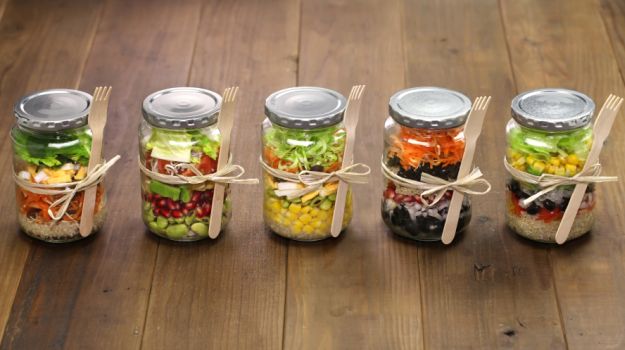 Mason jar salads are guaranteed to have you eating with your eyes first, so your desk lunch will no longer be a sad state of affairs. But we concur: it's what's on the inside that counts. Our three mason jar salad ideas that will help you turn lunch into a perfectly portable art form. Get ready to be inspired!
Zucchini Pasta Salad with Avocado Spinach Dressing
Zucchini noodles with a yoghurt, spinach and
avocado
dressing - what's not to like? It's a simple way to transport a vegetable-heavy, healthy and vibrant meal without spending too much time. All you have to do is pour the dressing into the bottom of the jar (a blend of ½ cup spinach, 2 tablespoons extra virgin oil, 2 tablespoons Greek yogurt, ½ avocado, salt and pepper). Then add ½ cup celery, ½ cup red bell pepper, ¼ feta cheese, ½ cup cherry tomatoes and a handful of olives. Top off with zucchini noodles (1 ½ cups) and voila! You can now toss the salad and dig in.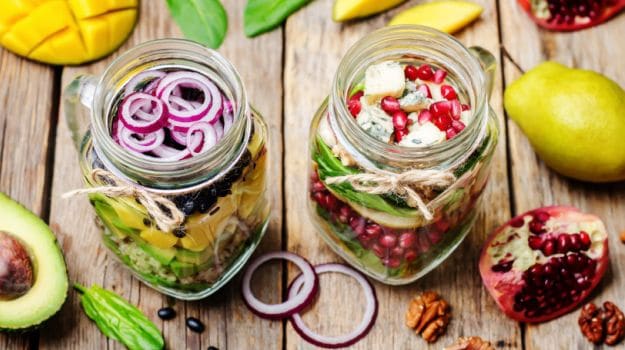 Walnut, Radish and Apple Salad
Combine 3 tbsp almond butter with 1 teaspoon rice wine vinegar, 1 tablespoon maple syrup, 2 teaspoon
sesame oil
and a dash of salt for the dressing and pour into the jar. Layer with ¼ apple (thinly sliced), 2-3 radishes, 1 stalk celery (diced) and ¼ cup walnuts.
Quinoa and Beet Vinaigrette Salad
Blend 1 roasted beetroot with orange juice (1 orange), 1 tablespoon coconut milk, ¼ cup avocado oil, lemon juice and pour into the jar. Then add 1 cup cooked quinoa, a few roasted
beets
and a handful of spinach leaves. Sprinkle some blue cheese or feta along with some
pecan nuts
(toasted) and add a splash of lemon juice and orange zest for extra tang.