Meet the Savory Side of Yoghurt
Lynne Curry , Zester Daily | Updated: April 07, 2016 14:19 IST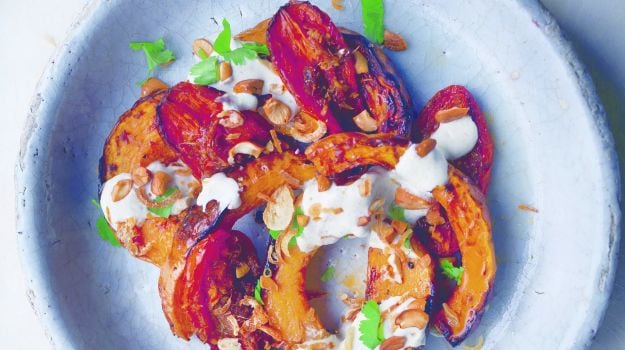 Image Credit: Reprinted with permission from NOPI: The Cookbook by Yotam Ottolenghi and Ramael Scully, copyright 2015. Published by Ten Speed Press, an imprint of Penguin Random House LLC. Food photography: Copyright 2015 Jonathan Lovekin. Location photography: Copyright 2015 Adam Hinton.

Yogurt is not for just breakfast or smoothies anymore. While the dairy cases in supermarkets across the nation populate with more brands, tubs and tubes of yogurt -- including novel flavors like sriricha-mango and carrot -- a parallel trend is making it a star ingredient in cooking. Beyond its compatibility with granola or fruit blends, yogurt is becoming a foundational ingredient in dips, soups and sauces for roasted vegetables and meats in American restaurants and home kitchens.

The recent adoration for cooking with yogurt is not the result of some new flavor or formulation. This is plain (old) yogurt, an ancient staple food in many cultures of the world. Yogurt's natural creaminess and acidity, coupled with its versatility, are feeding 21st-century culinary inspiration.

Why, over 70 years since yogurt's introduction to the United States, has its moment arrived now?

Groundbreaking Yogurt

There's no doubt that Americans have claimed the world's favorite cultured dairy product as our own. In fact, it's one of the fastest-growing food groups of all time. Although nearly all of the yogurt sold in the United States is sweetened, the natural tang no longer puts people off as it did when the Dannon company introduced its brand in 1942.
The sea change came with Greek yogurt. Since 2005, domestic sales have doubled each year, and today over half of all yogurt sold here is Greek-style. With more liquid whey strained, this thicker, creamier product won consumers over, despite costing nearly twice as much. Yogurt's alluring halo as a low-fat, high-protein, calcium-rich health product with the benefit of probiotics has made it the go-to breakfast choice and snack alternative.

At the same time, the DIY culture has inspired a renaissance in age-old cooking traditions, including food preservation and fermentation. Since yogurt is the product of fermenting milk with bacteria cultures that preserve and thicken, it has helped inspire the pickle-, sauerkraut- and jam-making crowd and has kicked off an online wave of homemade yogurt machines, how-to recipes and Pinterest posts.

Yogurt Infatuation

Long before yogurt became the one of hottest-selling foods ever, I encountered the concept of cooking with yogurt in two landmark vegetarian cookbooks, "The Moosewood Cookbook" and Deborah Madison's "Greens." Drawing on world cuisines, both featured soups with yogurt, yogurt sauce and raita, the Indian side dish often made with cucumber or other vegetables.

"Yogurt isn't new. Not even a little," writes Cheryl Sternman Rule in her 2015 cookbook "Yogurt Culture." In many cultures throughout the world, yogurt is more than a healthful substitute for mayonnaise and sour cream but "is enjoyed globally in countless incarnations and preparations, both savory and sweet, across every meal."

While it is common in Turkey to eat cucumbers and tomatoes with yogurt, for example, it's only recently that such savory notions have enjoyed broad appeal here. It took a slow shift toward vegetarianism (even among meat eaters); world cuisines, especially those of India and the Middle East; and wholesome cooking to win this ancient staple newfound status. It is also due, in no small part, to the singular influence of an Israeli-born, London-based chef named Yotam Ottolenghi.

The Ottolenghi Effect

With five cookbooks published in the past four years, Ottolenghi is wildly popular among professional and home cooks alike. His influence on American cooking is so widespread it is impossible not to encounter his mark in food magazines and popular blogs. Several of his recipes, including roasted butternut squash drizzled with yogurt, have become iconic.

Pairing yogurt with meats and fish, grains and legumes, herbs and spices, vegetables from eggplant to zucchini and even eggs, Ottolenghi has helped to transform our basic conception of the ingredient. In "NOPI: The Cookbook," his most recent release based on his London restaurant, Ottolenghi again translates the idiom with another dozen yogurt-centric recipes using beets, chickpeas, lamb meatballs and more.

In falling so hard for its nutritional values, we've finally come to recognize yogurt's vast culinary assets.

Yogurt's Bounty

"Yogurt Culture" is one of two cookbooks devoted to the subject of cooking with yogurt released last year. Amid recipes for smoothies and fro-yo, the bulk of the book explores yogurt's savory side. Poring over appetizer, lunch and dinner recipes, I discovered yogurt in marinara sauce for pasta, tangy mashed potatoes and a more stable whipped cream. Under the book's spell, I served Rule's yogurt dip of blood orange, Kalamata olive and red onion with pita breads when a friend came over for a glass of wine. A first.

"Yogurt: Sweet and Savory Recipes for Breakfast, Lunch, and Dinner," by Janet Fletcher (Ten Speed Press) is akin, presenting a globally inspired collection of yogurt-centered recipes. Salted yogurt creates a bed for a farro and vegetable salad; it is a marinade for chicken and a topping on pizza. No fan of fusion, Fletcher nonetheless blends boundaries via an irresistible cumin-spiced raita with red onion to accompany grilled steak or lamb burgers. That's a new one for cookout season.

Together, these cookbooks expand our understanding of plain yogurt in all its current forms, from organic and grass-fed to Australian (whole milk, unstrained) and Icelandic (even thicker than Greek) to homemade. Grounded in its history, they inspire some serious and fun exploration through cooking.

"As a cook, I love where yogurt has taken me," writes Fletcher. I heartily agree. From here on out, yogurt -- spiced, herbed, smoked and, yes, even sweetened (lightly, with fresh fruits and preserves) -- promises to be anything but plain.

Cheryl Sternman Rule's Blood Orange, Kalamata and Red Onion Dip

Note: Excerpted from "Yogurt Culture" copyright 2015 by Cheryl Sternman Rule. Reproduced by permission of Houghton Mifflin Harcourt. All rights reserved.

Prep time: Approximately 10 minutes
Cooking time: None
Total time: Approximately 10 minutes
Yield: Serves 2

Ingredients:

3/4 cup plain whole-milk Greek yogurt or labneh, homemade or store-bought
Kosher salt
1 blood orange (or Valencia, Cara Car, or navel orange if blood oranges are unavailable)
1/4 cup pitted kalamata olives, drained and minced
1 tablespoon minced red onion
2 teaspoons extra virgin olive oil
Freshly ground pepper
1/8 teaspoon sumac (optional)
Toasted whole-wheat pita triangles, for serving

Directions:

1. If using yogurt, season it with a good pinch of salt. (Don't salt the labneh.) Scrape the yogurt into a shallow bowl and smooth it with the back of a spoon to create a wide indentation. Using a sharp knife, cut away the peel and white pith from the orange and dice the flesh.

2. Scatter the orange pieces over the yogurt. Sprinkle the olives and onion on top. Drizzle with the oil in a thin stream. Season lightly with salt and more aggressively with pepper. Dust with the sumac, if using. Serve immediately with the toasted pita triangles.

Grilled Red-Onion Raita for Hanger Steak

Note: Reprinted with permission from "Yogurt," by Janet Fletcher, copyright 2015, published by Ten Speed Press, an imprint of Penguin Random House LLC.

Prep time: Approximately 20 minutes
Cooking time: Approximately 25 minutes
Total time: Approximately 45 minutes
Yield: Serves 4

Ingredients:

1 large red onion (10-12 ounces)
Vegetable oil
Kosher or sea salt and freshly ground black pepper
1 cup plain whole-milk yogurt
1 clove garlic, grated or finely minced
1 tablespoon finely minced cilantro or 1 1 ⁄ 2 teaspoons finely minced fresh mint
1 ⁄ 4 teaspoon toasted and ground cumin seeds
1 ⁄ 2 teaspoon mustard seeds

Directions:

1. Prepare a moderate charcoal fire in the center of your grill, leaving the outer rim devoid of coals so you can grill the red onions over indirect heat. Alternatively, preheat a gas grill to medium, leaving one burner unlit for indirect grilling.

2. Peel the onion and slice neatly into 1/2-inch-thick rounds. Carefully thread a thin bamboo skewer through each slice to hold the rings together. Brush the slices with oil on each side, and season with salt and pepper on each side. Grill over indirect heat -- not directly over the coals or gas flame -- turning once, until the onions are soft and slightly charred, about 25 minutes. Do not rush them or they will blacken before they are fully cooked. Transfer to a cutting board and pull out the skewers. If the outer ring of the onion slices is dry and papery, discard it. Chop the remainder of the onion coarsely.

3. In a bowl, whisk together the yogurt, garlic, cilantro or mint and cumin. In a small skillet or butter warmer, warm 2 teaspoons vegetable oil over medium heat. Have the skillet lid handy. When the oil is hot, add the mustard seeds. Protecting your face with the lid, cook until the mustard seeds pop and become fragrant, 1 minute or less. Pour the hot oil and mustard seeds over the yogurt and stir in. Fold in the grilled onion. Season the raita with salt.

Copyright Lynne Curry via Zester Daily and Reuters Media Express

(This story has not been edited by NDTV staff and is auto-generated from a syndicated feed.)