Bollywood actor
Shahid Kapoor
's wife Mira Rajput is always making headlines either for sassy remarks on something or for her impeccable sartorial sense. The Delhi beauty makes news every time she steps out, and the shutterbugs just can't get enough of her, especially when she has her adorable munchkin daughter Misha in tow. Recently, the handsome couples appeared on a popular English Bollywood talk show and gave their fans a couple of hundred reasons to fall in love with them all over again. The chemistry was unmissable as the couple answered questions candidly. Mira also has quite a presence on the social media, especially on Instagram.
With a whopping 664 thousand followers, it's safe to say that the girl's 'Insta game' is pretty strong. Mira regularly posts pictures and snapshots of laidback days, playing around with Misha. However, the beauty is seemingly kick-starting the Easter long weekend on a healthy note. She posted pictures of some vegan grub being prepared yesterday and everything looked healthy and tasty. Have a look!
Also Read: 10 Best Vegan Recipes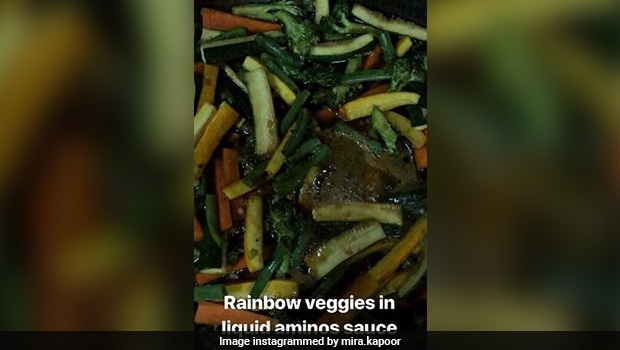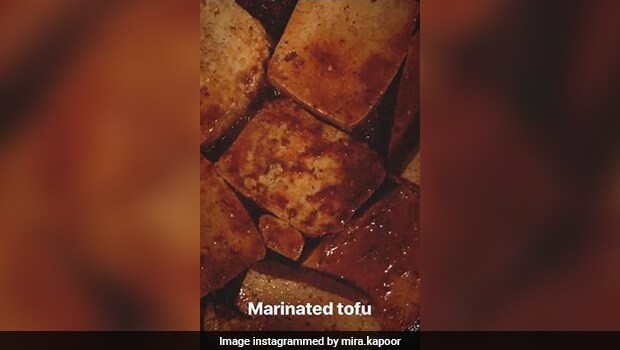 Nutritionists and diet experts often advise their clients to 'eat the rainbow' for a healthy body and an alert mind. What it actually means to eat a rainbow is to include a variety of fruits and vegetables in your diet. A diet full of 'rainbow foods' has all the essential nutrients, which are important for your body to function properly. Such a diet can also reduce the chances of diseases and deficiencies.Also Read: Huma Qureshi's Vegan Pick Is An Aubergine Wrap: 3 Best Ways To Enjoy This King Of Vegetables
Mira chose to cook her vegetables in aminos sauce, which is a healthier gluten-free alternative to the regular soy sauce. Aminos sauces are very popular with strict vegetarians and vegans, who are watching their weight. The sauce is basically liquid amino acids, which are basically the building blocks for proteins. Mira's pick or protein - tofu - is also extremely healthy. The soybean food, apart from having all eight amino acids, is also a rich source of calcium and iron, as well as minerals like manganese, selenium and phosphorous.
Looks like Mira is getting her protein load on in full force. No wonder the mother of one is in such a great shape!