Gangs of Wasseypur
actor Huma Qureshi has been in the news lately for her role in Tamil movie 'Kaala,' which also stars Rajnikanth. Qureshi is on cloud nine nowadays, as she is making her debut in Tamil cinema, opposite one of the biggest movie stars that Asia has produced. The diva, who has always been known to speak her mind on issues that she sees relevant, has a huge following on Instagram and Twitter. She is very active on social media and regularly updates her followers about her life.Recently, she announced on Instagram that she will be going on a strictly-
vegan diet
for some time. She posted the snapshot of a vegan
aubergine
wrap on her Instagram stories and honestly, it looks yummy! Have a look:(Also Read:
How to Make Brinjal Fry: Eastern India's Popular Vegetarian Dish
)
Aubergines, also known as eggplants or brinjals, are sometimes referred as the king of vegetables. Although, the bright purple veggie is technically a fruit and a close relative of
tomato
, but is used as a vegetable and is extremely beneficial for your health. Besides being extremely rich in dietary fibre (and hence, promoting diet suppression and
weight loss
), aubergines also have vitamins B1, vitamin B6 and potassium. They contain a potent antioxidant called nasunin, which also helps in moving excess
iron
out of the body. What's more? They're extremely versatile too!Brinjals are widely used in Indian cuisine, with the most popular dish being the
baingan ka bhartha
. But, if you're not a fan of the
bhartha
, you may want to try any of these three ways of eating brinjals:
1. Stuffed Brinjals
This is one of the easiest and most yummy ways to enjoy aubergines. All you have to do is cut the veggie length-wise, scoop out the flesh and fry it with
onions
and tomatoes. Add seasonings of your choice to the cooked aubergine flesh and set it back in the shell. Bake the stuffed shells and voila! Your stuffed aubergine is ready.(Also Read:
5 Amazing Health Benefits of Eggplant You May Have Not Heard Before
)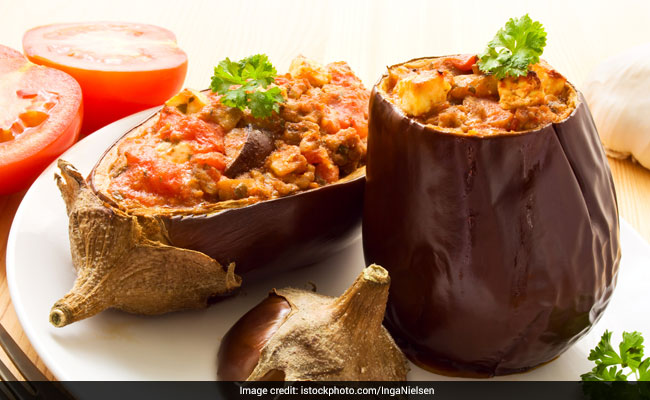 2. Aubergine Dip
Another amazingly easy way to enjoy brinjal is to make a dip out of it. All you have to do is to take the flesh of a roasted aubergine, fry it with some onion, tomato puree; add seasonings to it and finally add
curd
to it. This dip can be enjoyed with cucumber sticks, sweet potato fries or salad leaves, the choice is yours!
3. Baked Aubergine Wrap
One of the best ways to load up on all the dietary fibre of the brinjal is to cut rounds of it and bake them. Layer your tahini or roti wrap with some tahini sauce, sandwich spread or
mayonnaise
, chopped lettuce and parsley, baby tomatoes, and seasonings of your choice.
It seems like the last one is Huma's personal favourite, when it comes to aubergine dishes. It is pertinent here to mention that Huma Qureshi had also shared a snapshot of a potassium-rich
banana
, saying that her nutritionist had stressed on the importance of loading up on the nutrient.Aubergines are rich in potassium too, and it's a nutrient that is vital for those of you looking to lose weight in a healthy way, as it enhance muscle strength and metabolism and controls blood pressure. Hope you all are taking notes?