The massive wet spells during monsoons instantly foster unusual cravings for junk food. While it's alright to occasionally gorge on a plate of fried snacks with a hot cup of tea, we should also make sure to consume healthy foods that have the ability to protect us from the impending bacterial infections that run rampant during this season. Lemon is known to be a highly effective food in dealing with common infections. When we consume lemon, we always squeeze out its juice and discard its rind without realising that we lob off an important part of the citrus fruit. Lemon peel is as nutritious as its pulp; it's just that we all are not really aware of the fact. Lemon peel with its bioactive compounds is an excellent food to consume for overall wellness, especially during monsoons.


(Also Read: 10 Amazing Lemon Benefits)
Still not convinced? Here are more reasons to not trash out the lemon peel just yet:
1. High Antioxidant Value
Lemon peel packs a high amount of flavonoid antioxidants like D-limonene and vitamin C that promote immune health. They also kill harmful compounds ingested through food and water.
2. Fights Bacteria
Lemon peel possesses antimicrobial and antifungal characteristics that keep a check on antibiotic-resistant bacteria and also drug-resistant fungus that may give birth to skin infections. Lemon peel contains antibacterial properties that fight free radicals and abate cellular damage.
3. Eases Digestion
During the season of monsoon, our digestion system tends to weaken. Lemon peel contains a particular kind of fibre called pectin that helps in easy digestion of food and clears out intestinal flux. The high fibre content also helps in losing excessive weight by supporting smooth breakdown of food. Pectin may also work to lower down cholesterol level and keep the heart healthy.
4. Strengthens Bones
Due to a reasonable amount of calcium and potassium, lemon peel also keeps your muscles and bones strong.


(Also Read: Exciting Ways To Add Lemon Peel In Your Meals)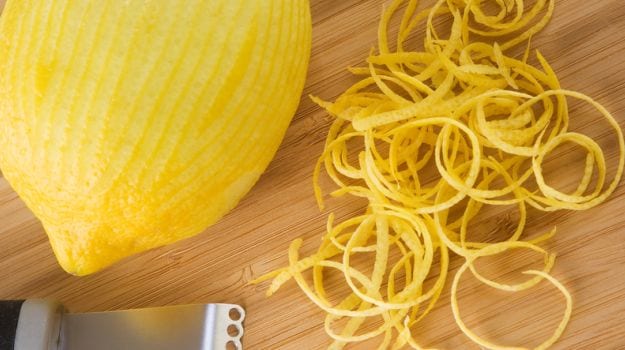 The benefits of consuming lemon peel are many. But, many people find its sharp acid flavour appalling. It may be difficult to eat it as is, but there are many alternate ways of including it in our monsoon diet.
Lemon rind can be powdered and sprinkled on salads and soups.
It can be coated with sugar, honey or any fruit syrup and be included in appetisers or desserts.
Drop raw peel in tea or cocktail to add in a tinge of freshness.

The best way to avail the benefits of both lemon and lemon peel is to use the lemon juice to make your regular lemonade and add in the peels to the drink and let it seep for some time. Drink a glass of this lemon drink every day and tread your way through this rainy season in good health.

About Neha GroverLove for reading roused her writing instincts. Neha is guilty of having a deep-set fixation with anything caffeinated. When she is not pouring out her nest of thoughts onto the screen, you can see her reading while sipping on coffee.