A healthier alternative to traditional white rice, brown rice has taken the world by storm. It may look like a typical grain of rice, but its nutrition level is anything but simple. Although both white and brown rice have equal number of calories and carbohydrates, that is where the similarity ends. When you think of rice, your mind straightaway goes to carbohydrates and maybe a little bit of protein, but brown rice is a lot more nutritious in every other sense. Being a whole grain, one key factor that separates brown rice from white rice is that it contains all part of the grain - from bran to germ and, of course, the carb-loaded endosperm. This is a huge plus for brown rice since white rice comes with fibrous bran and nutritious germ removed.


Brown rice for weight loss and health:


Fitness fiends swear by brown rice and for good reason. A study at Tufts University in Massachusetts approved that the swapping of white rice with its brown equivalent speeds up the process of weight loss. This was due to the consumption of whole grains that leads to the development of faster metabolism and burns more calories. Dr Phil Karl, who led the study emphasised the consumption of whole grains to decrease the risk of chronic diseases. Brown rice is even said to have a modest effect on your immunity by producing more T-cells. It helps in digestion by producing more of the beneficial gut bacteria that aids in proper digestion. Apart from strengthening our digestive health and weight management, brown rice aids in maintaining bone and cardiovascular health as well as reduces cholesterol and slows down the release of sugar.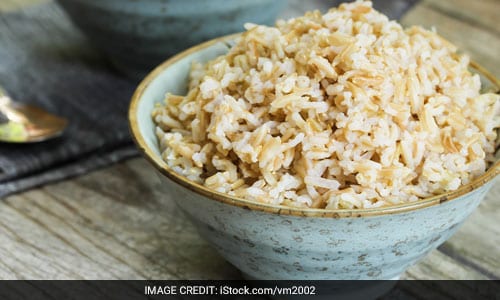 Brown Rice has a lot of health benefits
(Also Read: Brown Rice Can Speed Up Weight Loss Just Like 30 Minutes of Brisk Walk)


Mushroom Brown Rice Recipe:


One of the easiest ways to consume brown rice is by whipping up some delicious mushroom brown rice. Mushrooms and brown rice are both high in fibre and proteins and together make for a dynamic combo. Start off by washing the brown rice and setting it aside. In a pan, add a little bit of olive oil and sauté some mushrooms, onions and capsicum. Then goes in your pre-washed brown rice and two cups of water along with some salt and pepper as per your taste. Let it cook for 15 minutes after you will have your mushroom brown rice ready in no time.


Click here for the full recipe of Mushroom Brown Rice.


Brown rice takes a little longer to cook than your average white rice, it even has a chewier nutty taste that may not be everyone's cup of tea. There is no doubt that the health benefits of brown rice far outweigh that of white rice, but this in no way means that traditional white rice does not have its own benefits. Slow changes in your diet may be the key if you wish to switch your rice consumption from white to brown.