It's sweltering hot outside, you're fasting, pressed for time and battling untimely hunger pangs! Don't worry, we've got the ultimate recipe for you to fight those mid-meals hunger attacks and make through your fasting ritual with ease. Fasting doesn't mean that you give up on your need for good and tasty food. Even though your pantry is devoid of most food items during Navratri, there is no actual dearth of dishes and drinks that you make. All you need is a dash of creativity blended with smart food choices.
"Milk is a meal in itself. One of the best ways to curb hunger pangs is to quickly make a milkshake using your favourite fruits, nuts and get an instant boost of energy. Ensure that at least one meal of your day is milk. It could be a rich shake, a wholesome smoothie or anything that you like." says Nutritionist Anshul Jaibharat.
"A milkshake is the best way to up your energy levels and give your body a nutritious fix. Since oats are not allowed during fasting, you can blend together fruits and nuts of your choice with milk or yogurt. Milk works like a wholesome meal, while the addition of fruits and nuts supply essential minerals, vitamins, fibre and antioxidants to the body," says Dr. Rupali Datta, Clinical Nutritionist. (Also read: Why Fasting is a Good Way to Detox)
So, say good-bye to those hunger-attacks with this speedy and easy recipe. Here's a refreshing shake that you can make in minutes whenever hunger strikes. Dunk. Blend. Slurp!
Melon and Kiwi Fruit Shake Recipe
1. Combine 1 chopped kiwi, 2-3 slices of papaya, 2 slices of melon, few grapes, 1 sliced plum, a glass of milk, 5 almonds and 1 tsp honey.
2. Add all ingredients to the blender and blend well.
3. Serve chilled.
4. Add any fruits or nuts of your choice. You can try almonds, pumpkin seeds, melon seeds or walnuts.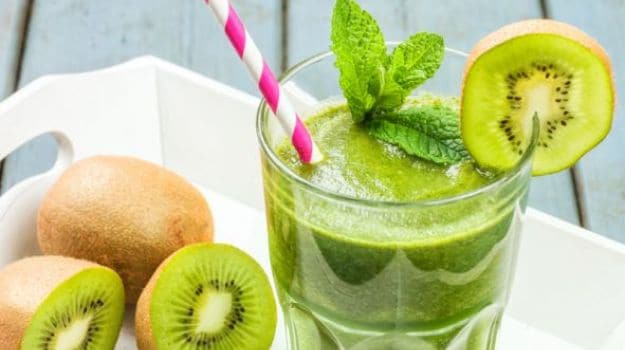 You may also add any fruits or nuts of your choice
There are many other ways to keep yourself nutritionally full. Yogurt can be used to make a range of raitas. Whatever you may choose to add to your diet, always pick light and cooling foods that will also keep you hydrated.
Happy Navratri, Happy Fasting!