New Year's celebrations may be loud and ostentatious or they may be simple and quite, depending on what the occasion means for different people. However, there are certain traditions that people still abide by and follow on New Year's Eve to ring in the new beginning and a lot of these traditions revolve around food. Most of these New Year traditions are based on the belief that what we do on the last day of the year will affect our good fortunes and happiness in the coming year. This belief is true for food traditions as well- what you eat on New Year's Eve 2018 may bring luck in 2019.


Whether this belief is true or not, millions of people around the world still follow these traditions with the hope that the New Year will be a happy one for them. There are certain foods that are considered lucky when consumed on New Year's Eve.


Also Read: New Year 2019: Amazing New Year Celebrations In Delhi, Mumbai And Bangalore
Here are some of these foods that are said to bring luck in the New Year, when consumed on the last evening of the year:
1. Lentils
They may appear to be quite 'un-festive' but lentils are eaten in Italy on New Year's Eve in a dish called Cotechini Con Lenticchie. The dish has two main ingredients- lentils and cotechino sausages. The lentils in the dish are said to signify financial prosperity as they are round like coins and also become plump when soaked in water. The same logic also applies to black-eyed peas, which are consumed in some parts of America, in a customary New Year's dish called Hoppin' John.


Also Read: 6 Delicious New Year Recipes That Are Sure To Impress
2. Vasilopita- Cake or Bread With Coins
In Greece, vasilopita is a traditional New Year's Eve cake or bread, which is baked with a coin or a similar trinket hidden in it. It is believed that whoever gets the piece with the hidden coin in it is going to have good luck in the New Year. The ritual involves families cutting the cake or the bread in order to welcome good fortune into the house.
3. Pickled Herring Fish
In some European countries, eating pickled herring- a type of fish- is customary, as the clock strikes 12 midnight on New Year's Eve. The fish are considered to be harbingers of abundance or bounty, as they lay many eggs at one time. The scales of the fish are silver, symbolising good fortune in the New Year.


Also Read: 10 Perfect New Year's Evening Foods That Don't Require A Fork And Knife
4. Grapes
In some cultures, including some European and American countries, people eat 12 grapes on New Year's Eve, in order to wish for prosperity and luck in each month of the New Year. The grapes are to be eaten before the clock strikes 12 on New Year's Eve. The tradition is woven into the culture of the Spanish- they dare not poison or tempt their fate in the coming year, by skipping the customary 12 grapes before midnight on the last day of the current year.


Also Read: How To Get Rid Of A Hangover After New Year Party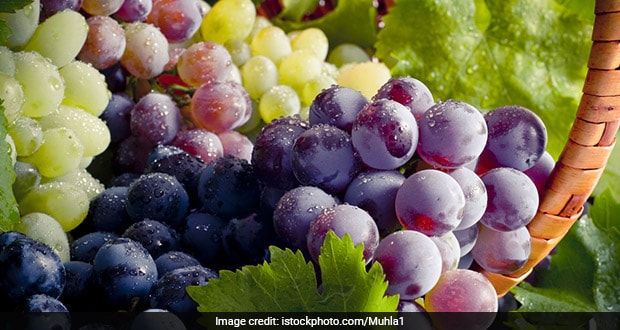 Happy New Year 2019: 12 grapes- one for each month- are eaten on New Year's eve
5. Noodles
Noodles are a symbol of longevity, due to their long shape and that is why the Chinese and Japanese usually eat long noodles on New Year's Eve. The custom involves people slurping on the long noodles without cutting or breaking them. Once the noodle is put into the mouth, it has to be consumed from head to tail without chewing or cutting, in order to bring luck, happiness and long life in the New Year. Some more foods that are considered lucky for New Year's in China are fish, dumplings, spring rolls, etc.
6. Pork
In Cuba, the pig is said to symbolise growth and betterment and it is customary to consume bacon and pork around New Year's. Families also eat cookies and baked goods in the shape of the animal.
7. Fruits
Golden and yellow orange fruits like oranges and tangerines are also said to symbolise financial prosperity and are hence, consumed around New Year's in a number of countries and cultures, including Chinese. A Greek custom involves smashing a pomegranate on New Year's Eve, in order to bring prosperity in the New Year. More the seeds in the fruit, the better it is. Some people also eat apples around New Year's, as they symbolise love and fertility.
In India, various cultures and regions celebrate New Year's with various festivals that may not coincide with the Gregorian calendar, which is most widely followed. Food is central to all these celebrations and a variety of dishes are prepared during these festivals.
Happy New Year 2019!