There's nothing quite like a splendid Navroz meal. It all starts at breakfast when plates of sweet sev (vermicelli) are served at breakfast together with sweet dahi. The home is decorated with colourful chawk patterns (rangoli) and torans (flower garlands) swing from the door. Iranian Zoroastrians also spread a thanksgiving table with seven items to represent prosperity and joy in the New Year. The whole family then dresses up in their Sunday best and visits the fire temple.Also Read: Try These Delicious 11 Best Parsi Recipes At HomeBoxes of mawa ni boi (mawa sweetmeat moulded into a fish) from Parsi Dairy Farm are sent around to the neighbour's houses. For Parsis, the fish is a symbol of good luck and prosperity - it is transformed into mithai, used in the chawk decorations that adorn the threshold of our homes and crafted into little silver creatures that sit in the ses (ceremonial tray). Many Parsis also send around brimming plates of sev or rawa to the neighbours. No matter what happens, rawa, sev and the sweet dahi are always served on auspicious days like Navroz - it is perhaps a legacy of our Irani roots.
Also Read:The Parsi Trail: Top 7 Parsi Restaurants In Mumbai
At lunch, the traditional meal is the Dhan Dar Patio (a simple yellow
dal
served with a spicy seafood pickle), followed by a
ravo
(a milk-based dessert) for
mitthoo mohnu
(to sweeten the mouth). In the evenings, everyone goes to a comic Parsi
naatak
(play). Nowadays, many restaurants offer Navroz specials at lunch and dinner but when I was a little girl, after the
naatak
, all the relatives would crowd into our house for a hearty meal of Ulao Dar (
dal
), and sing old Parsi songs. The most popular one was (and still is)
Chhaiye Hume Zarthosti
, which translates to 'We are Zoroastrians'.
Also Read: The Sunny Side: 5 Delicious Parsi Recipes to Making Eggs

Here are 5 traditional Parsi recipes which are made during the Parsi New Year:

1. Mori Dar
This moreish dal is my favourite Parsi dish, usually cooked for lunch on auspicious days like Navroz. It's ridiculously simple to make at home but if you loathe stepping into the kitchen, Mumbai's Military Café serves it on festive days with a cracking patio (spicy seafood pickle). But the best Mori Dar I have tasted outside of my mum's kitchen is the one at Rustom's in Delhi - remember to order it with the prawn patio, the way it's meant to be eaten. Finish the meal with a plate of ravo.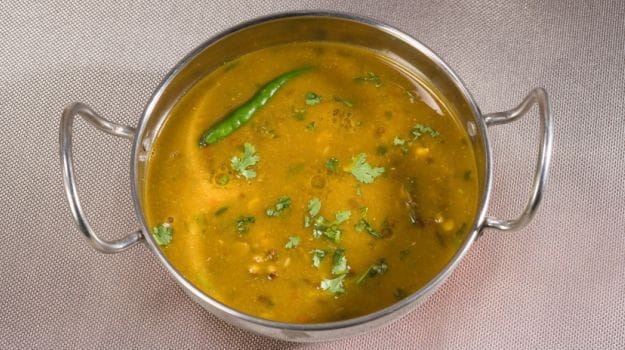 Serves 61 1/2 cups toor dal
2 tsp turmeric powder
4 cups water
Salt to taste
1 whole light green chilli
Ghee and butter to taste
2 pods of garlic, chopped finely
4 tbsp gheeMethod:1. Wash dal well and add in the water. Let the dal soak for two to three hours.
2. Next, place in a pan with the turmeric and salt. Bring to boil, skim, lower heat and simmer till completely soft. You can cook it in a pressure cooker as well.
3. Puree the dal in the mixer till it is smooth in consistency (remove the chilli first). You may, if you like, add some cow's ghee and butter.
4. Then make the vaghar by heating the ghee in a kadhai. Put in the garlic until it crisps and turn golden hued. Sprinkle over the dal before serving with plain boiled rice and patio.
2. Sev
(Nutty vermicelli dessert)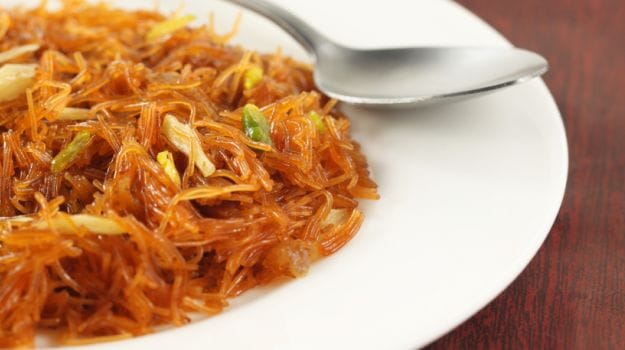 Serves 4200g roasted vermicelli
Oil
1 1/2 cups water
9 dessert spoons of sugar
Roasted or fried almonds, charoli and raisins to garnishMethod:1. Heat a heavy-bottomed pan*. Add a dash of oil into the pan and then throw in the sev and roast for a few minutes until they turn golden brown.
2. Add the sugar and stir for 3-4 minutes, then add the water, a little at a time. Let it cook for 2 minutes.
3. Stir very gently, making sure the vermicelli does not break. Keep stirring or else the sugar will not melt but don't overcook. The strands of vermicelli should be soft, yet separate - you do not want a lumpy mess.
4. If you like, you may add vanilla essence or cardamom-nutmeg powder for flavouring. Garnish with slivers of almonds and raisins.*Always cook sev in a thick, heavy bottomed pan. A pressure cooker is also fine.Also Read: Parsi New Year from Around The World

3. Prawn Patio
In my eyes, the prawn patio is a thing of beauty in itself. When the yellow Mori Dar runs out (as it inevitably does in my house), I mop up the patio with some roti. The recipe below is made with prawns but you can have a fish patio as well, made with pomfret or any other fish you like. Vegetarians can make their version with aubergine. Serves 4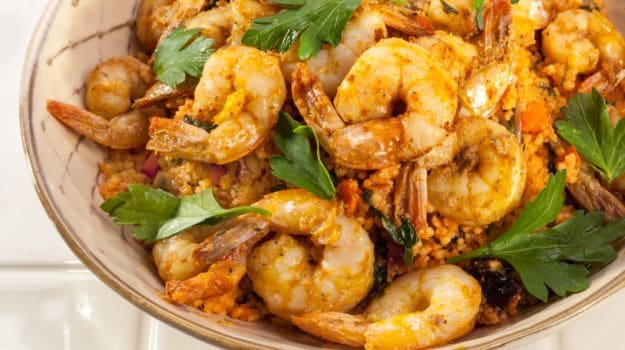 1 cup prawns, shelled, deveined, washed thoroughly and salted
1 dessertspoonful patio masala
4 large onions
1 flat tsp turmeric
1 and 1/2 tsp Parsi dhania jeera powder
1 flat tsp chilli powder
Salt, sugar and vinegar to taste (approximately 1 dessertspoonful each)Method:For the masala
1. Grind equal quantities of cumin seed powder, ground garlic and Kashmiri red chilli powder in sugarcane vinegar (not synthetic vinegar) until it reaches a paste-like consistency. We prefer Kolah's vinegar.
2. Finely chop the onions and fry them to a golden colour - they should not be pale or darkly burnt.
3. Add a dessertspoonful of the masala paste, turmeric, salt, dhania jeera powder and chilli powder. Fry gently on low heat to the point of fragrance until the oil floats on top.
4. Then add the prawns and cook until done.
5. Lastly, balance the taste of the patio with additional vinegar or sugar or salt, if required. It should taste sweet, sour and spicy all at once.Also Read: 10 Best Prawn Recipes

4. Mitthu Dahi
(Home-made sweet yoghurt)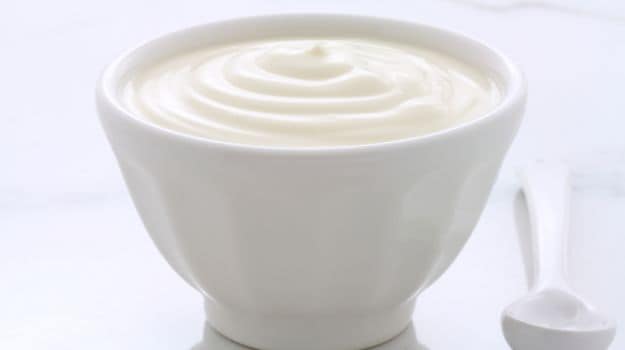 1 litre full cream milk
5 tbsp sugar
1 tbsp sour curd, well beatenMethod:1. Bring milk to a boil, then simmer until it is reduced to one-third of its quantity.
2. Add sugar while stirring continuously, for 10 minutes. Let it cool until it reaches room temperature.
3. Take a deep bowl and brush a little sour curd on it. Toss in the remaining curd into the milk and mix well.
4. Next, pour in the milk into the dahi-swathed bowl, cover with another plate and leave in a warm place to set (preferably overnight).

5. Ravo
(Parsi-style kheer)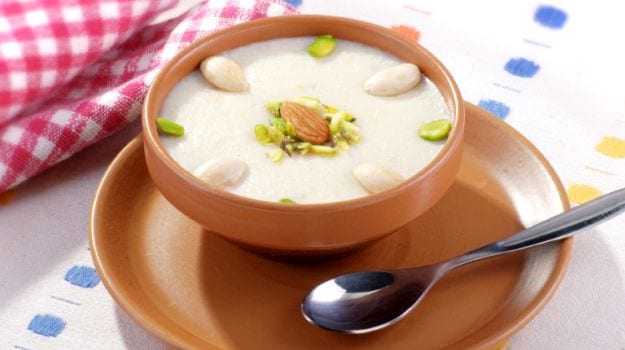 Serves 41 litre buffalo milk
4 tbsp sugar (according to taste)
3 tbsp butter
2 tbsp semolina
Vanilla or rosewater flavouring
Roasted or butter-fried almonds, charoli and raisins to garnishMethod:1. Boil the litre of buffalo milk. Then add the sugar, keep stirring and boil till the quantity reduces a little. Keep stirring until the sugar has melted.
2. Next, add the butter. When that melts, carefully sprinkle the semolina over the surface. Keep stirring constantly or the semolina will clump. Stir until the mixture thickens. Turn off the flame, making sure that there are no lumps in the mixture.
(Sometimes, we vary the steps a little, by lightly frying the semolina in the butter for a little while, then adding the sugar and then pouring in hot milk.)
3. Keep stirring until it has reached room temperature.
4. Add 1 tsp vanilla or pure rosewater, if you like. Pour it into your serving dish and sprinkle with fried or roasted raisins and almonds. Serve with a smile!Also Read: 10 Best Indian Dessert RecipesDisclaimer:The opinions expressed within this article are the personal opinions of the author. NDTV is not responsible for the accuracy, completeness, suitability, or validity of any information on this article. All information is provided on an as-is basis. The information, facts or opinions appearing in the article do not reflect the views of NDTV and NDTV does not assume any responsibility or liability for the same.