A new restaurant has opened its doors to all you Delhi foodies out there, especially for the ones who have a soft corner for Asian cuisine. Located in Ansal Plaza on the Khel Gaon road, Triple8 draws inspiration from Asian lucky number 8. It offers eight delicious signature dishes and cocktails inspired by the region's traditional spices and flavours like miso, lemongrass, matcha and pandan. Situated across two levels, the space allows you to transition from the striking bar on level 1 to the elegant dining area on level 2. The dining area includes a luxurious warm private dining room, perfect for intimate celebrations, and a live sushi bar.
The restaurant menu is loaded with Asian cuisine that serves amazing varieties of dim sums and sushi rolls, picks from wok and fries like charsiu ham 'n' cheese, baked quail eggs, spiced goat brain tempura, fresh river prawns with green peppercorns sauce and green apple tofu roll and much more. Hawker salads and soups do make a special place in the menu. Triple8's signature dishes include whole baked zucchini, roasted whole broccoli with blue cheese miso, Singapore chilli crab and organic chicken bulgogi among others.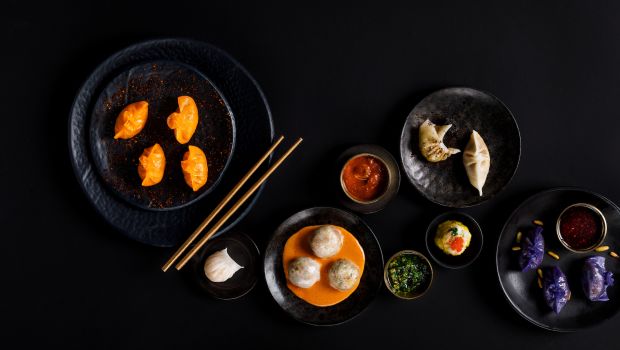 Delicious desserts include night market custard bun with yuzu cream, sticky pudding with caramelised banana and galangal toffee, and palm jaggery ice cream.
The restaurant boasts of an extensive wine library. Mixologists can be seen experimenting with modern techniques to prepare drinks with drama and finesse.
Amidst the cosy seating and modern architecture, Triple8 offers a perfect ambience for guests to unwind and relax with classic cocktails with an Oriental twist. Enjoy the artsy ambience with amazingly delectable Asian cuisine with a dramatic twist making the most of your weekend!
Cost: INR 3,000 for two people (approximately)
Timings: 12:00 pm to 1:00 am
Reservations: +91-8448038886
Where: B-103A, First Floor, Ansal Plaza, Khel Gaon Marg, New Delhi