You can make lovely desserts in a slow cooker, such as this Cherry Bakewell Pudding, from Miss South. Photograph: PR
From cake and crème brûlée to falafel and laksa, bloggers and chefs are using the slow cooker for all sorts of unexpected dishes. What do you use yours for?
Slow cookers will never be sexy, but we love them all the same. Sales of the kitchen gadget have risen for the second year running and there are more and more cookbooks and blogs offering recipes that get away from the "brown food" trinity of stew, chilli and pulled pork. The idea that slow cookers are for convenience rather than pleasure – shoving in some stewing steak and veg in the morning and returning home to a warm but uninspiring casserole – is falling away, thanks to younger slow-cooker advocates such as Hemsley and Hemsley and blogger Miss South, author of Slow Cooked. Could it finally be time for slow cookers to shake off their frumpy image and take their rightful place as one of the most versatile pieces of kit in your kitchen?
"I wanted to get away from beef bourguignon and chicken chasseur, and the idea of slow cookers as something a bit 70s," say Miss South. Indeed, her book includes omelettes, fish, falafel, shakshuka and other dishes you don't associate with the gadget. "The slow cooker is not just for casseroles," agrees Sara Lewis – author of nine slow cooker books. Though she's made her fair share of stews, Sara has also created recipes for everything from marmalade and chutneys to seafood laksa.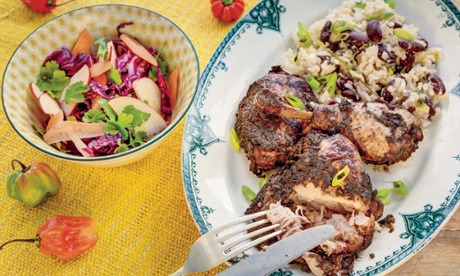 All these authors love slow cookers for their obvious pros: cheap to buy and run, fast prep, and hardly any washing up. Plus, practicality needn't come at the expense of flavour if you follow basic rules.
First, use less liquid than you would making the dish in the oven or hob. This is because "slow cookers trap moisture in", says Miss South. Second, because your creation is simmering all day, "be bold with flavours and spices". Miss South adds "big slugs of red wine" and 2tsp cumin to curries that would normally need ½ tsp. Third, if you're put off by "chopping onions before getting the 7.53am train", says Lewis, prep the night before. Miss South marinades meat overnight, and makes batches of caramelised onions to freeze. Finally, a little work at the end – stirring in pasta or noodles, adding a squeeze of citrus or scattering of fresh herbs – will up the freshness and vibrancy of your creation.
With these rules in mind, step away from the stewing steak and discover some of the more exciting dishes to make in a slow cooker.
Baking and desserts
Who wouldn't want to wake up to fresh cinnamon buns? Slow cookers are ideal for buns and breads says Miss South, because the machine does some of the work for you. She gives her cinnamon buns an initial prove before putting them into the machine – the vapour inside the cooker helps them rise. It also stops the tops burning before the insides are ready.
Cakes are another winner, particularly the sticky, dense kind. Miss South makes Guinness cake in hers, while Lewis says one of her favourite recipes is for upside-down gingerbread cake with bananas and brown-sugar butter on the bottom. Retro rib-stickers such as spotted dick and other sponge puddings work perfectly in a slow cooker, because it relies on steam. Creamy desserts such as panna cottas and crème brûlée are also ideal – and it means you can present them as "here's one I made earlier" when friends come round.
Healthy dishes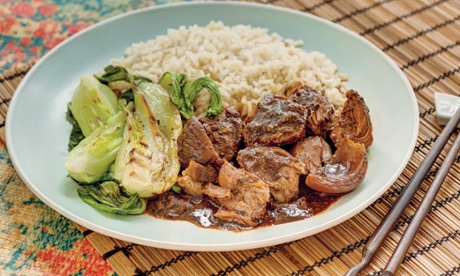 Bone broth is hailed as the latest health elixir as it is packed with vitamins and minerals. The Hemsley sisters swear by it, and make it in a big 6.5l slow cooker, before dividing it into portions for freezing. "Since bone broth gets better and more nutrient-rich the longer it is cooked, the slow cooker is the perfect tool for the job," says Jasmine Hemsley.
Slow cookers are also "fantastic for porridge" says Miss South, who has had best results without milk. Vegetable curries and dahls also work brilliantly, and Miss South also loves the slow cooker for pho and laksas – just add the noodles and herbs at the end.
Pulses and grains also work well in the slow cooker, and using one eliminates the need for overnight soaking. "I slow cook pulses from dried and the result is plump and velvety," says Miss South.
Crispy things
Dial back on the liquid and your slow-cooked creations can have a pleasingly crispy outer, as if they've been baked or fried. Miss South makes falafel, meatballs and jacket potatoes in hers. She's had best results with a ceramic-based cooker, but says the technique does also work in a modern non-stick.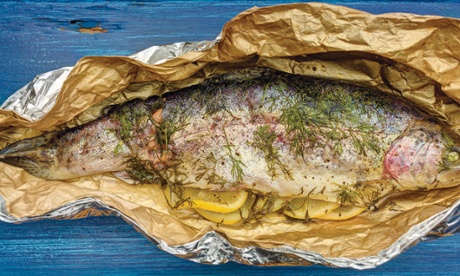 Fish
Yes, you can cook fish in a slow cooker – just not for eight hours. "Poach it in the slow cooker for a much shorter time than a stew," says Sara Lewis. Using your slow cooker for fish has yet another benefit: it doesn't make your house smell.
What weird and wonderful creations have you made in your slow cooker?