There are a variety of desserts that are a part of Indian cuisine but kheer, whether it is made with chawal (rice), sabudana (sago), sewaiyanor sooji, surely has to be amongst the most popular desserts that come out of any Indian Kitchen. No occasion is complete without a serving of kheer; from Navratri to Eid, Dussehra and Diwali, this dish is truly loved my millions. Paneer ki kheer, is more variant of this dish and is very easy to make. It contains no rice or sooji and instead made with crumbled paneer. The distinctive and pleasing taste of just 3 ingredients paneer(Indian Cottage Cheese), milk and dry fruits), gives it the essence of a royal dish. It can be served either hot or chilled with a scoop of ice-cream to make it even more enjoyable. From the point of view of texture, the taste of paneer kheer is similar to rabdi.

Want to prepare it for your beloved ones, then here we have the recipe of Indian Cottage Cheese Milk Pudding. It is the most easiest dessert to prepare.

This mesmerizing and super delectable kheer is prepared with freshly prepared home-made cottage cheese and milk, sweetened with sugar, flavoured with cardamom powder, sprinkled with rose water and garnished with slivered nuts and edible dried rose petals. Here's an amazing Paneer ki Kheer recipe by Culinary Expert and Blogger Chef Reetu Uday Kugaji. Take a look!





Paneer Ki Kheer





Preparation Time: 15 minutes





Cooking Time: 45 minutes





Serves: 4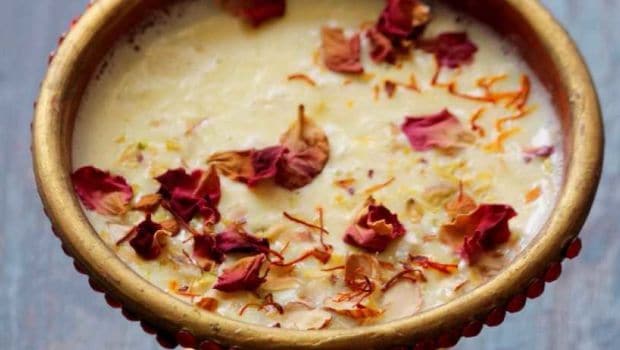 Photo Credit: Chef Reetu Uday Kugaji
Ingredients
Milk, full-cream- 1 litre
Paneer, homemade fresh cottage cheese, crumbled-3/4th cup
Saffron, broiled- 1 gm.
Sugar- 1/4th cup
Green Cardamom Powder- 1/4th tsp.
Rose water- 1 tsp.
For the Garnish:
Almond, slivered- 2 tsp
Pistachio nuts, slivered- 2 tsp
Silver leaf (Chandi ka Varq) - 1 sheet (Optional)
Rose petals, edible and dried-1 tsp
Method:
In a heavy bottomed pan, heat milk, bring it to a boil.
Simmer for 40 minutes, stirring occasionally till it reaches half of its volume / quantity.
Add saffron, cardamom powder, sugar and crumbled paneer / cottage cheese.
Simmer for another 5 minutes. Switch off the flame add rose water and mix.
Transfer in the serving bowls, garnish with almonds, pistachio nuts, silver leaf and dried edible rose petals.
Serve hot or chilled as desired.
Chef Tips:
1. You may add homemade soft baby Rasgullas to the kheer.
2. Homemade paneer is made with the addition of lemon juice to milk, the whey is separated and the milk solids that is cottage cheese needs to be washed under running water to remove the effect and flavor of lemon juice, so that the kheer does not curdle.