As the first set of showers takes the country in its stride, we can't wait to start on our binge-fest of fried delicacies. Pakodas, samosas, bhajiyas, Kachoris - the list is endless. And one such fried delight that you must try this season is Pyaaz ki Kachori. A popular local breakfast dish in Rajasthan, these round fluffy
kachoris
, full of heart melting
masalas
and golden brown onions, are served with a combination of
imly
(tamarind) and coriander-mint chutney and are an absolute treat. I had my first tryst with the delight at the
Rajasthan
Stall in Dilli Haat and was in awe already, until I had the authentic one from Jaipur, which left me short of words in praise.
Kachoris are said to have been originated in Rajasthan. Some claim Uttar Pradesh to be the place of its birth too. It is also relished delightfully in our neighbouring countries like Pakistan. Whatever be the native place of the crunchy delight, Kachoris have become one of North India's favourite street food and a staple Sunday brunch option in several households. For the uninitiated, Kachoris are round, flattened ball made of refined flour and filled with a mixture ofmoong dalor urad dal, salt, black pepper, red chilli pepper, coriander powder and raw mango powder. Similar to the variety that our country encompasses, kachori also comes wrapped in different shapes, embracing different flavours. In Rajasthani cuisine, we have many other popular variants of the snack like the Mawa Kachori of Jodhpur, which is kachori dipped in sugar syrup filled with mawa, dry fruits and khoya.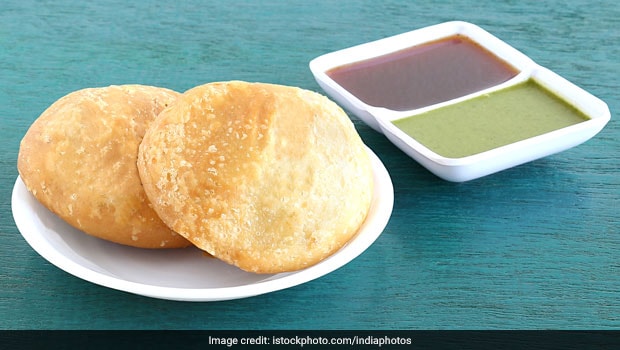 Prepared the same way as the regular Dal Kachoris, Pyaaz ki Kachori has browned onions, salt and spices added into the filling along with other eclectic spices. The Rajasthani love affair with ginger, garlic and red chillies also finds a prominent place in the crunchy snack. The piping hot kachori is then crushed or broken in half, and served with the scintillating combination of imly and coriander-mint chutney. You can also have the whole kachori with the subzi. As soon as you bite into the crunchy outer texture, the soft- browned onions in combination with the lovely sumptuous mix of spices will result in an explosion of flavours.Chef Sadaf Hussain, contestant of Masterchef India 2016, says, " It is believed that the origin of Kachori took place in Rajasthan. Ancient trade routes always used to go through Marwar region and the people around were fond of eating good and wholesome food. Their food used to be deep fried, full of ghee and spices. Primarily, they were vegetarian but they knew how to make use of local and limited produce to cook an amazing meal.
He adds, "The humble kachori has all the spices which are commonly known as "thanda masala", like dhaniya, saunf, or even haldi. These masalas made the dish perfect for the climate. Pyaaz Kachori are very famous in Rajasthan and Madhya Pradesh and also some parts of UP. One common thing in all these regions is the seasons and climate and also the easily available onions in bulk quantity. Pyaaz is then mixed with some amount of potato which enhances the flavour."
Kalyan Karmakar in his book, The Travelling Belly, writes about the famous Pyaaz ki Kachori from the Rawat Mishthan Bhandaar at Jaipur, "stuffed with an incredibly well spiced potato-and onion stuffing. The refined flour-based fried crust was nice and crispy. Pyaaz Kachori is a trademark Rajasthani snack and they make a good rendition of it at Rawat although I have seen Pyaaz Kachori is being sold at almost every-street-side stall in Jaipur."
Next time when you visit the land of royals, don't forget to get your hands on this absolutely decadent treat. Monsoons are here, so what are you waiting for?
About Sushmita SenguptaSharing a strong penchant for food, Sushmita loves all things good, cheesy and greasy. Her other favourite pastime activities other than discussing food includes, reading, watching movies and binge-watching TV shows.