Quick Tip: How to Make the Best Fries Ever. Ever.
Pragati Shukla , NDTV | Updated: December 17, 2014 13:42 IST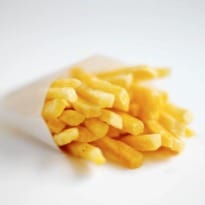 First off, I've followed this recipe (to an amateurish precision) and made these chips in my kitchen last night. They were phenomenal. Better than any chips I've tasted in any restaurant, I kid you not.

This flawless recipe comes from the amazing English chef, Heston Blumenthal. His restaurant, The Fat Duck in Berkshire is a three-Michelin-starred restaurant, has been voted Best Restaurant in the UK and received a perfect score of 10/10 every year since 2007 by The Good Food Guide.

He calls this recipe - 'Triple Cooked Chips.' Now, that sounds like a lot of work, and it is, but in the end you'll be getting your hands on a fantastic recipe that'll be in the envy of any food table. Let's get started. This recipe gives you chips that are super crispy with a center that's fluffy and soft.

Guard your stations. Sharpen your knives. Snap into the zone. Here's the method:

1. Firstly, make sure not to slice your potato too thin. If you do, you'll get all crust and no fluffy center.

2. Put the potatoes in running water for 5 minutes to wash off the starch.

3. Simmer potatoes on a low flame in cold water until they start to break apart. This will take about 20-30 minutes.

4. Take out the steamy potatoes from the water and put them on a rack, cool them and pop them in the freezer for about an hour. This removes moisture.

5. After an hour, deep fry the potatoes in oil, on a low flame until a thin crust starts to form on them. Don't let them get golden brown, we're looking for just a slight colour. This is usually takes about 5 minutes.
6. Scoop out the potatoes and put them on a rack to cool. These go in the freezer again for an hour. At this point, if you don't want to make these chips immediately, you can store these in your freezer for three days and use them later.

7. After an hour, deep fry potatoes on high flame till they're golden. Sprinkle salt and serve.

The result is crispy and soft fluffy potato magic all at once. Watch the man in action and all the steps here: