Anyone who loves potatoes will appreciate the delicious version of the vegetable when it is mashed. Mashed potatoes are a famous side dish, which is prepared by crushing and milling boiled potatoes and mixing them with milk, butter and salt. Mashed potatoes serve as a side dish with a number of meals like steaks, salads and stir-fry vegetables. Alter the ingredients, and you can also use mashed potatoes as a filling for sandwiches, samosas and aloo ka parantha. Whichever form you like, mashed potatoes will be the base ingredient in all these dishes. Potatoes are a great source of potassium and essential vitamins.


Here are some great ideas on how to include mashed potatoes in your diet.


Mashed Potatoes Recipes –
Aubergine (Baingan) Masala with Sweet Potato Mash
Aubegine, also known as brinjal, eggplant and baingan in Hindi, is a highly nutritious food. It has a squishy, pulpy texture that makes for a soft, smooth dish. With a smattering of creamy mashed potatoes, this starter dish will just melt in your mouth and spurt out a stream of flavours from the various other ingredients added to it.


(Also Read: How To Make A Perfect Mashed Potato)
Bangers And Mash
For the unversed, 'Bangers and Mash' is a popular dish from Britain, which is basically made of chicken sausages. It's a two-ingredient dish, made with chicken and potatoes. Crispy, fried chicken sausages are served with mashed potatoes as a side dish. This dish works as a perfect appetiser at social gatherings and keeps one satiated till the main meal.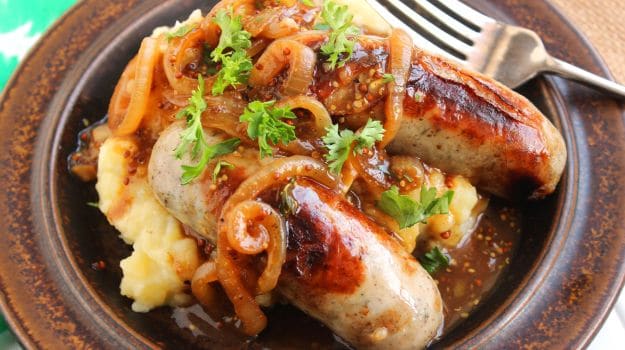 Aloo Parantha
Obviously, this one needs no introduction. Indians have grown up eating this dish every other day and never seem to get bored of it. The soft, lush potato mash, stuffed inside a roti, and served with a dollop of butter, curd, chutney or achaar - you just cannot go wrong with this mouth-watering meal.


(Also Read: Here's A Low-Fat, Low-Carb Substitute To Mashed Potatoes)
Try these easy recipes and you'll fall in love with mashed potatoes if you aren't already. They are versatile and can be merged with a host of spices and herbs to create a paste suited for the meal being prepared.
About Neha GroverLove for reading roused her writing instincts. Neha is guilty of having a deep-set fixation with anything caffeinated. When she is not pouring out her nest of thoughts onto the screen, you can see her reading while sipping on coffee.