Iced buns and apple turnovers evoke such nostalgia. These simplest of local bakery-style recipes are sure to recreate childhood thrills - especially once we've jazzed them up a bit for adult palates
When my siblings and I were young we took turns to do the cake run to the local bakery on a Saturday afternoon for something to fill the interminable lull between lunchtime and dinner.
The things we bought were never particularly inspiring, but they seemed like luxuries at the time: fat jam doughnuts, buns with a cherry on top, gingerbread men eaten with sadistic relish, one limb at a time. This old-fashioned bakery fare still holds a nostalgic appeal for me, especially with the Great British Bake Off approaching this year's finale and retro baking making its annual resurgence. These recipes, then, are as simple and familiar as they come- apple turnovers and iced buns - although I couldn't resist giving each of them a twist.

Apple, blackberry and thyme turnovers
A mixture of eating and cooking apples means that the filling of these turnovers should cook to tenderness without turning to mush. The bramleys should impart a welcome tartness, too. Although I'm loth to mess around with something as classic as an apple turnover, the blackberries and thyme really make a difference here: the berries mottle the stewed apple with rich, crimson juices; thyme lends a gentle, woody note that makes these definitively autumnal. Serve while they're still warm, with a scoop of vanilla ice-cream.
Makes 8
2 bramley or granny smith apples, plus 2 braeburn or cox apples, peeled, cored and diced
100g caster sugar
60ml water
2 tbsp butter
2 tbsp fresh thyme leaves
A pinch of salt
500g all-butter puff pastry
100g blackberries, halved
1 egg, lightly beaten with a pinch of salt
1 Put the diced apples, sugar, water, butter, thyme and salt in a pan and set over a medium-low heat. Cook for around 15 minutes, stirring regularly, until the apples have softened and most of the liquid has evaporated. Leave to cool completely before assembling the pastries.
2 Preheat the oven to 200C/400F/gas mark 6 and lightly grease a couple of baking trays.
3 Roll out the pastry on a floured work surface to around 25x50cm and cut into 8 squares, each around 12x12cm. Lightly prick over the surface of the squares with a fork, to stop them from ballooning in the oven.
4 Divide the cooled apple filling between the pastry squares, placing it in a small heap on one triangular half of each square (you're going to fold them diagonally) and taking care to leave a 1cm border. Stud each mound of apple filling with a few of the blackberry halves.
5 Fold each square over and firmly press on the edges - either just with your fingers or with a fork - to seal and give fat triangles. Brush the tops with egg wash and make a couple of small slits or holes for steam to escape.
6 Bake in the preheated oven for around 25 minutes or until the pastry is well browned, risen and crisp.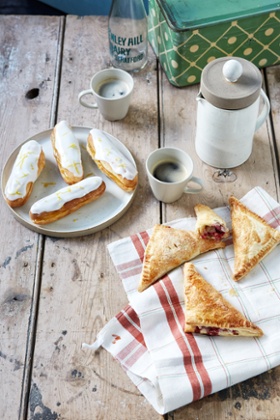 Triple-lemon iced buns
The enduring appeal of the iced bun seems absurd when you consider that, more often than not, it's a just hotdog bun with a smear of water icing on top. Here's a better version, the dough laced with lemon zest, filled with lemon curd and flooded with lemony icing.
For the dough
250g strong white flour
1½ tsp instant dried yeast
½ tsp salt
1 tbsp caster sugar
Zest of 1 lemon
100ml milk
1 large egg
30g unsalted butter, softened
150g lemon curd
To ice
150g icing sugar
Juice of 1 lemon
Zest of 1 lemon
1 In a large bowl, stir together the flour, yeast, salt, sugar and lemon zest. Gently warm the milk over a low heat until it's barely lukewarm - any warmer and you risk killing the yeast - and add to the dry ingredients along with the egg and butter. This bit's messy work: use your hands to squelch and squeeze the ingredients together until well combined. Leave the dough for 15 minutes to rest and absorb a little more liquid.
2 Knead the rested dough on an unfloured work surface. It'll start off quite sticky but will grow more co‑operative as you work. After around 10 minutes the dough should feel smoother and pliable. Return it to the bowl, cover with clingfilm (this will stop the surface drying out) and leave to rise at room temperature for 1-1½ hours, until doubled in size.
3 Once risen, gently pry the dough from its bowl and divide into six pieces. Roll each into a sausage shape around 15cm long (you can lightly flour the work surface if that helps) and arrange side by side on a lightly greased baking tray. Place the buns within a couple of centimetres of one another so that they join as they rise and bake - this is the key to soft, feathery sides when you tear the buns apart.
4 Cover the buns loosely with clingfilm as they rise. In the meantime preheat the oven to 180C/350F/gas mark 4. Once they're at least 1 ½ times their original size - after around 45 minutes - they're ready to bake. Bake for 18-20 minutes, until the tops are golden brown and the buns well risen. Leave to cool on a wire rack.
5 Once they're cool, tear the buns apart. Use a serrated knife to halve each bun along its length. Spread a tablespoon of lemon curd over the lower half of each bun, then replace the top half to sandwich.
6 To ice the buns, add enough of the lemon juice - a little at a time - to the icing sugar to give an icing that's thin enough to pour but thick enough that it'll sit tight on top of the buns and not run straight off. Divide the icing between the buns, giving each a thick smear that spreads and slumps in thick rivulets down the bun's sides. Sprinkle the lemon zest on top.
Ruby's new book Crumb (Chatto & Windus £20) is now available. To order a copy for £13 with free UK p&p, visit theguardian.com/bookshop or call 0330 333 6846.

Sweet nostalgia: apple turnovers and triple-lemon iced buns. Photograph: Tamin Jones/Guardian. With thanks to shopfolklore.com