Squash Takes This Winter Salad for a Satisfying Ride
Melissa Clark, The New York Times | Updated: July 12, 2017 15:07 IST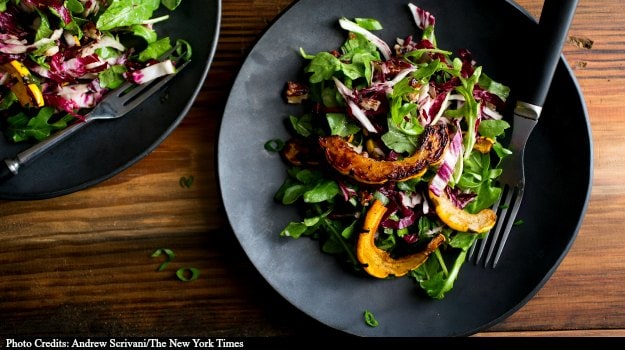 Summer salads have it easy. With a bounty of greens in season for the taking, it's easy for them to be fresh, bright and pretty. But with winter comes added salad bowl responsibility. Refreshing and buoyant isn't enough; your salad needs to be satisfying, too. A ruffled mound of baby lettuces tossed in lemon juice and olive oil won't provide the kind of sustenance that keeps the cutting cold at bay.

The key to making a great winter salad is to provide heft without weighing down the greens. You can do this by adding crunchy croutons, bits of cheese or slivers of meat or fish. But there are times I like to stick to the vegetable kingdom. This is especially true when I'm looking to achieve a certain balance in my diet. At the height of holiday cookie season, a lighter salad is what I'm after.

So I turn to roasted vegetables. Not only do they add the necessary warming bulk, but their browned edges also bring depth to whatever fresh greenery I've got in the bowl. Choose a roasted vegetable that you like to eat at room temperature, since anything hot will wilt the greens. My favorites include broccoli, cauliflower, brussels sprouts and winter squashes — preferably the sweet, velvety kind with thin, edible skin you do not have to peel. Say no to turban squashes with their bumpy rinds, and yes to acorn, delicata or dumpling squashes.
Of the three, acorn is the easiest to find, but it has the thickest skin. Dumplings are gentle, nutty and easy to slice, but they are not quite as simple or aromatic as slender delicatas, which is what I always reach for. You can roast the squash with nothing more than a gloss of olive oil and some salt and pepper. But a chili-spiced honey glaze fosters a deeper, darker caramelization, which accentuates the sweetness of the orange flesh.

Then pair the squash with bitter greens to contrast with the honey glaze. I use arugula and radicchio, but kale, spinach or baby mustard greens would also work well. Finally, to bring all the elements together, I toss the salad with a buttermilk-based dressing, which has both creaminess and a good, bracing hit of acid.

You can serve this salad as a starter at a dinner party, a light main course on any weeknight or even bring it to work for lunch (pack the dressing on the side). In any guise, it's a colorful mix of vegetables that will satisfy all winter.

Roasted Squash and Radicchio Salad with Buttermilk Dressing

Time: 1 hour

Yield: 4 servings

2 delicata squashes (10 ounces each), halved lengthwise, seeded and cut into 1/2-inch half-moons

1 tablespoon honey

1 1/2 teaspoons kosher salt

1/4 teaspoon smoky chili powder, such as New Mexico or chipotle

6 tablespoons extra-virgin olive oil

1/3 cup buttermilk

2 teaspoons lemon juice

2 teaspoons finely chopped tarragon

1 large garlic clove, grated

1 head radicchio, cored and shredded (4 cups)

4 cups arugula

2/3 cup chopped toasted pecans (see note)

1/3 cup thinly sliced scallions

1. Heat oven to 425 degrees. In a large bowl, toss squash with honey, 3/4 teaspoon salt, chili powder and 2 tablespoons olive oil. Transfer to a large rimmed baking sheet. Roast, tossing occasionally, until tender and golden brown, 35 to 40 minutes.

2. Meanwhile, in a small bowl, whisk together buttermilk, lemon juice, tarragon, remaining 3/4 teaspoon salt and the garlic. Whisk in remaining 4 tablespoons (1/4 cup) oil.

3. In a large bowl, combine radicchio, arugula, squash, pecans and scallions. Toss in buttermilk dressing; taste and adjust seasoning as necessary.

Note: To toast pecans, heat oven to 350 degrees. Spread nuts on a rimmed baking sheet and toast until they deepen in color and turn fragrant, 7 to 10 minutes. Cool before chopping.

© 2015 New York Times News Service