We all want to be appreciated and remembered as a great host after having people over. What makes a great host is not their hospitality or the way they entertain - these do count but nothing quite compares to the way you feed your guests that brings you all the brownie points. If you want to go the extra mile and impress your guests with your culinary skills, try presenting something unique and 'never-seen-before' that will surprise them and wow them. To help you out, we have a great recipe here made of a common food item - brinjal (baingan). Don't be disappointed; this dish called baingan ki lonje is immensely delicious and is sure to win over your friends and family.


Brinjal is known by many names - Baingan (in Hindi) is the one that we are more familiar with. We have grown up eating and loving baingan ka bharta. Bharwan baingan, masala baingan and baingan curry are other commonly prepared dishes in our country. Moving towards the western side of the world, baingan is referred to as eggplant or aubergine, and is used to make a number of dishes like pasta, salads, sauteed vegetables and stews. However, not many people fancy this vegetable. Given the many health benefits that this vegetable provides, you can't just dismiss it.


(Also Read: 11 Best Brinjal Recipes You Must Try)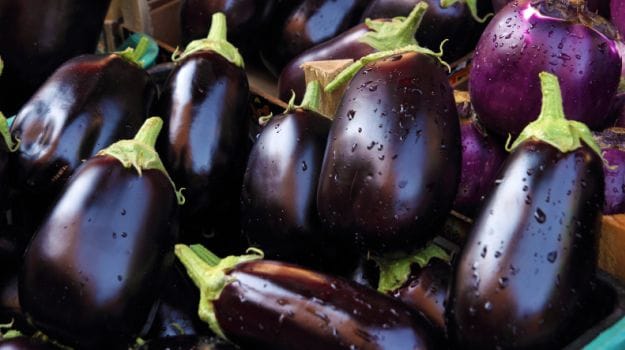 1. Brinjal is low in calories and rich in fibre, making it an excellent food for weight loss.


2. Brinjal is also low on carbohydrates, and can be a good addition to new-age diets relying on low-carb foods. This vegetable can also be a good option for people dealing with diabetes.


3. Since, the veggie is highly rich in antioxidants; it can prove beneficial in keeping infections and diseases away.


4. Brinjals are also said to be good for heart health.


(Also Read: How To Make Hyderabadi Bagara Baingan; Recipe Video Inside)
Baingan Ki Lonje Recipe
Baingan is more or less considered a food for main meals. However, this baingan ki lonje dish can double up as a sabzi and a snack. It is best to pick medium-sized brinjals to make baingan ki lonje. This is a speciality of Uttar Pradesh, and is a must-try dish if you already love baingan. Nevertheless, you are sure to fall in love with the halved brinjals stuffed with caramelised spicy onion paste with a hint of zest from lemon. Make a smooth paste of onions and spices like cloves, ginger, peppercorns, cardamoms and red chillies. Saute in clarified butter (ghee); add some sugar and lime juice, and smear the halved brinjal pieces with the flavourful stuffing.


For detailed ingredients and step-by-step instructions for making this delish bainjan ki lonje, click here to view full recipe.

About Neha GroverLove for reading roused her writing instincts. Neha is guilty of having a deep-set fixation with anything caffeinated. When she is not pouring out her nest of thoughts onto the screen, you can see her reading while sipping on coffee.