Brinjal Recipes- If you've grown up in an Indian home, you'll be familiar with the occasional stomach churning smell of burning, or as my mother would say roasting brinjal. Also known as eggplant or baingan in Hindi, this purple coloured vegetable when roasted starts to turn black on the outside and soft on the inside. The mushy pulp is what's used to make baingan ka bharta.

In the Indian cuisine, you'll find that brinjal is usually prepared as main course. For example, Bainganka Bharta, Khatte Methein Baingan and stuffed or Bharwan Baingan. But you'll find that a lot of other cuisines are more creative with their use of aubergine. They use it in dips, salads, appetizers, stews, lasagna etc. The Greek Moussaka is one such example. It's a beautiful dish with luscious layers of minced meat, tomato sauce, bechamel sauce and sweet eggplants. Then there's Babaganoush which is a middle-eastern, smokey dip made with eggplant, tahini, pepper and olive oil.
Till a few years ago, people would sprinkle some salt over aubergine slices and leave it for about half an hour to dissolve its bitter taste. The vegetable was then washed, cleaned and dried before cooking. However, now this process is no longer a golden rule as the produce you get isn't as bitter as it used to be. But there is another reason why using salt isn't such a bad idea. Salt can actually prevent the aubergine from absorbing more oil and you can still keep applying it before cooking to avoid the extra calories.
Brinjal is a warm season crop and requires a long warm growing season but it can be successfully grown even in the rainy season. Brinjal can be grown in all kinds of soil and is available around the year. Brinjal comes in many different sizes - medium, large and small round ones. The medium sized ones are usually considered to be the best and should be kept at room temperature. Also, be sure to pick the smooth, shiny and heavy ones because they're the freshest. Brinjals should never be eaten raw because they contain a horrid toxin called 'solamine' which can cause gastric trouble, amongst other things. The size and colour of brinjals differs geographically. For example, in China you'll find the slightly narrower kind, more like cucumbers.
A lot of people carry a great dislike for aubergines, but if it's cooked well, it can be absolutely delicious. Besides taste, it's also got a string of healthy properties that might be reason enough to get you to eat it.
Benefits of Brinjal
1. Aubergines are rich in fiber and antioxidants which work together to keep cancer at bay.
2. Aubergines are great for weight-loss because they're low on calories. 100 grams of aubergine contains something as low as 25 calories.
3. Aubergines are good for your heart and could help prevent heart disease.
4. Aubergines help control blood pressure as they contains potassium which helps maintain an ideal electrolyte balance in the body.
5. Aubergines are low in carbohydrates and high in fiber which helps diabetics.
Some tips on how to cut, slice and dice brinjal and also how to incorporate it in your diet | Tips and Tricks Before Cooking Brinjal
1. Instead of a metal knife, use a stainless steel knife to cut the vegetable as it prevents the chemical reaction between pytochemicals present in brinjal and metal.
2. As you cut the brinjal, put the pieces in salt water or sprinkle salt over them. This removes the compounds that render bitter taste to the vegetable, it will also makes your dish more tasty.
3. Brinjal can be added to dishes like sambhar, pizza or pasta. It can be fried, baked, grilled, roasted or steamed.
Here are our 10 best Baingan Recipes that you can try at home:
Slices of aubergine are put together with tomatoes, thin slices of mozzarella and seasoned with salt, pepper and oregano. Add some vinegar to this mix, tomato paste and finally some lemon juice.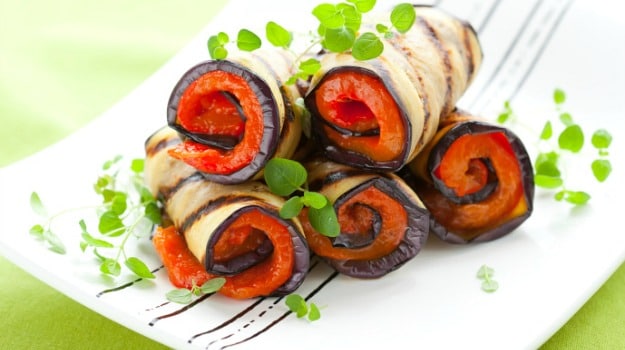 Topped with pine nuts and fresh basil leaves, this dish is a delight to relish with family and friends.
Slightly burnt aubergine stuffed with some garlic is roasted and mashed along with tomatoes, masala and some salt. A sure shot hit at home, this Baingan (eggplant) ka Bharta recipe is quick, easy and too delicious to ignore!
Smoked eggplant, mashed and cooked with masalas, onion, tomato and yogurt.
Aubergine mixed with spices, green chilli, ginger and onions. Garnish with lemon juice and coriander. A spicy, tangy, flavourful dish to pair with chapati or rice.
Garnish this aubergine dish generously with coriander and lemon to add to the freshness.
Fry the aubergines, add olives, tomato puree, sugar and vinegar. Let it cool for a day before serving .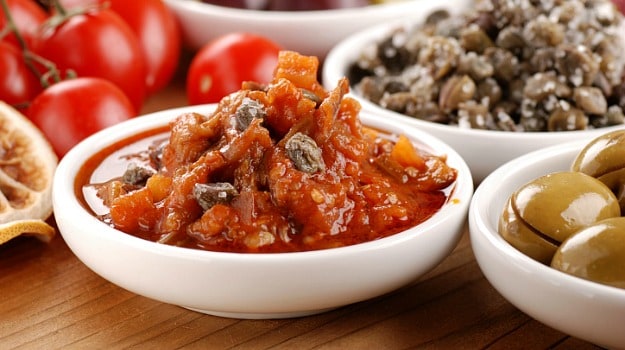 Caponata can be served as a warm side or a cold appetizer.
The South Indian favourite sambar recipe with the addition of brinjals.
Goodness of baingan and lentils packed into one!
A dip that is hearty and full of flavours. This dip recipe is simple and fast, use it as a starter or for a dip with salads. Olive oil along with garlic, onion and red chili and the brinjal makes for this delicious dip.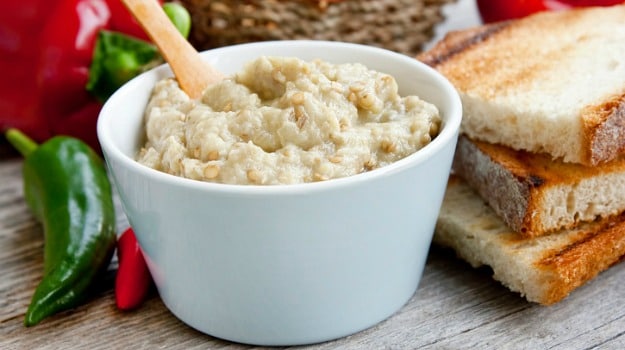 A dip that you can pair with almost everything!
Brinjals cut lengthwise and stuffed with a tangy tomato and onion mixture along with cumin seeds, paprika, garlic, tomato and pepper. This dish of stuffed aubergines is a delight to serve as a side dish.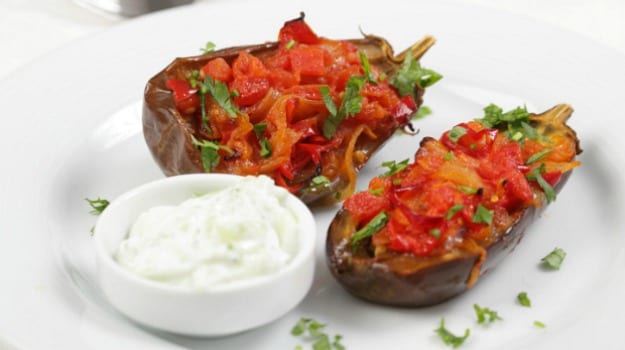 A hint of paprika, garlic, pepper and baked till perfection makes this dish a must try!
Dip each aubergine in egg wash and add cheese. Bake it till its warm and serve.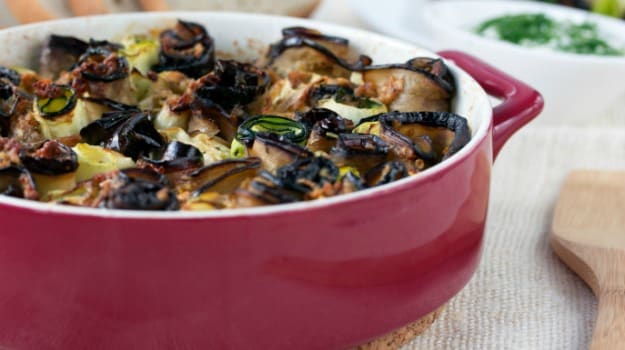 Baked casserole of delicious eggplant packed with cheese.
A gorgeous middle-eastern dip that's made from smoked eggplant, garlic, salt, lemon, onion, tomato and pepper.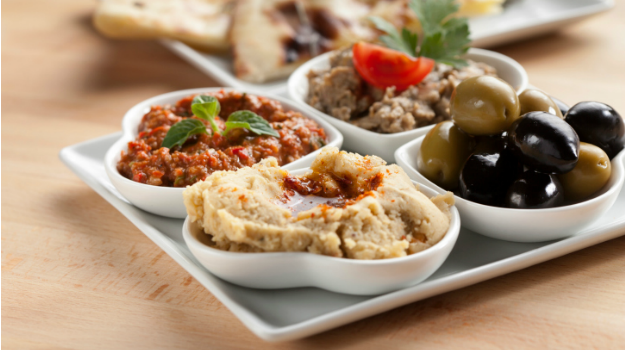 Baba Ganoush is a Middle Eastern spread and dip similar to hummus but made with eggplant instead.
Split the aubergines from the center, add cashew nuts, red chili, some tamarind pulp to get a tangy, delicious and mind-blowing dish.
Quick and easy to prepare, this Bengali dish is very healthy and delicious. It is a perfect way of eating Brinjal for those who don't like it.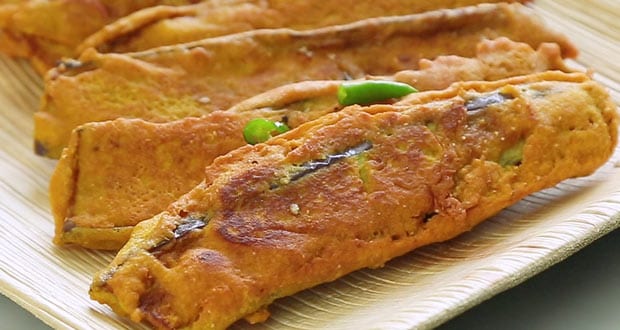 An unusual sidekick made with brinjals, tomatoes, spices, vinegar and a pinch of sugar. Pair it up with parathas or any of your meal to enhance the taste.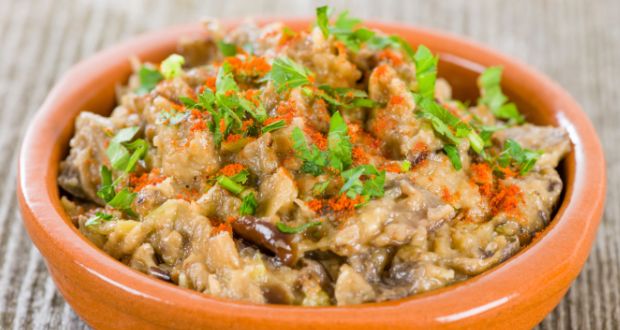 Here is a delectable Baingan recipe that is packed with flavourful spices, tangy masalas and cooked to perfection. Prepare the authentic Kashmiri dish of Khatte baingan at home for lunch or dinner parties.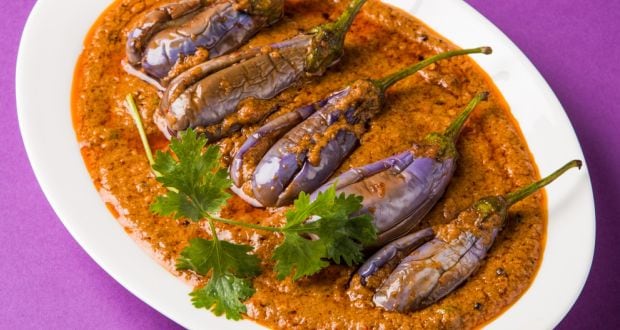 Brinjals cooked in mustard oil with kashmiri red chillies and varied spices.