Story Progress
Back to home
Baingan ki Lonje Recipe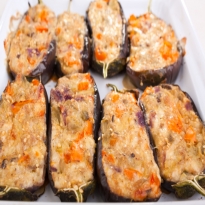 How to make Baingan ki Lonje
Aubergines or Baingan stuffed full of tangy zest, try it today!

Ingredients of Baingan ki Lonje
10-12 long aubergines
1/2 cup clarified butter
1 cup onions-thinly sliced
1/2 tsp ginger paste
Salt to taste
5 cloves
2 Tbsp sugar
2 Tbsp lemon juice
2 Tbsp chopped coriander leaves-to garnish
Powder together:
2 whole red chillies
5 cloves
1 tsp cinnamon pieces
Seeds of 1 black cardamom
1/2 tsp peppercorns
1.
Slit the brinjals lengthwise down to the base of the stalk.
2.
Heat the clarified butter in a kadahi and sauté the onions till they turn brown and crisp.
3.
Remove the onions from the clarified butter and leave the clarified butter aside till ready to use again.
4.
Grind together the onions, ginger, salt and half the powdered ingredients. Apply a layer of this mixture into the slits made in the brinjals.
5.
Heat the clarified butter once again and add the cloves. When they begin to darken a little, add the brinjals and any leftover masala and sauté over high heat till they look glossy.
6.
Lower heat, cover and cook till tender, stirring a few times to avoid scorching.
7.
Mix in the sugar, lime juice and the rest of the powdered masala.
8.
Garnish with the coriander leaves and serve.