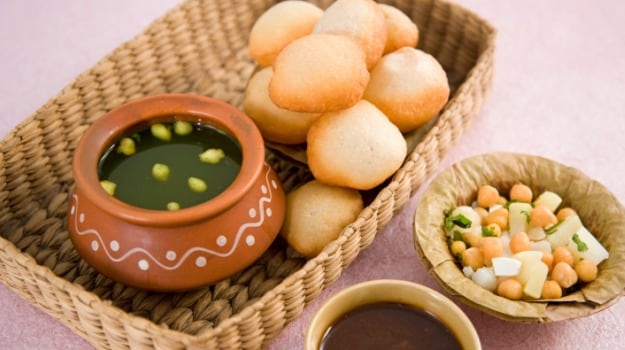 What brings together a country with a billion people from multiple states, communities, and descents? You may want to put forth a mix of factors but we believe that one of the greatest unifiers of a country as wide and diverse as ours is its Food. Each state has its own signature speciality, made using recipes that have been preserved, mastered and perfected over centuries. Then, there are some dishes that come from one region and yet belong to all. These dishes travel far and wide and, over decades, become commonly consumed across the streets of many states. On the way, each region adds a distinct taste and flavour to it, which represents local eating habits and choices. One such classic street food of all times is aGol gappa, which is also known by many other names like pani puri,paani ka batasha or phuchka.

Multiple names, one dish. Here's how many different names and local variations of your favourite street-side delicacy exist.

'Gol gappas' are hands down one of the most loved street foods in Delhi and Punjab. The crunchy atta or sooji puris, filled with yummy tangy water and a delicious mix of boiled chickpea and potato with a dash of tamarind and chilly chutney, has all of North India queuing up for it. Gol gappas are a staple at every chaat corner. It is almost surreal how even in the midst of a crowded market place or a street, there is absolute decorum maintained by customers who patiently wait for their round of gol gappas in the queue, never side-stepping the person standing next. If this is not love, what is? (Also Read: Winter Street Food of North India: Gajak, Daulat ki Chaat and More)


A similar passion is exhibited by the Mumbaikars for their 'Paanipuri'. If you think Mumbai only thrives on 'Vada Pavs', you are clearly mistaken. The wide array of street food in the city has several marvels to be proud of. One such dish is 'Paanipuri'. Parts of Gujarat, Karnataka and Madhya Pradesh also address the dish as Paanipuri. But there is a slight difference in the preparation of each state, largely to do with the mixture that goes inside the puri. While Mumbai, typically adds its delicious ragda (a special white peas curry) mixture which is then smeared with meethi imli chutney or the spicy coriander chutney, food-lovers in Madhya Pradesh like to fill up the 'Paani Puri' with a fine potato mash with spices. Gujarat has the tradition of adding finely diced potatoes and some boiled moong in the pooris and also add boondi to the paani, which is often left out by the variant from Madhya Pradesh.. If we go further south to Bangalore, one can also see onions being added to the puri mixture.

(Also Read:Street Foods of India: How Potatoes Dominate Here Completely)

The gigantic 'Puchkas' of Kolkata are perfectly deep-fried round balls of semolina and if you aren't a lover of spicy food you may want to tell your vendor to tone down the spicy quotient in advance. Puchkas use a mixture of boiled gram and mashed potatoes as the filling, the chutney is tangier and the water is extremely spicy. Bihar and Jharkhand also refer to the delicious snack as Phuchka and love indulging in the sour and spicy treat every once in a while.

In parts of Uttar Pradesh the semolina snack is popular as 'Paani ke Patashe' or 'batashe' and is pretty much the same in size taste and texture as the Gol Gappas. Eastern part of Uttar Pradesh also refers to the snack as Phulki.


Another interesting variety of the snack is the 'Gup Chup', that's how parts of Odisha, South Jharkhand, Chhatisgarh and Hyderabad, refer to the mouth-watering snack. Legend has it that both 'Phuchka' and 'Gup Chup' were the names given to the snack because of the sound they made, each time you eat them. The crispy balls bursting with tangy water in your mouth is a treat, both to your ears and taste buds. Gup Chups are much lighter in weight and consistency. Several preparations choose to rule out potatoes and fill in only boiled chicpeas, chillies and chutney.

Salivating already, aren't you? Now with all the trivia in hand we are sure your next gol gappa eating outing is going to be even more tempting.




About Sushmita SenguptaSharing a strong penchant for food, Sushmita loves all things good, cheesy and greasy. Her other favourite pastime activities other than discussing food includes, reading, watching movies and binge-watching TV shows.