Just when you think you managed to beat the heat by switching on AC and chugging glasses of fresh juices, your skin starts acting weird. With acne, suntan and rashes, our skin often turns oily and dull. Harsh but true, our skin becomes the victim of extreme heat, sweat, dehydration, pollution and dust. Summers can be really harsh. With the rising temperature, the sebaceous glands (oil glands) become hyperactive and further lead to skin troubles like pimple, acne, rashes and more. Hence, we need a proper skincare routine as our first line of defence. While sunscreen lotions, aloe vera gels and other topical applications work as a temporary solution, paying attention to what you eat and drink may turn the situation around.


We all know how important it is to drink enough water during the summers. Proper hydration and detoxification take us a step ahead toward our healthy skin goal. We found some popular desi drinks that you can load up on to get nourished, glowing and smooth skin.


Also Read: Summer Skin Care: Home Remedies For Flawless Skin
Skin Care: 5 Desi Drinks To Add To Your Summer Diet:
Lassi:


Picture this - a tall glass of lassi with a thick layer of cream on it; sounds mouth-watering, right? We love gulping down glasses of lassi during this season. Thanks to dahi, it not only cools us down but also keeps several skin troubles at bay. Dahi is a rich source of antioxidants that help soothe itchy skin and make it smooth and supple. So load up on lassi this summer for healthy skin. Click here for the recipe.


Chaas:


Another dahi-based summer drink that we yearn for is chaas. A chilled glass of chaas with a tadka of jeera and curry leaves on it soothes our stomach in no time. It also helps regulate metabolism and bowel movement, further leaving a positive effect on our skin. Click here for the recipe.


Also Read: Spruce Up Your Meal With This Garlic-Coriander Chaas (Recipe Inside)
Aam panna:


Come summers and we look for excuses to relish the yummy mangoes. From having it as is to adding it to several recipes, we make the most of mangoes during the season. One such popular mango-based recipe is aam panna. This drink is soothing, flavourful and leaves a strong after taste on our palate. Besides, mango is loaded with vitamin A, C and beta-carotene that protect our skin from sun damages. Click here for aam panna recipe.


Nimbu paani:


How can we forget about the classic nimbu paani?! The easiest and the most popular in the lot, nimbu paani is a storehouse of vitamin C that helps detox and refresh our skin from within. Click here for the recipe.


Also Read: 8 Most Hydrating Drinks Besides Water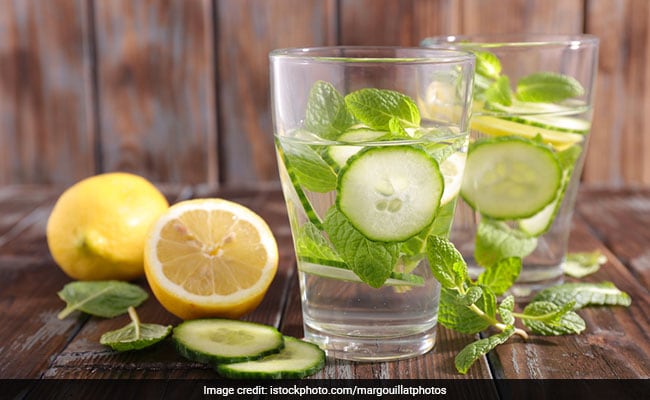 Sattu sherbet:


If you are looking for an option that not only hydrates you but also helps curb your appetite, then sattu sherbet is just the answer to all your queries. Made with sattu, jeera powder, sugar, salt, red chilli powder and more, this drink is flavourful and fulfilling at the same time. Moreover, the inclusion of sattu makes the drink rich in iron that elevates your skin health and prevents cell damages. Click here for the recipe.


Try these drinks and enjoy healthy and nourished skin this summer. And if you have any skin-healthy drinks recipes, then share them with us in the comments section below.


About Somdatta SahaExplorer- this is what Somdatta likes to call herself. Be it in terms of food, people or places, all she craves for is to know the unknown. A simple aglio olio pasta or daal-chawal and a good movie can make her day.