For some people, summers are all about going to your nani's house and relaxing there. For some, it is about spending time indoors and taking a break from a hectic schedule. But if you ask us, summers are all about relishing the goodness of mangoes! This yellow-coloured fruit with a sweet and succulent taste is something we can never get enough of. And let us tell you, we all have come to love mangoes so much that just having them as a fruit cannot satisfy us. We can easily make desserts, beverages, curries and add them to rice, salads and whatnot to get more of that amazing taste. And if you too are looking for more such recipes to use mangoes this summer, we have just what you need! Here we bring you some delicious mango drinks to try out this season! The best part about these drinks is that they will be ready in just 10 minutes. Check out the recipes below:
Here Are 5 Mango-Based Drinks To Try
1. Mango Lassi
Lassi and summer is something that goes hand in hand. And that's why this mango lassi is our top recommendation for you to try out. In this recipe, you need to make the base of the lassi first and then blend some mango pieces with it! Click here for the full recipe.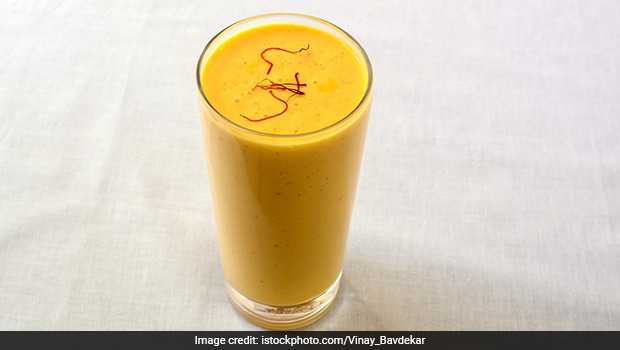 2. Mango And Kiwi Fuzz
The sweetness of mangoes and the refreshing flavour of kiwis combine to make a delightful drink for this summer. This quick and easy recipe takes only 5 minutes to prepare and will help you cool down in this hot heat. Here is the recipe.


3. Aam Panna
Why it is that Aam panna receives the most nods? It's jam-packed with flavours and captures the essence of summer in a glass. Aam panna mixed with raw mango pulp is the perfect cooler for all of us. It's sweet, sour, and spicy. The recipe can be found here.
Don't you love having a refreshing glass of sherbet in this weather? It is something that instantly cools us down. This time give the sherbet a delightful twist by adding some mangoes. Find the recipe here.


Mango Smoothie


A smoothie any time of the day just relaxes us and fills our stomachs. This time, give a twist to your healthy smoothie and make some with mangoes. This recipe is easy to make, and you can adjust the sweetness as per your choice. Plus, it also makes an excellent breakfast to have! Check out the full recipe here.


Try out these delicious mango drinks this summer, and let us know which one was your favourite!