We have heard many strange (and weird) ways that are adopted to induce
labour
in a pregnant woman who passes her due date. Some of the more commonly heard methods include eating dates, exercising, acupuncture, acupressure and so on. Now a pizzeria in Charlotte, North Carolina called the 'Hawthorne NY pizza and bar' is becoming famous for a pizza that induces labour in pregnant women who are past their full term!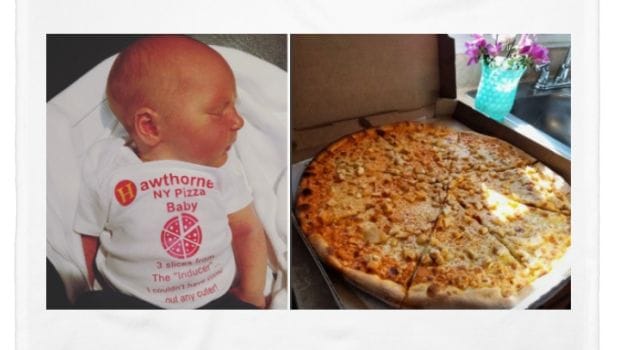 Inducer baby;

Photo Credit: left- instagram/hawthornespizza, right- instagram/jsin212144
This infamous pizza was originally called the 'Buffalo wing pizza' and is layered with chicken, mozzarella, cheese and a secret sauce. This secret ingredient, called the SPECIAL Buffalo hot sauce (made with undisclosed ingredients) is the spicy addition that is known to induce labour. Spice is another way known to induce labour in women nearing their due dates but there is no concrete scientific proof to this theory.
This pizza is around 13 years old and was launched right when the pizzeria was first opened. The Hawthornes were made aware about their miraculous pizza by a woman who thanked them via Facebook as her water broke just after a couple of hours of consuming the Buffalo wing pizza and now after 5 successful labour induction cases they have dubbed this pizza as 'The Inducer'. "Ali Aldrich was pregnant and eager to deliver. She ate the spicy pizza for dinner, went to the hospital, and gave birth to her daughter the next morning. Kristin Kogan ate one slice before her water broke inside the restaurant at 7th Street. Henley Schmiedel's water broke only hours after she indulged in a few slices of our Buffalo Wing Pizza and went into labor within four hours" the pizza brand's official website said.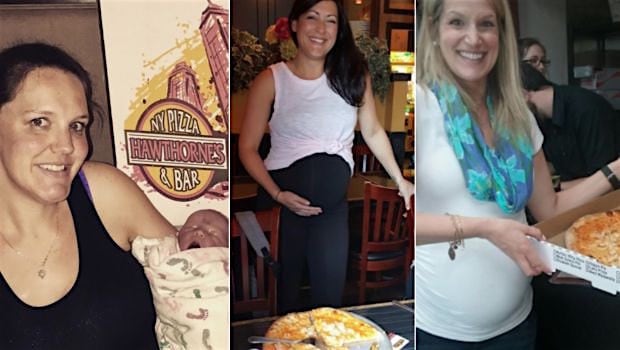 Inducer Moms; Photo credits- Hawthorne pizza official website.
For those uninitiated, Buffalo wings are nothing but
chicken wings
. They have a peculiar name because this delicacy was prepared by Teresa Bellissimo at her bar called 'Anchor' which was situated in Buffalo, New York, she served it with celery and blue cheese which gained popularity so much so that these wings were named after the place where they were first prepared in. These examples don't bring any scientific proof with them but surely makes us wonder how a pizza can work wonders in a pregnancy whilst sufficing those cravings. No harm trying this pizza if you happen to visit Hawthorne's in Charlotte, USA anytime soon. Even if you are not
pregnant
, you can experience the delicious flavours of their rich secret sauce, authentic spices, melted cheese and the lip smacking hand tossed crust which will surely get your taste buds tingling.