To most people the nine days of
Navratri
signify food that is considered as
satvik
in nature. Fasts are observed during this period as an ode Goddess Durga to welcome her into their homes and lives. Some of popular dishes that are enjoyed during these fasts are
Sabudana
Khichdi, Shakarkandi Ki Sabzi, Peanut Curry and
Coconut Sweets
. These are some of the wonderful things that I love to eat every year and especially when they are made by my mother. But sometimes, you crave for meals that don't necessarily fit in your fasting regime. But who says you can't have them?So, I've devised a Navratri Pizza Recipe that is completely
satvik
in nature and made with fasting ingredients yet so delicious. This will give you a break from the same menu you've been following everyday and give you a chance to try something different. Not to forget the immense health benefits of this pizza as it is made with buckwheat flour. Buckwheat is high in fiber that regulates your digestion,
full of antioxidants
, provides highly digestible proteins and helps in controlling cholesterol levels. Thus, making it the perfect
Navratri snack
for the young and old alike. Here's how to make a Navratri Pizza at home from scratch. Happy feasting, fasting!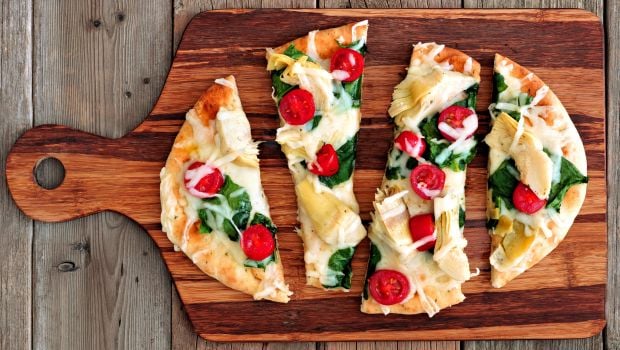 Ingredients:
For the Pizza Base:
Buck Wheat Flour (Kattu Flour) 220 gms
Warm Water 220 ml
Tapioca Flour 25 gms
Peanut Oil l 1 Tablespoon
Rock Salt
to taste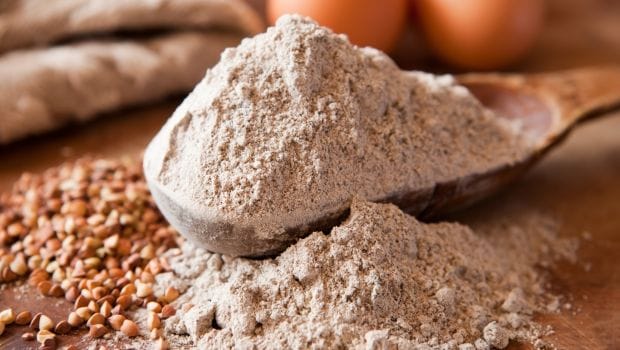 Also Read: (
6 Unique Vrat Recipes to Make Fasting Fun
)
For the Pizza Sauce:
Peanut Oil
1 Tbsp
Tomatoes 150 gms
Basil Leaves 5 gms
Fresh Oregano
Rock Salt to taste
Bay leaf 1 nos
Lime juice of 1 lemon
Toppings:
Lightly Fried Makhanas 20 gms
Paneer 40 gms
Basil leaves 4 gms
Cumin powder 3 gms
Ginger
3 gms
Peanut oil 10 ml
​Few tomato slices
Method:
1. For the sauce: Heat the oil and saute the ingredients. Add water as needed to adjust the consistency. Let it simmer for 5 minutes. Set aside and then blend.2. For the topping: Dice the
paneer
into cubes and marinate it for 15 minutes. Sauté in a pan and set aside. 3. For the pizza base: Whisk in all the ingredients. Pre-heat your oven at 200 degree C. Line 2 trays with grease proof paper. Make sure the mix is runny like that of a cake batter. Brush the paper with oil. Pour the mixture in and bake for about 10 to 15 minutes.4. Once baked, spread the sauce on top and sprinkle the
paneer
topping and bake for another 5 minutes.5. Pull out and serve hot with a sprinkle of chopped fresh basil and oregano. Garnish with hand crushed
makhanas
to give it a crunch and some tomato slices.
About Chef Ashay Dhopatkar:Chef Ashay Dhopatkar is Executive Chef at A Ta Maison, Private Members Club in New Delhi. He has trained with Chefs such as Herbert Berger, Raymond Blanc, Shane Osborne, Tom Hempstead and Gordon Ramsay. His own culinary style is a blend of Modern European cuisine, with British notes, using classical French techniques.Disclaimer:The opinions expressed within this article are the personal opinions of the author. NDTV is not responsible for the accuracy, completeness, suitability, or validity of any information on this article. All information is provided on an as-is basis. The information, facts or opinions appearing in the article do not reflect the views of NDTV and NDTV does not assume any responsibility or liability for the same
.