The Google Doodle on Wilbur Scoville's Birthday
Last year, Google came up with very interesting doodles on every other occasions and it seems to be continuing the tradition this year as well. The striking, scientist-looking man featuring on the Google Doodle is Wilbur Scoville and it would have been his 151th birthday today. You may have not known him but he was the inventor Scoville test – a scale that measures
how hot chillies are
.Scoville was an American pharmacist who created the scale used to measure the hotness of different kinds of peppers back in 1912. Different kind of peppers have different pungency levels. This depends on the concentration of a chemical compound called capsaicin. The more capsaicin they contain, the higher will be the heat. The Scoville Organoleptic test assesses the amount of capsaicin in hot peppers in Scoville heat units (SHU) as measure of the spice levels.For instance,
bell peppers
rank 0 on the Scoville scale while
chillies with the highest ranking on the scale
exceed one million Scoville units. The range varies from with a rating of zero Scoville heat units (or SHU), to the 16 million that represents pure capsaicin. The Carolina Reaper, is currently one of the hottest peppers in the world scoring 1,569,300 on the Scoville heat-measuring scale! About a few years ago, the
Bhut Jolokia
from Assam in India was the first to pass the one million score on the Scoville scale.To celebrate Scoville's birthday and honor his unique invention, Google has created an interactive doodle that shows him experimenting with different
types of chillies
while measuring their heat. It's an adorable game where you can see Scoville trying different types of peppers and revealing its score on the Scoville scale. The Doodle also offers interesting facts about every pepper that have been showcased.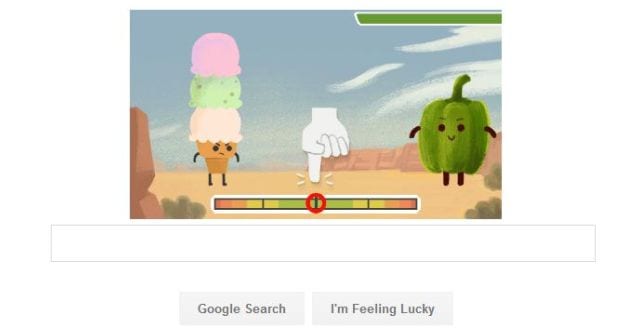 To get started you need to click on the flaming 'Play' button in the right corner of the doodle. This will take you to a setting where you can see Scoville eating various peppers like bell peppers, Jalapenos Cayenne pepper, Bhut Jolokia and Trinidad Moruga Scorpion and then reaching out for an ice cream to soothe his tongue. This takes you to another scene where you see an
ice-cream cone
with three scoops (the player) and the pepper (player's enemy) that Scoville just tried. You need to aim ice cream scoops at the peppers to neutralize them.There is a game bar at the bottom representing the Scoville scale. By clicking on the pointer running through the bar, you can throw an ice cream scoop at the pepper and freeze it. This fun Doodle game has been designed by illustrator Olivia Huynh and it gets more difficult as the chillies get hotter. We managed to get past five levels. So, fire away!