The hottest ingredient in the kitchen, literally, there are some kinds of chillies that rank mild on the scale and then there are a few innocent looking ones that can get you clenching your fists and biting your tongue. Chillies are extremely crucial for several world cuisines, especially Indian food where no dish is complete without a little sprinkling of this spicy flavour note.
This fiery ingredient brings alive a Kashmiri Rogan Josh, a Rajasthani Laal Maas, South India's much-loved rasam, Goa's famous vindaloo, and is widely accredited for creating some of the most piquant dips, chutneys and accompaniments. Even a simple tadka of dried red chillies doused in ghee is enough to render a distinct character to just about any preparation.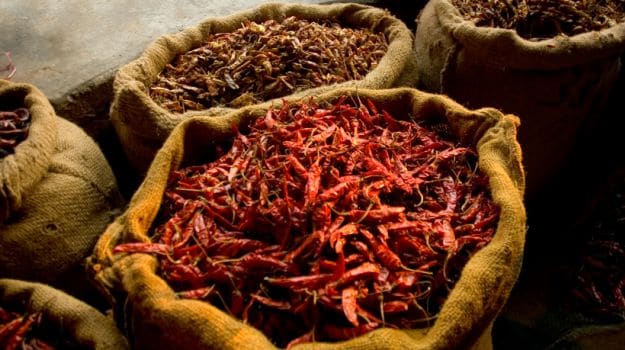 The Hot Red Indian
When it comes to cooking the spiciest of all meals, India certainly brings home all the glory. Our country tops the list of the largest chilli producing nations in the world and is also its most dominant exporter and consumer. Andhra Pradesh is the primary producer of chillies in the country followed by Karnataka, Rajasthan, Gujarat, and others.(Love Chillies? Says a Lot About Your Personality)
There are several varieties of chillies; each unique in colour and flavour. Spices Board of India identifies eighteen varieties of chillies that are grown in different parts of the country. These include Bird's eye chilli (dhani), Byadagi (kaddi and daggi), Ellachipur Sannam, Guntur Sannam, Hindpur, Jwala, Kanthari White, Kashmiri Chilli, Madhya Pradesh Sannam, Madras Puri, Nagpur, Nalchetti, Ramnad Mundu, Sangli Sannam, Sattur, Mundu, Tadappally and Tomato Chilli.
Let's take a closer look at the rich diversity that the country produces -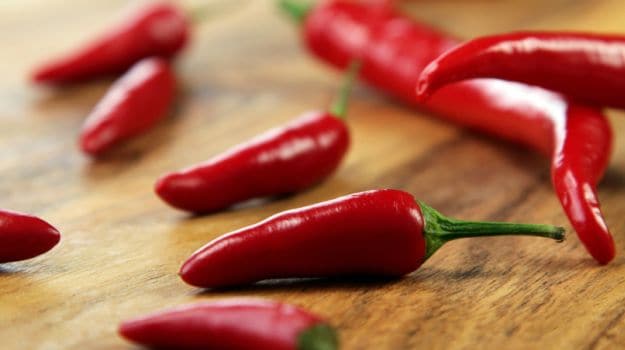 The Fiery Lot of Andhra Pradesh
Andhra Pradesh is home to six types of chillies, ranging from the mild and less pungent to those that are sizzling on the palate. These are used in cooking a wide range of local food items such as spicy curries, pachadis, chutneys and pickles.(The Next Best Ingredient for Weight Loss: Chilli)
Tomato Chilli (Warangal Chappatta), as the name suggests, is peculiar to the Warangal district of Andhra Pradesh. They are short and deep red in colour and are slightly less pungent and milder in flavour. Tadappally for that matter comes with a thick skin, long body and accompanies tomato chilli when it comes to pungency. Mundu, on the other hand comes with a yellowish-scarlet red colour and is fairly hot and pungent with a medium heat. These are fairly spherical and are also known as gundu molzuka or ramnad mundu.
A bright red Madras Puri can be found growing in the Nellore district of the state, whereas the Hindpur variety is red, hot and extremely pungent.
Coming to the star chilli of Andhra Pradesh that is widely used to add sparks to its cuisine, is the Guntur Sannam. They have thick red skin with high pungency and fieriness. It is a known fact that the smaller the chilli, the more pungent and spicy it is. The locals believe that the bigger chillies render exquisite flavour to the dish, whereas the smaller ones are used to elevate the heat as well as the spice factor.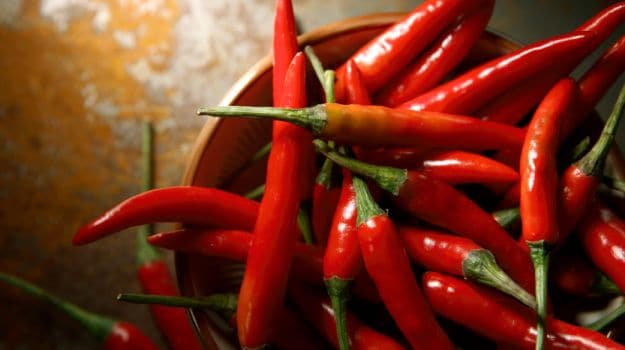 (Feeling Hot Hot Hot? Learn to Love Chillies)
The South Indian Cousins
Byadagi or kaddi chillies are grown in Dharwar, Karnataka as well as in parts of Goa. The dried chilli is deep red in colour with a mild pungency but aromatic flavour. Apart from Karnataka and Goa, Kerala and Maharashtra also use it in their cooking.
Byadagi daggi chillies on the other hand, are a favourite with most because of the bright red hue that they render to the preparations. These are usually long and slightly fat. They are great for making blended spices and condiments. These are often used by Maharashtrians for a spicier version of their traditional goda masala.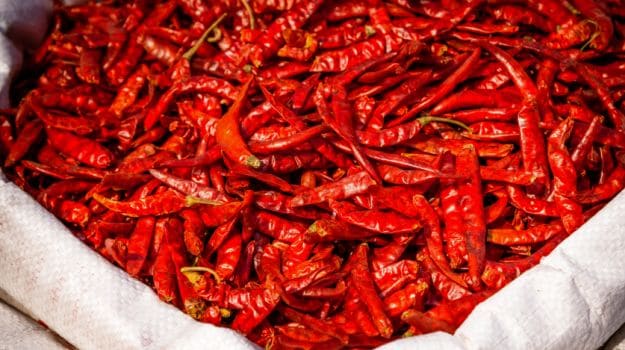 (Hot News: One of The World's Spiciest Chilli Grows in India!)
Sattur is another thick-skinned chilli which is quite pungent and spicy and is found mostly in Tamil Nadu. Apart from these, Kanthari white is another popular choice. They are ivory white in colour and mildly spicy, small in size and flat-bodied. On my trip to Kochi, I happened to come across this little white wonder at a local spice market. The shopkeeper had told me that these are often soaked in yoghurt and salt, and then sun-dried and used as a condiment.
The Other Hot Ones
Madhya Pradesh, Gujarat and Maharashtra also take pride in their indigenous chilli cultivars that exhibit a rich combination of pungency, spiciness, flavour and fieriness. Madhya Pradesh Sannam, Jwala and Ellachipur Sannam are a few varieties grown in the above mentioned states respectively and are essentially hot and pungent. Maharashtra also boasts of three other varieties that come across as extremely pungent-Nagpur chillies, Nalchetti and Sangli Sannam.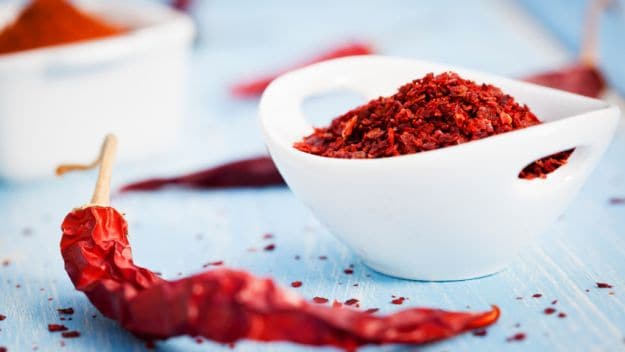 (The Chilli Pepper: Hot for You?)
Parts of Himachal Pradesh and Jammu and Kashmir grow a long, fleshy variety of chillies popularly known as Kashmiri Chilli. These come with a bright red hue and don't score much on heat or pungency. Since these are harvested during winter and not throughout the year, the demand remains quite high which usually outnumbers the supply.
Hottest of all: The North-eastern varieties
The Northeast of India would win the battle of the spice hands down. One of the world's hottest chillies - bhut jalokia - comes from the region whereas the other one (bird's eye chilli) is another potent variety.(The Hot-Sauce Trend: Is Our Addiction to Heat Bad for our Palates?)
Just a nibble of bhut jalokia will make tears run down your face! Deep red in colour, this is a star ingredient in some of the most sensational preparations of northeast India. Originally grown in Assam, the chilli is a hot favourite in Nagaland, Manipur as well as Mizoram. It has a distinct aroma and a fiery flavour that renders the dish a blazing heat. These are dried, pickled or used as is by the locals.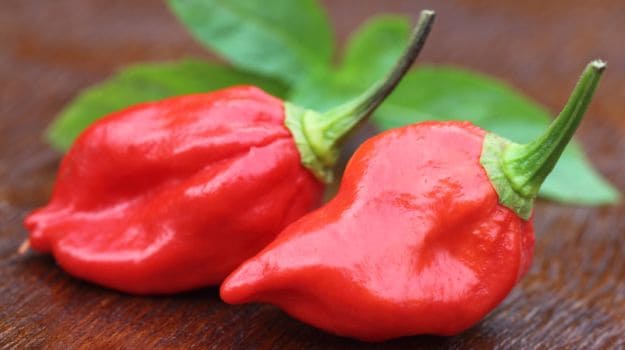 Bird's eye chilli is probably the tiniest of the lot yet scores high on the heat scale. Also known as Dhani, these are blood red in colour, and are widely used in Manipur and Mizoram, especially in pickles.(Sriracha: A Brief History of One of the World's Most Iconic Hot Sauces)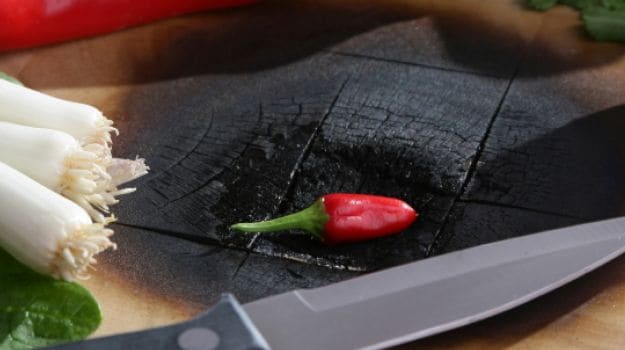 Chilli is a fascinating condiment in itself. Wrapped in these little red pockets comes a sea of flavour that adds magic to almost every preparation and uplifts it to the status of an exquisite delicacy. We hope that the this piece sheds some light on the many varieties of red chillies that are grown across the country and facilitates in differentiating the ones that are for flavour and spiciness from the others that are purely to accentuate the colour of your dish.Image via iStock images