Summer's here, so celebrate with Thai-influenced barbecue chicken and refreshing Alphonso mango fruit saladOne of the sure signs that summer is in full swing are the boxes of Alphonso mangoes stacked up outside my local Lebanese grocer. They are so sweet and juicy that it is impossible to eat them without getting into a sticky mess – a far cry from the larger, green varieties you get in supermarkets all year round. They also make a brilliant chilled fruit salad that's wonderful after barbecued chicken.
Thai barbecued chicken with warm coconut and rice salad
Spatchcock the chicken (or ask your butcher to), so as much of the surface as possible is exposed to the flame. Marinate the bird for at least two hours, preferably overnight – the extra wait is well worth it. Serves four to six.
1 medium chicken
1 bunch coriander, stalks and leaves separated
Zest and juice of 2 limes
2 green chillies, roughly chopped
1 thumb-sized piece fresh ginger, peeled and roughly chopped
3 cloves garlic, peeled and chopped
2 sticks lemongrass, outer layer removed, chopped
2 tbsp sunflower oil
Sea salt and freshly ground black pepper
2 tbsp palm sugar (or demerara, or any kind of brown sugar)
2 tbsp fish sauce
For the rice salad
250g jasmine rice, soaked for 30 minutes
400ml coconut milk
50g coconut flakes, toasted
80g raisins, soaked in warm water
3 spring onions, trimmed and finely sliced
2 carrots, peeled and cut into julienne
Juice of 1 lime
2 tbsp sesame oil
80g roasted cashew nuts, chopped
Using a pair of kitchen shears, cut along the length of the chicken's backbone on both sides, then remove and discard the bone. Put the bird breast side up on a board and press down on the breastbone until it cracks and the bird flattens out.
Roughly chop the coriander stalks and put in a food processor with the lime zest and juice, chillies, ginger, garlic and lemongrass, and blitz to a paste. Cut a few slashes into the legs and breasts of the chicken and put the bird in a clean plastic bag with no holes. Add three big tablespoons of the paste, the oil and a good grind of salt and pepper, then rub the marinade into the chicken, making sure it gets into all the nooks and crannies. Wrap in a second plastic bag, so it doesn't leak, and marinate in the fridge for two hours or overnight.
Meanwhile, make the dipping sauce: finely shave the palm sugar with a knife and put into a bowl with the fish sauce. Mash a little with a fork, then slowly work in the excess chilli paste, which will dissolve the sugar. Roughly chop the coriander leaves and stir into the bowl. Adjust the lime, sugar and fish sauce to taste, so it's perky and savoury.
If you are using a barbecue, light it an hour before you want to eat, to give the charcoal time to get to the right temperature; otherwise, heat a griddle pan at least five minutes before cooking, so it gets good and hot. Grill the chicken, turning from time to time, until the skin is crisp and charred and the flesh cooked through – about 30 minutes (test for doneness by inserting a skewer into the thickest part of the leg: the juices should run clear; and if the bird seems to be cooking too quickly on the outside, lower the heat). Rest in a warm spot for 10 minutes before you carve.
To make the salad, put the rice, coconut milk and a teaspoon of salt in a saucepan, and add cold water to cover the rice by 3cm. Bring to a boil, cover with a tight-fitting lid and cook on a high heat for five minutes. Turn the flame to its lowest setting, cook for eight minutes more, then take off the heat and leave, covered, to finish steam-cooking. When the rice is tender, after about 10 minutes, run a fork through it to separate the grains. Mix in the coconut flakes, drained raisins, spring onions and carrot, and season with lime juice, sesame oil, salt and pepper. Toss, check the seasoning and transfer to a salad bowl. Scatter over the cashew nuts and serve with the chicken and dipping sauce.
Chilled mango salad in anise-lime syrup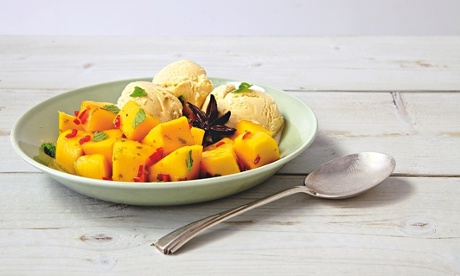 With the sweet mango delicately scented with lime juice and star anise, this refreshing fruit salad has some real body to it. It's a great way to round off a meal. Serves four.
2 fat ripe mangoes
60g agave syrup
Zest and juice of 2 limes
1 star anise
1 red chilli, finely chopped
2 tbsp 100% agave tequila (optional)
1 small handful fresh mint leaves
Peel and dice the mangoes, and put in a bowl. Put the agave syrup, lime zest and juice, star anise, chilli and tequila (if using) in a small pan and bring to a simmer. Cook gently for five minutes, then turn off the heat and leave the mixture to cool and the flavours to infuse. When the syrup is cool, pour it on the mangoes and transfer to the fridge to marinate for an hour. Serve scattered with torn mint leaves, perhaps with some vanilla or coconut ice-cream.
And for the rest of the week…
I always make at least a double batch of the chilli paste, because it freezes so well. Whip it straight out of the freezer and mix into quick, Thai-style pork or beef meatballs. Pan-fry and serve with rice, or cram into baguettes with chilli-laced mayo, or poach in a soothingly spicy Thai-scented broth. Make extra rice salad, too, and take some to work – come lunchtime, you'll be the envy of the office; sprinkle any excess dipping sauce on stir-fries or use as a marinade for tofu. I love leftover mango salad for breakfast, though instead of ice-cream and mint, I stir in some berries and top with a dollop of thick yoghurt and some toasted coconut flakes or granola.
• Thomasina Miers is co-owner of the Wahaca group of Mexican restaurants.Thomasina Miers' Thai barbecued chicken with warm coconut and rice salad: let the bird sit in its marinade for as long as possible – it'll make the world of difference. Photograph: Johanna Parkin for the Guardian. Food styling: Maud Eden