Hong Kong has some of the best restaurants in China - and they're not all Cantonese. From Sichuan to Manchuria, Susan Jung picks 10 great regional Chinese cuisines and the best places to try them in
Hong Kong is the best culinary destination in the world, according to the influential US food magazine Saveur. The region has been named Best Culinary Destination (large international) in the magazine's 2014 Culinary Travel Awards. "The hallmark cuisine of the city is emphatically Cantonese," writes the magazine, and of course any visitor should try the excellent Cantonese restaurants (my current favourites are The Boss and The Chairman, both in Central). But Hong Kong also offers a good number of cuisines from the mainland. Because of the large number of Chiu Chow, Shanghainese and Hakka people living here, it's always been fairly easy to find restaurants serving those cuisines. But as the Special Administrative Region receives more Chinese tourists from across the border, restaurants have opened serving authentic versions of the heartier and spicier dishes from places such as Beijing, Sichuan and Hunan that are not toned down (as they previously were) for local tastes. Here are 10 regional cuisines you'll find in Hong Kong, and the restaurants to try them in.

Shanghainese
The cuisine of Shanghai is commonly described as being rich and oily, with a lot of heavy brown sauces, although it doesn't necessarily have to be that way. One of their most famous dishes is xiao long bao - also known as soup dumplings - which, if done right, are small, light and delicate. Also light (in texture, though not in flavour) are the famous drunken dishes, made by immersing cooked meat (chicken is the most popular) in rice wine mixed with other flavourings, and leaving it to infuse for at least a day.
At Shanghai Lu Yang Cun Restaurant, start with several cold dishes, choosing them for their mix of flavours and textures, such as drunken chicken, pressed spice beef shin, fine shreds of bean curd skin with fresh soybeans, mashed soybeans flavoured with sesame oil and preserved vegetables, and jellied ham terrine. Proceed to main courses such as tiny river shrimps cooked with tea leaves, braised pork shoulder, lion's head meatballs (so called because the pork meatballs are cooked with Chinese cabbage leaves, which are said to resemble a lion's mane) and stir-fried rice cakes. If it's winter, be sure to try one of the hairy crab dishes. The crustaceans, eaten primarily for their rich roe, are either steamed and served whole with brown vinegar and slivers of ginger, or the meat and roe are taken from the shell and served with noodles, rice or beancurd. Be warned, though, Shanghai crab is expensive.
• Shanghai Lu Yang Cun Restaurant, 11/F World Trade Centre, 280 Gloucester Road, Causeway Bay, +852 2881 6669. About HK$300 (around £24) per person (much more expensive if you order hairy crab)
Chiu Chow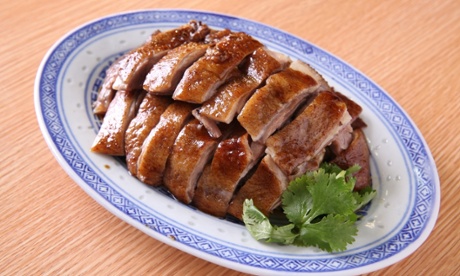 A Chiu Chow (also Teochew) meal will begin and end with tiny cups of strong kung fu tea, which cleanse the palate and help to promote digestion. The cuisine, from the Chaoshan region in Guangdong province, is light but flavourful, and is known for its braised master sauce dishes, especially goose and bean curd, which are served tepid or warm, and eaten with a white vinegar dipping sauce.
At Chao Hui Guan, the lu shui (master sauce), goose intestines and thick slices of fatty goose liver are especially good. I also like the fresh small oysters that are cooked with eggs and starch to make an omelette that is drizzled with fish sauce (a fairly common seasoning in the cuisine), or simmered with rice, preserved vegetables and broth for congee. The raw and cooked seafood dishes are also delicious - although in the case of steamed flower crab, can be very expensive. Chiu Chow people like taro dishes, such as clay pot duck with taro, or de-boned, flattened cooked duck that's coated with mashed taro before being deep-fried - though not everyone appreciates the heavy sweet-savoury taro desserts. Pan-fried noodle cake served with sugar and vinegar is another classic sweet-savoury Chiu Chow dish that this restaurant does well.
• Federal Mansion, 544-554 Fuk Wing Street, Cheung Sha Wan, +852 2682 9118. About HK$200 (£16) per person
Hakka
Historically the Hakkas were the nomads of China: their name means "guest families", because they migrated from central China to other parts of the mainland (and later many other countries in the world). The cuisine is hearty and strong, and because of the need to preserve food for their travels, salted, cured and pickled vegetables and meats are commonly used. Tofu in its many incarnations (fresh, pressed, preserved and dried) is another popular ingredient. At Chuen Cheung Kui, try the salt-baked chicken, steamed bean curd stuffed with pork, and steamed pork belly with either preserved mustard greens or thick slices of taro.
• 7/F-8/F Phase 1, Causeway Bay Plaza 1, 489 Hennessy Road, Causeway Bay, +852 2577 3833. Also at Lisa House, 33 Nelson Street, Mongkok, +852 2396 0672; and Alliance Building, 133 Connaught Road Central, Sheung Wan, +852 2388 7488. About HK$150 (£12) per person
Sichuan
The cuisine of Sichuan province, south-west China, is best known for its ma la flavours - the numbing (ma) sensation that comes from Sichuan peppercorns, and spicy (la) from the many types of chillies - fresh, dried, preserved - that are used and made into sauces. But a good Sichuan meal won't be one-dimensionally tongue burning; the judicious use of other seasonings such as soy sauce, salt, sugar, vinegar and sesame oil or paste help to balance the flavours.
Sichuan House is one of the newer Sichuan restaurants to open and the delicious food and excellent service has made it one of my favourites. Try the "mouth-watering chicken" (that's the actual translation of the dish's name), so called because it's so good it will get your saliva glands going), poached fish or beef in hot chilli oil, and the mapo doufu (tofu in chili and bean sauce). End the meal with caramelised apple or banana fritters.
• 7/F M88, 2 Wellington Street, Central, +852 2521 6699, sichuanhouse.com.hk. About HK$250 (£20) per person
Hunan
The most obvious difference between food from Hunan province and that of nearby Sichuan is the near-absence of Sichuan peppercorns in the former. Most people know only of the spicy Hunan dishes, but the food can also be surprisingly light and delicate, or have an assertive smokiness from preserved meats. At Café Hunan, the innocuous-sounding stir-fried potatoes with hot and sour sauce proves to be the spiciest, while yin yang fish head - completely covered on one side with yellow chillies and on the other with red ones - looks incendiary but is actually relatively mild. Also try the stir-fried pork with Youxian dried bean curd, and stir-fried baby chicken.
• CKoon Wah Building, 420-424 Queen's Road West, Sheung Wan, +852 2803 7177. Also at 1/F Wayson Commercial House, 68-70 Lockhart Road, Wan Chai, +852 2528 3699. About HK$150 (£12) per person
Fujian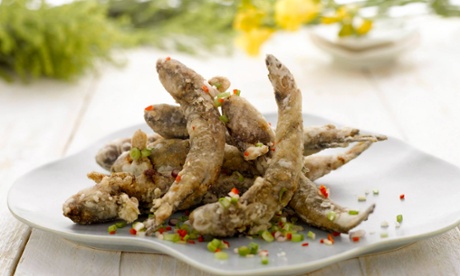 As you'd expect from a coastal province, the cuisine of Fujian places an emphasis on seafood. The province, on the south-east coast, is quite fertile, and the temperature is mostly mild, which means many vegetables and fruits thrive there.
Putien (a variation on the spelling of the Fujian city of Putian) in Causeway Bay is the first Hong Kong branch of a Singapore-based chain. The so-called oyster omelette is more like oyster fritters, with lots of the small, plump bivalves in a light coating. Baked bamboo clams have a hint of Sichuan peppercorn, and are fresh and sweet. If you like innards and extremities, be sure to try the braised pig intestine and the fried pig's trotters.
• 7/F Lee Theatre Plaza, 99 Percival Street, Causeway Bay, +852 2111 8080, putien.com About HK$200 (£16) per person
Yunnan
Yunnan province, in the far south-west of China, is famous for its air-dried ham, which is intense and salty, and its huge variety of mushrooms, including Chinese black truffles, porcini, morels and chanterelles. The province's most famous dish is almost certainly crossing the bridge noodles, which, legend has it, got its name because a devoted wife brought the noodles across the bridge to where her husband-scholar was studying for exams. While the ingredients vary, the soup noodles should always have a thin layer of oil or fat floating on the surface, which keeps the broth hot. At Yunnan Rainbow, the dish is prepared tableside, with the raw ingredients and fine rice noodles poached in the broth. Other dishes to try are the chicken with garlic and soy sauce, dumplings with chilli oil, and any of the mushroom preparations.
• Yah Ying Building, 18 Shelter Street, Causeway Bay, +852 2881 8992. About HK$200 (£16) per person
Beijing
There's more to Beijing cuisine than just Peking (the old name for the Chinese capital) duck. Beijing Home does serve that dish, but it also has much more humble offerings. My favourites are the snacks: Beijing-style pig skin (which is more like a cold jellied terrine), a salad with peppers, cucumber and bean curd skin, and - best of all - shredded tripe with mustard. Also good is the Beijing-style crisp lamb, and excellent dumplings with thick, chewy handmade wrappers and filled with scrambled egg and tomatoes.
• 7/F Island Beverley, 1 George Street, Causeway Bay, +852 2761 3300. About HK$125 (£10) per person
Xinxiang
Xinjiang is the most northwesterly province in China, bordered by Mongolia and several of the "Stans". Because it is predominantly Muslim, beef, mutton and lamb are used more than pork, the most popular meat in other regions of China.
Islam Food in Kowloon City has been serving halal food in Hong Kong since the 1950s, and the walls of this tiny place are lined with photos of celebrities who have dined there. By far its most famous dish is the oddly-named veal goulash cakes, which are actually pan-fried buns stuffed with a juicy beef filling. I also like the curried lamb, beef or ox tongue, and the breads, which are good accompaniments to the saucier dishes.
• 1 Lung Kong Road, Kowloon City, +852 2382 2822, islamfood.com.hk. Also at 33-35 Tak Ku Ling Road, Kowloon City, +852 2382 1882. About HK$100 (£8) per person
Manchu
Many people think that rice is essential to all Chinese meals, but as you travel north, rice gives way to wheat and other grains. The flavours of Manchuria, in north-east China, are hearty and pungent. You probably won't want to eat at Manchu Chinese Restaurant (which used to be known as Bistro Manchu, at the same address) if you have an important meeting the next day, because you'll end up reeking of garlic. Try the pan-fried pork dumplings, spicy shredded potatoes, and eggplant with garlic, chilli and sesame oil. For meats, order the house special garlic chicken and the cumin lamb, with which you should have a side dish of pliable crepes, to use as a wrapper.
• 33 Elgin Street, SoHo, +852 2244 3998. About HK$250 (£20) per person
All prices are without drinks or the automatic 10% gratuity
Susan Jung is the senior food and wine editor of the South China Morning Post

Sichuan House, Hong Kong. Photograph: PR