Hypertension is defined as a condition in which the force of the blood against the artery walls is too high. If your blood pressure is consistently over 130/100 mmHG, you are at risk of hypertension. If left untreated, hypertension can lead to heart complications and even a stroke. People with high blood pressure are often advised to keep an eye on their diet. High sodium foods or foods cooked in cheap refined oil are not ideal for a person who is dealing with high blood pressure. There are a certain herbs that you can use to manage your blood pressure levels too. One such herb is tulsi or holy basil.



It is a well-known fact that tulsi, or holy basil, is a culturally significant herb for India. Ayurveda experts recognised the medicinal properties of the herb several centuries back and used it extensively in treating a variety of health woes. The west too is slowly taking fancy to the herb. Countless studies investigating the healing properties of tulsi is proof for the same.


(Also Read: Top 10 Natural Foods to Control High Blood Pressure)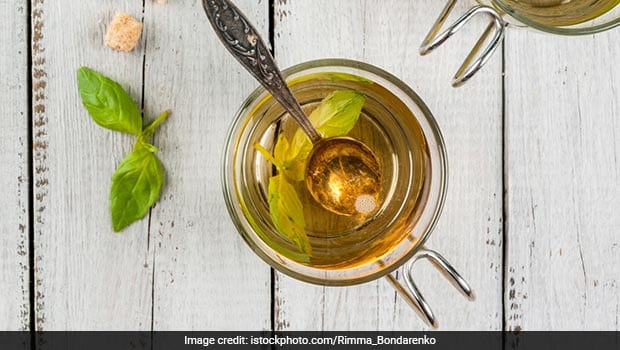 Countless studies investigating the healing properties of tulsi is proof for the same
Benefits of Tulsi
1. The essential oils found in tulsi, effectively act on our respiratory system and can ward off cold and flu.


2. It has antibiotic, anti-viral, anti-bacterial and anti-carcinogenic properties.


3. According to the Central Drug Research Institute, Lucknow, India, tulsi can help in maintaining normal levels of the stress hormone - cortisol - in the body.


4. It counters elevated blood sugar levels and is therefore beneficial for diabetics.


5. The volatile oils present in tulsi could also help keep your blood pressure levels in check.


According to experts, the chemical eugenol that is found in the herb may have potential to block substances that tighten blood vessels. If your blood vessels are not constrictive, your blood flow would be smooth and your BP would not see untimely surge. However more studies are needed to establish more conclusive link between basil and lowered blood pressure.


According to the journal Studies of Ethno-Medicine, combination of neem and tulsi was beneficial to lower the blood pressure levels due to their active compounds.

How To Make Tulsi Tea At Home

1. All you need to do is to take a cup of water in a pan and add 2-3 basil leaves to it and bring it a boil. Let it steep for a while.


2. After about three minutes, strain the tea in a glass. You can drink this tea as it is or add a teaspoon of honey and a half teaspoon of lemon juice to it for extra flavour and benefits. In fact, you can also add cardamom and ginger while preparing the tea.


Disclaimer: This content including advice provides generic information only. It is in no way a substitute for qualified medical opinion. Always consult a specialist or your own doctor for more information. NDTV does not claim responsibility for this information.