Chef Neha Lakhani | Updated: February 13, 2017 11:41 IST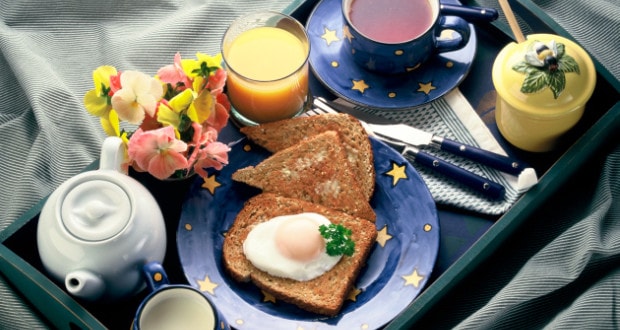 Being a patisserie chef, I've chosen a menu which consists of Pancakes with Berry Compote, Apple and Jaggery Smoothie, Granola with Milk and Banana Walnut Cookies. The menu comprises of ingredients that are good for your health without any unhealthy fats and no butter or oil. These recipes are made with healthy ingredients like honey, jaggery, fresh fruits, oats, the goodness of flax seeds and nuts that are full of minerals. As our lives get busier, we tend to look for convenience that can put our health at stake. Celebration doesn't mean fatty food. This beautiful breakfast in bed will not only make your loved one feel special but will also encourage them to tread the healthy way. Happy cooking!
Pancakes with Honey and Berry Compote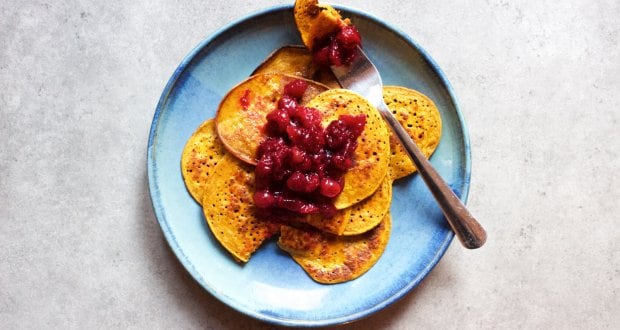 Ingredients for pancakes:

1 1/2 cups all-purpose flour
3 1/2 teaspoons baking powder
1 teaspoon salt
1 tablespoon white sugar
1 1/4 cups milk
1 egg
300 gm strawberries chopped
20 gm sugar

Method:

1. In a large bowl, sift together the flour, baking powder, salt and sugar.

2. Make a well in the center and pour in the milk, egg and melted butter; mix until smooth.

3. Heat a lightly oiled griddle or frying pan over medium high heat. Pour or scoop the batter onto the griddle, using approximately 1/4 cup for each pancake.

4. Brown on both sides and serve hot with honey and berry compote.

5. For the compote just cook both ingredients together till sugar melts and strawberry become mushy like a compote.

Granola with Milk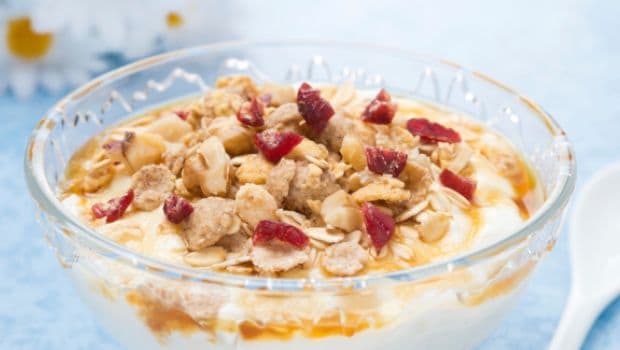 Ingredients:

3 cups rolled oats
1 tsp cinnamon
1 tsp salt
1 cup honey
1 tsp pure vanilla extract
1/3 cup whole almonds
1/3 cup whole hazelnuts
1/3 cup golden raisins
1/3 cup dried cherries/cranberries

Method:

1. In a large bowl, toss oats with cinnamon and salt.

2. In another bowl, stir in together the honey, and vanilla and whisk until completely combined. Can do this in machine or by hand.

3. Pour honey mixture over oats mixture and use hands to combine them.

4. Gather up some of the mixture in hand and make a fist. Repeat until all oats are covered with honey mixture.

5. Pour mixture onto prepared baking sheet with parchment paper. Spread out evenly but leave a few clumps here and there for texture.

6. Bake for 10 mins at 170* C and then remove from oven.

7. Using a metal spatula lift and flip the granola.

8. Sprinkle almonds over the granola and return to oven.

9. Again after 5 minutes, remove from oven and using a metal spatula lift and flip granola and this time add hazelnuts and return to oven.

10. After 10 minutes, remove from oven. Let it cool completely. Sprinkle raisins and cranberries over granola and transfer to airtight container. This granola can be kept for 1 week.


Banana Walnut Chocolate Chunk Cookies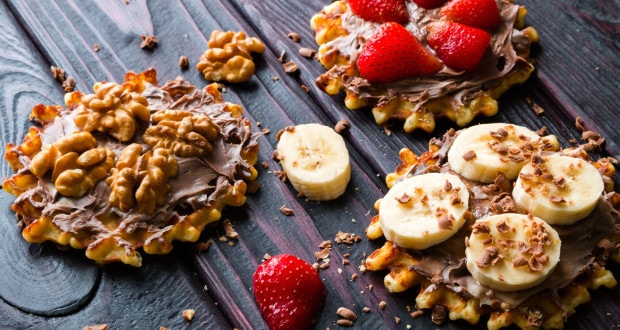 Ingredients:

1 cup flour
½ cup whole wheat flour
1 tsp salt
½ tsp baking soda
¾ cup unsalted butter
½ cup sugar
½ cup light brown sugar
1 large egg
1 ½ tsp pure vanilla
½ cup mashed banana
1 cup rolled oats
225 g dark chocolate cut into pieces
½ cup walnuts

Method:

1. Cream butter with both sugars until light and fluffy.

2. Add egg and vanilla. Mix until combined.

3. Add banana.

4. Add flour, whole wheat flour, salt, baking soda, and oats until mixed well.

5. Stir in chocolate chunks and walnuts.

6. Using ice cream scooper, drop dough onto baking sheets, spacing 2 inches apart because cookies spread on baking.

7. Bake for 12 to 13 mins at 180 to 190* C until golden brown.

8. Let it cool for 5 mins on tray before removing.

Apple Jaggery Smoothie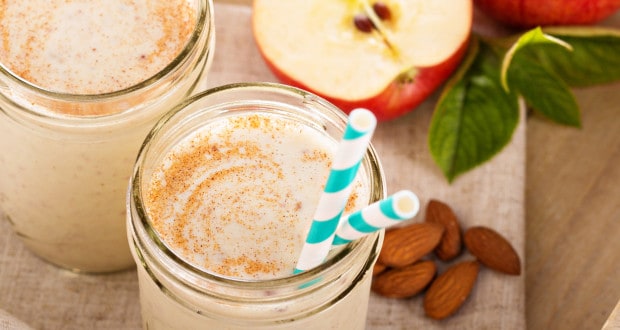 Ingredients:

Apple - 1
yogurt - 1 cup
Dates - 4 to 5 Pitted
Jaggery melted and added as per taste
cinnamon 1/4th tsp
Flax seeds 1 tsp

Method:

1. Start by soaking dates in warm water for 30 minutes.

2. Now peel and chop an apple. Add apple, dates, yogurt and other ingredients to a blender.

3. Make this into a fine puree.

4. Pour into glasses and enjoy.

Disclaimer:

The opinions expressed within this article are the personal opinions of the author. NDTV is not responsible for the accuracy, completeness, suitability, or validity of any information on this article. All information is provided on an as-is basis. The information, facts or opinions appearing in the article do not reflect the views of NDTV and NDTV does not assume any responsibility or liability for the same.


Valentine's Day is a day of love. However, clichéd it may sound but it's true. 'The way to a man's heart is through his stomach.' I think that goes for women too. Good food can actually bring people together. It is indeed a beautiful expression of love. Being a passionate cook, I'd like to express my love by cooking for my favorite people. Most people would spend money on cards, flowers or gifts, but we rather spend quality time with our loved ones and make the day special by creating good memories that are incomplete with delicious food.