What are the weekends for? Foodies will say that it is for indulging all sinful cravings, and we agree! We love to sit back, relax and eat our favourite curries and snacks. For non-vegetarians, the thought of fish tikka, chicken kebabs, and prawn curry spells indulgence. As a matter of fact, many Indian families take the weekend as the opportunity to make non-veg at home. If you are someone who loves seafood, then prawn curry and rice may just be your go-to weekend meal. Our love for this delicious combination has helped us find classic desi prawn curries recipes. Prepare these lip-smacking prawn curries at home and make your weekend a tasty affair.


Also Read: 5 South Indian Egg Recipes Ideal For A Masaledaar Breakfast
Here're 5 Easy Indian Prawn Curry Recipes:
1. Prawn Ambotik - Our Recommendation
This Goan-style prawn curry brings together two distinct flavours of spicy and sour to give this tantalising recipe. Rich, decadent and creamy, this prawn curry is a lip-smacking indulgence that will make you fall in love with prawns all over again!
Click here for the full recipe of Prawn Ambotik.
2. Malabari Prawn Curry
This earthy and wholesome curry is straight from the Malabar coast, bringing the coastal flavours to our plate. The prawns are cooked in tamarind, coconut and jaggery to give a sweet and sour taste to this prawn curry.


Click here for the full recipe for Malabari Prawn Curry.
3. Awadhi-Style Prawn Curry
This royal delicacy from Awadhi cuisine gives a masaledaar and creamy spin to prawns. The crispy, ghee-fried prawns are cooked in an aromatic yoghurt gravy that is enriched with spices like red chilli, garam masala, fenugreek seeds and more.


Click here for the full recipe of Awadhi-Style Prawn Curry.
4. Malai Prawn Curry
Another delicious creamy curry, this rendition of prawn curry is cooked up with fresh ginger, cinnamon and turmeric to give it an earthy flavour along with the creaminess of the coconut milk. This prawn curry is ready in just 30 minutes.


Click here for the full recipe for Malai Prawn Curry.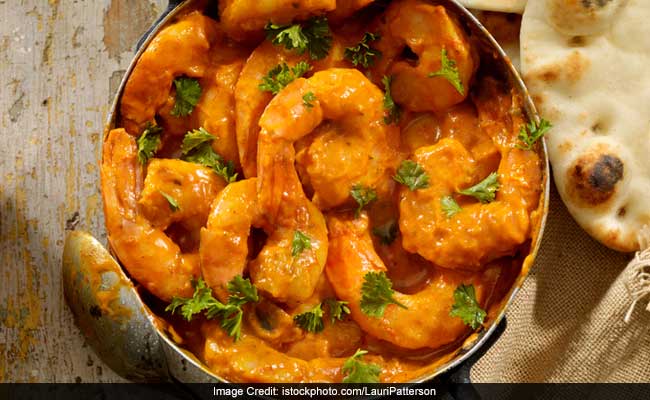 5. Prawn Tikka Masala
If you love chicken tikka masala and wish that the same hot and spicy curry also came with prawns, then this recipe may just be your dream come true! Marinated prawns are cooked in a host of spices to give the aromatic flavours of the tikka masala curry.


Click here for the full recipe for Prawn Tikka Masala.


Try out these prawn curries and tell us which one is your favourite in the comments section below!