Image credit: Plavaneeta Borah
In many ways former Sri Lankan cricket captain Arjuna Ranatunga epitomised Sri Lankan cool; unflustered and cool as a cucumber even in high pressure run chases. I felt the same relaxed vibe in Chef Wijendra's kitchen at the Anantara Peace Haven Tangalle Resort along Sri Lanka's palm-fringed southern coastline. He'd promised to share some of his signature recipes that he'd learned from his mother at Galle. It all began with a Sri Lankan favourite – string hoppers.I'm certainly no stranger to
idiyappam
or String hoppers. It's one dish that unites much of
South India
at breakfast and if some theories are accurate, has been so for almost two millennia.
Idiyappam
in Tamil Nadu and
Kerala
,
nool puttu
in Coorg and southern Kannada areas of
Karnataka
, and also
puttumayam
in Malaysia; string hoppers go by different names but are cooked in all these regions following a near identical template. While it's not every day fare in most parts of South India, it is almost a staple in most parts of Sri Lanka. There's another key difference, while the
idiyappam
in most parts of South India is crafted
white rice
, it's common to spot both
brown rice
and white rice variants in Sri Lanka.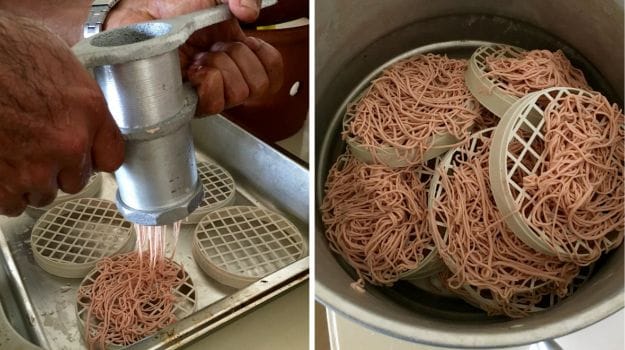 Image credit: Ashwin Rajagopalan
How to Cook Idiappam
The cooking process itself is not very complicated:1. Keep adding water to rice flour ensuring that the paste doesn't have any lumps. Add a pinch of salt to the mixture. It's best to use your hands instead of a spoon to mix the dough.2. Transfer the mixture to an
idiyappam
mould.3. Squeeze the mixture through the mould in a circular motion on to a special
idiyappam
steamer. You could also use an
idli
mould. (Grease the mould with a little oil).4. Pressure cook (without the stopper) on a medium flame for about 5-7 minutes.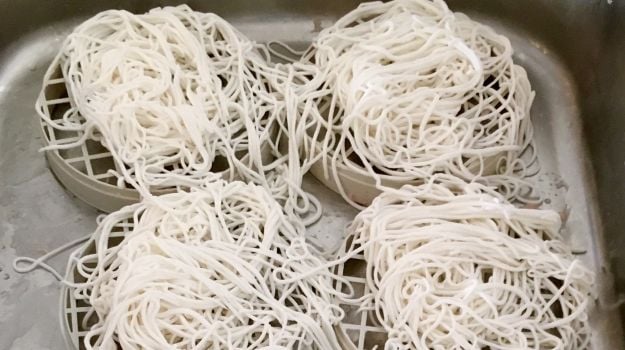 Image credit: Ashwin Rajagopalan
String Hoppers with Curries
Chef Wijendra reminisced about his childhood home in Galle where they would painstakingly hand pound the rice with a large mortar and pestle. He dared me to try a similar pestle at the resort and I finally obliged. After a serious workout for my arms – my gym instructor would probably approve, I managed to pound the rice to flour. The dish actually takes its name from the Tamil/Malayalam word for 'idi' meaning 'broken down' and '
appam
' meaning 'pancake'. While the dish's other name 'nool puttu' refers to its 'string' or thread-like form, which eventually the British adopted for 'string hoppers'.
The
idiappam
might taste similar everywhere but there's a marked difference in the accompaniments.
In Kerala
, it's usually served with a stew or a
kurma
while some of
Chennai's iconic restaurants
do a pepper
paya
cooked with mutton trotters. Samco is one such legendary restaurant (it used to be a regular haunt for actor Kamal Haasan) that hasn't tweaked its recipe for Pepper Paya since 1962. It's similar to the
Nihari Gosht
cooked with lamb shanks. Quite a few meat shops in North Chennai supply specially smoked pieces of lamb shanks for
paya
.
Here's the recipe:North Chennai Paya
Serves 2
1. Clean 4-5 lamb shanks (You can sprinkle some turmeric water and scrub the pieces).2. Pressure cook the lamb shanks with ½ teaspoon of turmeric powder, two teaspoons of ginger garlic paste and salt to taste for about 30 minutes. Set the broth aside.3. Fry 1 teaspoon of cumin seeds, one bay leaf, 1 teaspoon freshly ground pepper, a small bunch of mint leaves, a small bunch of coriander leaves, a few curry leaves, and one finely chopped onion in a vessel using a little oil.4. Add one finely chopped tomato and one teaspoon of ginger garlic paste to the same pan. Add one teaspoon of chilli powder, ½ teaspoon of
garam masala
and one finely chopped green chilli.5. Add the lamb shanks (not the entire broth) to the gravy and cook for 10 minutes.6. Add the broth and pressure cook for 20 minutes.
Idiyappam
is served in most vegetarian restaurants in Chennai and Tamil Nadu as an anytime meal or a light snack for dinner with
Vegetable Kurma
and/or what the locals call Tenga Paal (Coconut milk). You can try this at home by adding a small quantity of sugar and powdered cardamom to coconut milk. The other easy and healthy way to eat
idiyappam
is with a sprinkle of freshly ground coconut mixed with sugar or
jaggery
. In Sri Lanka, the
idiyappam
is served with a curry and also
pol
(coconut)
sambal
.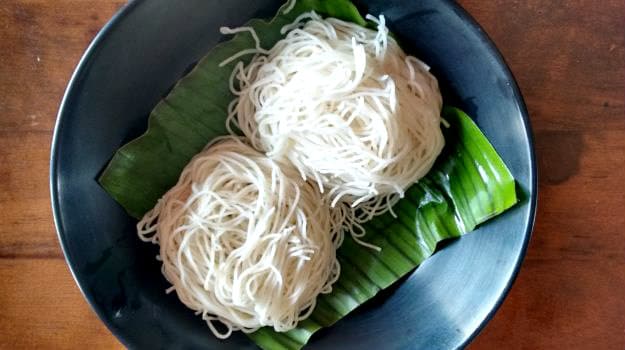 Image credit: Plavaneeta Borah
Here's Chef Wijendra's family recipe for –
Isso (Prawn) Curry
Serves 2
1. Fry 8-10 pods of finely chopped garlic in two tablespoons of coconut oil in a shallow pan.2. Add a few curry leaves, a few sprigs of pandanus leaves (optional), two finely chopped onions (medium size) and two finely chopped tomatoes to the pan. Sauté for 2-3 minutes.3. Add half cup water, 200 grams of prawns (cleaned), 2 teaspoons of red chili powder, 1 teaspoon of black pepper powder, ½ teaspoon of turmeric powder, 2 teaspoons of salt and 1 teaspoon of mustard paste (optional), and cook on a low flame (covered with a lid) for about 10 minutes. 4. Add ¼ cup of thick coconut milk once the prawns are cooked and then cook on a medium to high flame for about a minute.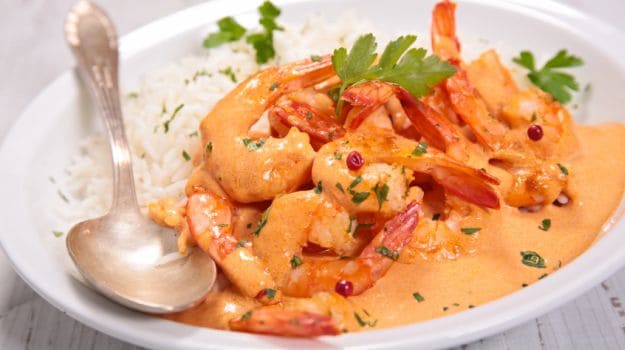 His recipe for Pol Sambal (Coconut
Sambal
) is quite fiery and not for faint taste buds. While it's common for the Pol Sambal to be cooked with Maldivian fish, many homes and restaurants in Sri Lanka serve an all-vegetarian version sans the dried fish:
Pol Sambal
Serves 2
1. Finely grate half a coconut.2. Add two finely chopped green chillies, one finely chopped medium-sized onion and a finely chopped tomato.3. Add 2 teaspoons of red chilli powder, two teaspoons of red chilli flakes and the juice of half a lemon.4. Mix these ingredients together and serve as an accompaniment for the
idiyappam
and Sri Lankan style curry.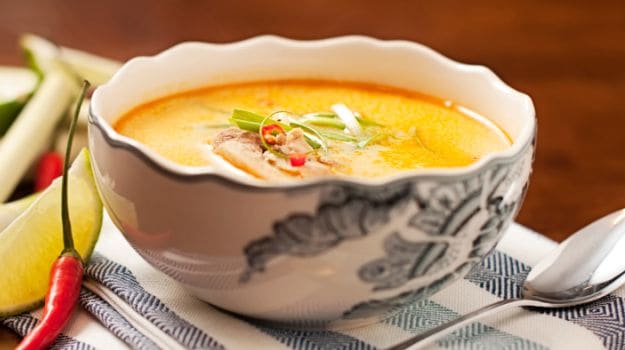 About the Author:
Ashwin Rajagopalan is a cross cultural training expert and lifestyle writer. When he's not writing about food, he thinks about gadgets, trends and travel experiences. He enjoys communicating across cultures and borders in his weekday work avatar as a content and editorial consultant for a global major and one of India's only cross cultural trainers.
Disclaimer:
The opinions expressed within this article are the personal opinions of the author. NDTV is not responsible for the accuracy, completeness, suitability, or validity of any information on this article. All information is provided on an as-is basis. The information, facts or opinions appearing in the article do not reflect the views of NDTV and NDTV does not assume any responsibility or liability for the same.
About Ashwin RajagopalanI am the proverbial slashie - a content architect, writer, speaker and cultural intelligence coach. School lunch boxes are usually the beginning of our culinary discoveries.That curiosity hasn't waned. It's only got stronger as I've explored culinary cultures, street food and fine dining restaurants across the world. I've discovered cultures and destinations through culinary motifs. I am equally passionate about writing on consumer tech and travel.