Story Progress
Back to home
Malabari Prawn Curry Recipe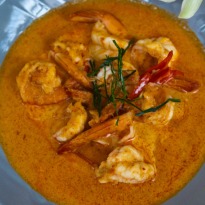 How to make Malabari Prawn Curry
About Malabari Prawn Curry Recipe: Prawns cooked in tamarind, coconut and jaggery making it a perfect south Indian delicacy. Definitely, a perfect dinner party recipe!

Ingredients of Malabari Prawn Curry
To marinate the prawns:
12-15 Prawns
3/4 tsp turmeric powder
1 tsp Red chilli powder
to taste Salt
1 tbsp Coconut oil
For the spice paste:
1/2 cup grated coconut
1/2 tsp fenugreek seeds
1 tsp coriander seeds
To sear the prawns:
1 tsp oil
For the base:
1 tsp coconut oil
5-6 shallots (Madras onions)
4-5 thin ginger slices
3-4 garlic cloves, sliced thinly
2 red chillies, partly split
1 tsp mustard seeds
2 green chilies, partly split
3/4 th tsp turmeric
1 tsp chilli powder
1 cup coconut milk
Salt, to taste
7-8 curry leaves
1 tomato, diced
1 1/2 Tbsp tamarind extract
1 small piece jaggery
1/2 cup green peas
For garnishing:
1 tsp oil
1/2 tsp mustard seeds
4-5 curry leaves
1 Tbsp coconut, grated
2 prawns with tails
To marinate the prawns:
1.
In a bowl add the prawns that have been de-shelled, de-veined.
2.
Now add the turmeric powder, red chilli powder, salt and coconut oil. Keep aside for 10 minutes.
For the spice paste:
1.
In a pan dry roast coconut, fenugreek seeds and coriander seeds.
2.
Make a fine paste out of these dry roasted spices. Keep aside.
To sear the prawns:
1.
Ina a pan add 1 tsp oil. Sear the prawns lightly and keep aside. Do not throw off the juices released.
For the base:
1.
In a wok add coconut oil. Add the shallots (Madras onions), ginger slices, garlic slices, red chillies, mustard seeds and green chillies. Let it splutter.
2.
Add turmeric, chilli powder, spice paste. Loosen it a bit with 2 Tbsp coconut milk.
3.
Add the remaining coconut milk, salt, curry leaves. Stir.
4.
Add diced tomatoes, tamarind extract, jaggery and green peas. Simmer for 4-5 minutes on low heat.
5.
Add the seared prawns. Let them simmer for 3-4 minutes.
For garnishing:
1.
In a pan add oil, mustard seeds, curry leaves and grated coconut. Cook the pranws (with tails) from both sides (2 minutes each).
2.
Top the tadka on the curry.