In the world of health and nutrition, protein-rich foods are creating a buzz lately. Protein stands out to be one of the most important nutrients that must be included in diet daily. Dietary protein not only helps build and repair muscles but also induces a feeling of satiety, which facilitates weight loss by keeping uncontrolled bingeing at bay. While there is no dearth of animal-based protein sources, vegetarians have limited protein options to include in diet as there are a few plant-based protein sources available. Apart from paneer and tofu, there's one more ingredient that is replete with protein content. Made from soybean, soya chunks are popularly known as vegetarian meat for its meaty taste and fibrous texture. Being abundantly dense in protein, soya chunks are widely used in Indian household kitchens as part of curries and snack items.


(Also Read: Make Protein-Rich Soya Keema Paratha For A Hearty And Healthy Meal)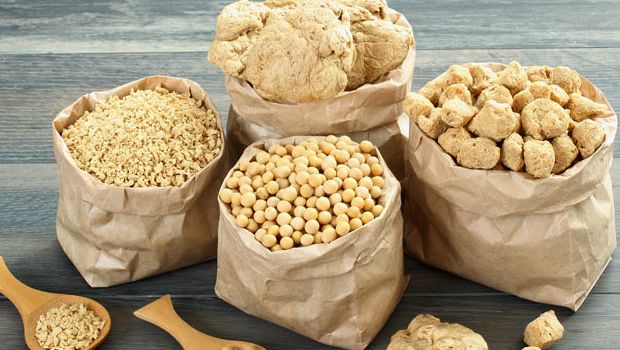 Soya chunks are popularly known as vegetarian meat for its meaty taste and fibrous texture
Its meaty texture makes it a super-versatile ingredient that can absorb in various flavours quite easily. Therefore, we bring to you a stellar soya chunks recipe that is not just incredibly easy-to-make, but will also save your time and effort. All you've got to do is bring together three ingredients and spare out 15 minutes to make this protein-rich dish for weight loss.
Health Benefits Of Soya Chunks
1. Soya is a rich source of plant protein. A 100 grams of soybean is said to contain 36 grams of protein, as per data by the United States Department of Agriculture.


2. Soya is said to help lower levels of cholesterol.


3. Soya is also said to counter the effects of excess oestrogen in women's bodies, due to the presence of phytoestorgen in it.


(Also Read: Weight Loss: Diet Tips To Create A Calorie Deficit And Lose Weight Quickly)
So, let's get started and make a delish soya chunk meal for weight loss:
Ingredients:


Soya Chunks: 100 grams
Hung Curd: 1cup
Broccoli: 100-150 grams
Olive oil - 1 tsp (optional)


Method:
To begin with, take little warm water in a bowl and add soya chunks in it along with little salt. Allow the soya chunks to soak in warm water for about 10 minutes and then squeeze extra water out of them.
Now, take a pan and add little oil to it. Bring to heat. Add the soya chunks along with separated broccoli florets. Saute the two ingredients for two minutes and transfer them in a bowl.
Add in hung curd and give a gentle stir so as to fully coat the two ingredients.
Note: You don't need to add salt or pepper for seasoning as the soya chunks will release a salty flavour on their own.


Add this meal to your already existing weight loss plan and lose weight in a healthy and efficient manner. If you know of more such soya chunks recipes, share with us in the comments section below.

About Deeksha SarinAn eccentric foodie and a die-hard falooda lover, Deeksha loves riding scooty in search of good street food! A piping hot cup of adrak wali chai can make her day bright and shiny!