Mumbai Chef Devwrat Anand Jategaonkar made history by carving his name on the Guinness World Records for making the world's biggest free standing
margarine
sculpture. Yes, you heard it right! The sculpture of 'Trimurti' in the pictures is not a prop or stone, it is 1506kgs of margarine - the butter substitute. Now, you must be wondering how can it possibly stand still without melting! Chef Devwrat himself addressed all our curiosities. Here's a look at the journey of this
Indian Chef
who embarked India's name in the world records.
The chef's idea of making Trimurti wasn't impromptu. "I wanted to portray something which showcases Indian Philosophy at an International level. Last time I did a still scene of the Cinderella story because it is well known in the world but this time I wanted Indian culture to be the essence of my art. Trimurti of Elephanta is a famous statue showing the triad of Hindu Gods - Brahma, Vishnu and Mahesh. The team of five worked for 10 days, 14 hours per day to complete this sculpture on Maha Shivratri."
This incredible sculpture is the biggest 'selfie-spot' at the Santacruz Airport's Domestic Terminal. The astonishing fact is that, this 6.5 ft tall and 8.5 ft wide structure is standing without any supporting beams, rods, etc. To prevent it from melting it is kept in the air-conditioned glass room which maintains temperature at 18-20 degrees Celsius. Chef Devwrat says, "It was very tough to fulfil many criteria of the Guinness World Records. Like, not a single food ingredient should be used except margarine, the sculpture has to be weighed after the completion which was the toughest because it could break, and it should be free standing and should not break or melt until the inspection is over."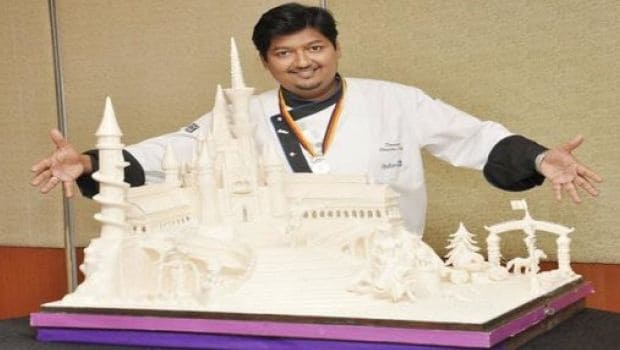 He modestly gave all the credit of success to his father saying, "He has always been the driving force behind me. He always, no matter what, encouraged me to becoming a chef and that positivity is the key for my success. Of course, my family and team members also deserve credit for all kind of support. It couldn't have been possible without the people around me."
The hardships never ended until he achieved the record. The sculpture cracked thrice and almost collapsed once but somehow the team members managed. Chef Devwrat has innovated new techniques of carving in the last 21 years of his chef career. He has his own designated style of carving on different food items such as fruits, vegetables, chocolates etc. He has his own tool kit with different kind of knives used for this art.
Chef Devwrat is not only a world record holder, but also the silver medallist of International Culinary Olympics 2012, Germany. His magnificent sculpture of 'Oh Cinderella' is inspired by the immortal fairytale showcasing the still of the midnight hour. Chef says, "Lot of intricate creative things were possible to do in the Cinderella sculpture. Carrying it from Alibag to Germany was all together a different adversity. It was attached to a special trolley and fortunately at the airport I found an Indian who helped me a lot. By the grace of god, I got lucky enough to win silver medal."
He is a proud Indian who has got India's very first International Culinary Olympics medal and made it to Guinness World Records. His journey of art and devotion is blissful and inspirational for every one of us.
Disclaimer:
The opinions expressed within this article are the personal opinions of the author. NDTV is not responsible for the accuracy, completeness, suitability, or validity of any information on this article. All information is provided on an as-is basis. The information, facts or opinions appearing in the article do not reflect the views of NDTV and NDTV does not assume any responsibility or liability for the same.