Why farmers in Punjab are upset despite bumper crop
IANS , Chandigarh | Updated: May 08, 2014 14:27 IST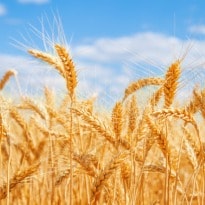 A bumper wheat crop should have brought smiles on the faces of Punjab's hard-working farmers but a variety of adverse circumstances, including the weather, has left them dispirited.

They have been forced to deal with the recent unseasonal rainfall and thunderstorms. In the state's grain markets, while there is a virtual glut of wheat arriving, the earlier stocks are not getting lifted due to mismanagement like inadequate gunny bags. With the harvested crop lying open in the grain markets and agricultural fields getting wet, the moisture content of the grains is making the farmers worry.

Punjab had procured over 10 million tonnes of wheat. Though the procurement process started on 1st April, bulk of the wheat started arriving only after 25th April. Punjab is expecting a bumper crop of nearly 17 million tonnes. With an extended winter this year, the crop yield has increased.

"We are facing a lot of trouble in the grain markets. The earlier stocks have not been lifted. Many farmers are finding it difficult to even off-load their produce from tractor-trolleys. The officials say that they are helpless. The weather has made matters worse as the moisture content in the grains has gone up," says Sukhchain Singh, who brought his wheat produce to a grain market near Jalandhar.

Some farmers claim that they have to suffer this sort of mismanagement almost every year. "The farmer suffers the most in the entire process. If the moisture content goes up, the agencies don't procure the wheat. The farmers are forced to sell the produce at a loss. The grain markets do not have adequate facilities for off-loading, storage and proper procurement," Parminder Singh, a farmer from the Dasuya area of Hoshiarpur district, said. Official sources in the agriculture, food and supplies departments say that over 50 percent of the stocks in the grain markets are yet to be lifted. "While this stock is yet to be lifted, more wheat is arriving daily. There is a glut in the grain markets. There is no space for the fresh wheat," says a procurement officer in Sirhind, 65 km from here.

With parliamentary polls being held in April, the authorities remained busy with the election work and procurement suffered. Punjab Chief Minister Parkash Singh Badal had recently questioned the Election Commission for not holding the elections in Punjab on 10th April along with Haryana and Chandigarh. He pointed out that it was well known that wheat procurement would be at its peak on 30th April.

"We expect to procure about 12.5 million tonnes of wheat this season. This year is a bumper crop," said B.S. Sidhu, Agriculture Commissioner. The Reserve Bank of India releases around Rs.20,000 crore to the Punjab government for procurement of wheat every year.