When we talk about the Indian agriculture industry, there is a belief that growth can only equal crisis. The Green Revolution brought about a technological breakthrough, leading to short duration high yielding varieties, chemical fertilizers and pesticides but critics blame it for lacking vision. Could they have predicted the consequences?

Recently, the Malwa region in Punjab was dubbed as the 'cancer belt' of India. The unusually high incidence of cancer cases has been linked to the excessive use of pesticides by cotton farmers. In its fifth National Report on Desertification, Land Degradation and Drought published in 2015, the government has conceded that land degradation is a major environmental concern for the country. It reveals that one-third of India's soil is degraded while 25 percent land is facing desertification which has affected its productivity and food security of millions across the country.

The solution is obvious: build a sustainable agribusiness. Six families in Noida have come together to show us the way. It all began in August 2015 when Nandini Diesh, a corporate lawyer who is also passionate about farming met Ramnish Tangri, a civil engineer and animal lover. Ramnish runs the Pashupati Gaushali in Greater Noida. "I started the Gaushala to rescue cows from the roads and give them shelter. These are our desi cows and you can recognize them with their hump and loose skin around the neck. It has been scientifically proven that when the sun's rays enter the hump, it adds certain special properties to the cow's milk, urine and dung," shares Ramnish.

He persuaded Nandini to start a cow-centric farming model inspired by Subhash Palekar, an Indian agriculturist. Together, they found the perfect piece of farmland in Khedi Bhanauta Village in Greater Noida. A match made in heaven as the owner of the land Vikrant Tongad is a green activist who works on several environmental issues like ground water degradation and rain water harvesting. "I've always believed that organic farming has great scope but there's a common notion that it does not offer high yield. Sikkim has transformed into an organic state and set an example. Why can't we? The use of pesticides and fertilizers increases the farmer's and the land's dependency on such chemicals and before you know it, you're are caught in a vicious circle. You don't want temporary gains at the cost of permanent damage. There is an urgent need to make people aware about the long-term benefits of natural farming and educate the farmers," he says. He offered cheap land, about 3000 square meters on lease for Rs. 12,000 per year, in the hope that this initiative will become a model for others.
The trio was joined by Software Engineer Dinesh Sharma, Vijay Bhasin who works for Newell Rubbermiad, IIT Delhi alumnus Rudra Mahapatra and entrepreneur Amit Rana - all residents of Noida's Jal Vayu Vihar. "I switched to organic staples many years ago but it was hard to find good quality organic vegetables. I always felt there was something missing in the food. This could be because stores that sell organic vegetables mostly use hybrid seeds. At our farm, we've been using the Desi Beej which produces more nutritious crop. If you buy spinach from the market it will dry out in a day, but the spinach that we grow has a longer shelf life and stays fresh and green for up to two days," says Dinesh Sharma.
These people have come from all walks of life to learn practical and hands-on gardening skills. Every member of the group visits the farm once a week along with their family and they do everything from composting to ploughing. They suggest using alternative farming methods, especially techniques borrowed from ancestral knowledge but supported by science.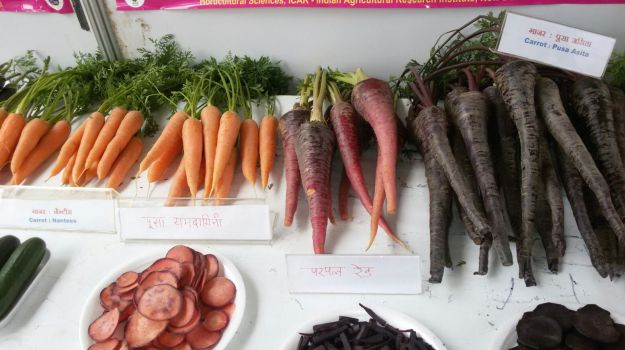 We've known that seasonal food is at its healthiest and so, nothing out of season is grown at this farm. The process starts with soaking the seeds in Beej Amrit, explains Ramnish, "The seeds are dipped in a liquid which is a mix of cow's urine, calcium and other elements. This increases the probability of germination to 95%. The desi beej can be used again unlike the hybrid or GM versions that can be only sowed once." Bought from Nimai Garden in Bangalore, these are heirloom seeds that will breed true. Simply put, they are created when pollination happens through natural mechanisms whereas for hybrid seeds the pollen of two different species or varieties is crossed by human intervention.
While most farmers will scatter the seeds across the field, at this farm the seeds are planted in squares of 1 meter each to enable rain water harvesting. "In order to conserve water, we also use a method called mulching. When the soil is exposed to the environment, the water starts evaporating due to the heat. To prevent this, we cover it with a layer of dried leaves which helps the soil to retain its moisture. Normally, you would have to water the field every 15 days but we do it only once a month," Dinesh adds. It's not just about sowing the seed but creating an entire ecosystem.
The fertilizers used to enrich the soil are made with locally sourced, indigenous ingredients. "Farmers usually stack cow dung and let it dry for 4 to 5 months before using it as manure. This causes most of the nitrogen, phosphorous and potassium to evaporate in the air. At our farm, we make the Ghan Jeev Amrit by adding gram flour and jaggery to cow's urine and dung along with a handful of soil from an old Banyan Tree. Lab reports conducted by us have shown that this contain three times more NPK than the manure that farmers use. We also use the Jeev Amrit which is a liquid fertilizer made by altering the proportions of cow dung and urine," Ramnish tells me about Permaculture, that entails developing a self-sustaining framework which is ecologically sound and economically viable.
Natural pesticides are sprayed according to the movement of the moon, during Pooranmasi and Amawasya, when pest activity is known to peak. The Neem Astra is made with cow's urine and neem leaves while the Agni Astra uses other ingredients like garlic, green chillies and Tobacco.
"Continuous use of chemical fertilizers and pesticides is robbing the strength of the crop which makes it more prone to disease. We let nature do its work and cultivate the soil for steady growth. The results may be slow initially but remember you'll reap long-lasting benefits in these challenging times." says Mr. Vikrant and Mr. Tangri agrees, "We want to train farmers to adopt such practices and go back to the basics. This will help in decreasing the looming burden of buying high-priced chemicals and at the same time restore the vitality of the soil."
The group produces enough to meet their own requirements and does not wish to put a price on it. But they aim to improve the way we eat, grow and garden. If you happen to visit the field, it is studded with masoor dal, cholia, peas and beans waiting to be picked. With the weather brightening up, they're looking forward to enjoy a bounty of summer vegetables like gourds, cucumber and pumpkin.

CommentsWho is growing your food? Where and How? It's about time you know the answers.