Winter Warmer: There's a Lot of Comfort in a Perfect Stew
Ellie Krieger, The Washington Post | Updated: July 12, 2017 13:15 IST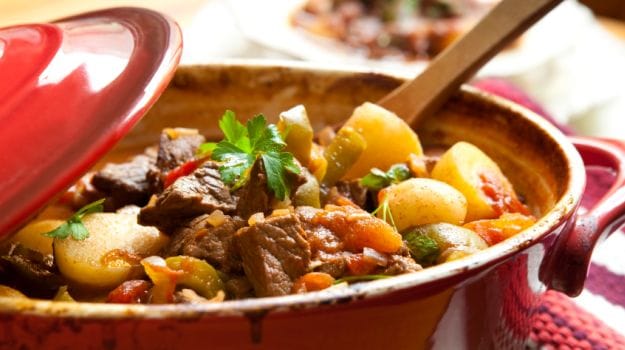 This savory, simmered beef stew is the very essence of comfort food: a homey, warm and filling one-pot meal that will satisfy the most ardent meat-and-potatoes person. But with all its traditional flavor and substance, the recipe takes the old-word dish in a fresher, more healthful direction by incorporating a bounty of vegetables.

Along with the usual potatoes, carrots and onions, the stew has chunks of sweet red peppers and green beans that add more color, flavor and nutrition to the pot. They also allow for a generous serving while keeping the portion of meat at a smart size.

First, the lean chunks of meat are cooked until tender with onion and garlic in a red-wine-and-beef broth that's infused with paprika and rosemary. The cooking liquid becomes deeply flavorful and thickens into a sumptuous gravy. The vegetables are added in two stages to ensure each is perfectly cooked: nicely softened yet still retaining its vibrant color and shape.

The result is a delicious and easy way to steer your eating toward the good-for-you zone - without stepping out of your comfort zone.

---

Beef and Many Vegetable Stew
4 servings
From nutritionist and cookbook author Ellie Krieger. Ingredients
1 1/4 pounds lean boneless chuck roast, trimmed and cut into 1/2-inch pieces
3/4 teaspoon salt, or more as needed
1/2 teaspoon freshly ground black pepper, or more as needed
2 tablespoons olive oil
1 large onion, coarsely chopped
3 cloves garlic, minced
2 tablespoons flour
1 tablespoon sweet paprika
1 cup dry red wine
1 1/2 cups no-salt-added beef broth
1 sprig rosemary
2 medium Yukon Gold potatoes (8 ounces total) unpeeled, cut into 1/2-inch chunks
2 medium carrots, cut into 1/4-inch pieces
1 medium red bell pepper, stemmed, seeded and cut into 1/2-inch pieces
8 ounces green beans, trimmed and cut into 1-inch pieces

Steps:

Season the pieces of boneless chuck roast with 1/4 teaspoon each of the salt and black pepper.

Heat the oil in a large, heavy pot, such as a Dutch oven, over medium-high heat. Once the oil shimmers, add the beef and cook for about 6 minutes, turning the pieces as needed so they're golden brown/lightly seared all over. Use tongs to transfer the meat to a plate.

Reduce the heat to medium; add the onion and stir to coat. Cook for about 5 minutes or until softened. Add the garlic, flour and paprika; cook, stirring, for about 30 seconds or until well incorporated. Add the wine and cook, stirring occasionally and using a wooden spoon to dislodge any browned bits from the bottom of the pot. The mixture should thicken in about a minute.

Add the broth and the rosemary, then return the browned meat to the pot. Once the liquid begins to bubble at the edges, reduce the heat to low; cover and cook for 45 minutes, stirring once or twice.

Stir in the potatoes, carrots, red bell pepper and the remaining 1/2 teaspoon of salt and 1/4 teaspoon of black pepper; cover and cook for 40 minutes, then add the green beans. Cover and cook for about 10 minutes more or until all the vegetables and the meat are fork-tender.

Taste, and add salt and/or pepper as needed. Discard the rosemary sprig before serving. Divide among wide, shallow bowls. Serve warm.

Nutrition | Per serving: 380 calories, 28 g protein, 28 g carbohydrates, 14 g fat, 5 g saturated fat, 85 mg cholesterol, 600 mg sodium, 5 g dietary fiber, 8 g sugar

© 2015 The Washington Post