Bollywood actor
Yami Gautam
is pretty busy nowadays. The diva has much to celebrate, with the stupendous success of her 2017 release Kaabil and many more amazing projects coming up this year. Yami, who is known for her pretty and delicate looks, is prepping for her role as a lawyer in the much-awaited Batti Gul Metre Chaalu and is seen working out in the beast mode every now and then. The movie also stars Shahid Kapoor and Shraddha Kapoor and has been much talked about recently. However, Yami is not letting all the work prep come in the way of fun and is relaxing and working in equal measure.
Yami Gautam is in Krabi, Thailand right now and is enjoying herself to the fullest with all the exploring and eating that she is getting to do. Yami has been keeping her Instagram followers and her fans updated on her trip with posts and snapshots on Instagram stories about the beautiful Thailand skies and seas. But what caught our attention was what was on her plate. Have a look! Also Read: Yami Gautam Enjoying Ice-Cream In Bangkok Is The Perfect Cure For Weekday Blues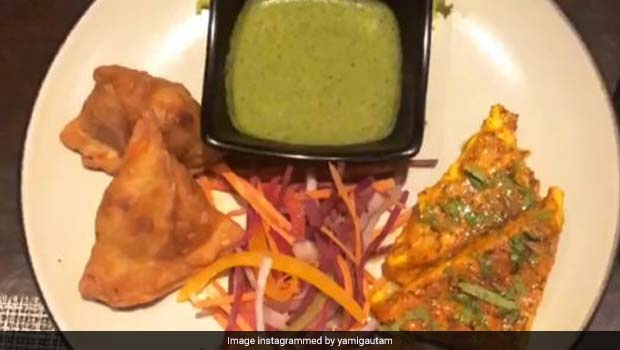 Yami posted a snapshot of some delicious-looking samosas along with what looked like mint and coriander chutney. We guess Yami was tired after all that street shopping that she did in town. Besides, who can say no to samosa, even if it's being served on foreign soils! Also Read: 10 Best Samosa Recipes
Krabi is famous for its little markets that are great for tasting local delicacies as well as fresh tropical fruits, and also enjoying street performances that include live music, dance and even fire stunts. Krabi is a haven for food lovers as its markets serve up a variety of street foods, seafood barbeque, ice-creams and desserts and even Indian food. So all you food lovers out there, you know which place to definitely visit on your next trip to Thailand, right?