Samosa Recipes- What would be the answer to your prayers in this sweltering heat? Untimely spells of shower, yes? They are the harbinger of the much awaited rains, nursing the otherwise tormented soul. When the sky turns breezy grey leaving behind its might and glow, you know it is going to shower some happiness onto you. One of the best ways to celebrate this shift in the season is to sit in your balcony with a cup of steaming chai or coffee, munch on those deep-fried tidbits and let the pitter-patter transport you to another world.


For those who think it's not the time for crispy friedbhajjis, pakoras or onion rings, we've got one of the most loved snacks of the nation that needs no introduction and certainly no special occasion to be served on to your plates - the samosa. The pride of North India, joyously embraced throughout the length and breadth of the country, samosa has been bringing smiles on millions of faces since time immemorial. The classic aloo-stuffed pastry is not only one of the most popular street snacks in the country but is enthusiastically prepared in many local kitchens as well. And that is why there is a dedicated day to this crunchy snack! Yes, September 5 is celebrated as World Samosa Day!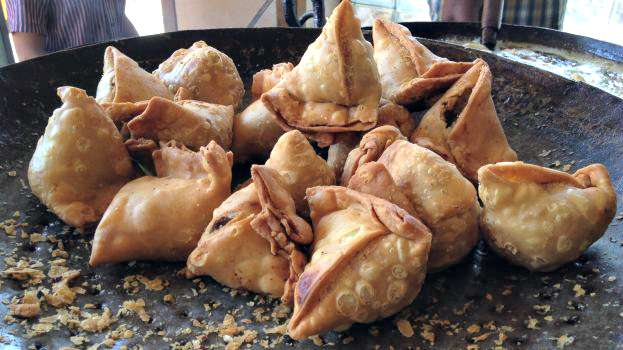 The entire process of making this parcel of delight is so captivating that you can't help but stare at it for minutes altogether. From the nearly-perfect flavourful masala without which the desi pastry would never make for its iconic status, the meticulous rolling of dough to stuffing it the right way and finally letting each pastry into a kadahi full of oil. The sight of samosa getting deep fried to perfection is most delightful to the eyes. And what more can we explain? For when fried samosas reach you - sitting beside tomato or coriander chutney -words fail you, senses are in a swoon and all you know is that you just can't wait for others to start or for 'it' to cool down considerably.
One of my fondest memories associated with samosas would be my mother's love for a locally made bite sized variant. Though I liked them little for my undying love for the bigger, aloo-stuffed ones, my mom would relish these tiny pastries stuffed with nothing but a mix of flavourful masalas sans potatoes. These tiny delights were so loved in my family (even among the distant relatives) that whenever we visited anyone and not carried these we would invariably face the rant, "Allahabad se ayein hai aur masala samosa kaise nahi laye?" (How can anyone from Allahabad not get us those samosas?).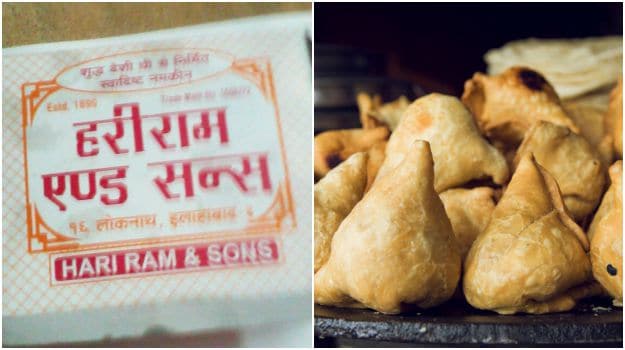 Hari Ram & Sons has been one of the oldest in local snack and sweet making business in Allahabad, they go back to being operational since the 1800's and are extremely popular for their tiny masala stuffed samosas. I would describe the masala quite similar to the one usually stuffed in kachoris.


Similar to Hari Ram & Sons of Allahabad every corner of the country boasts of small eateries or food stalls that do exciting versions of this popular delicacy. Purely, for the love of fried samosas, we bring to you 13 spectacular variants of this desi pastry. Replace aloo with ingredients of your choice, let loose the reigns of imagination and arrive at your own personal version of the well-loved samosa.


To begin with, allow us to inspire you a little with our best samosa recipes.
The classic samosa recipe with a twist of cottage cheese, baked to perfection. These samosas are a great alternative to the fried samosas.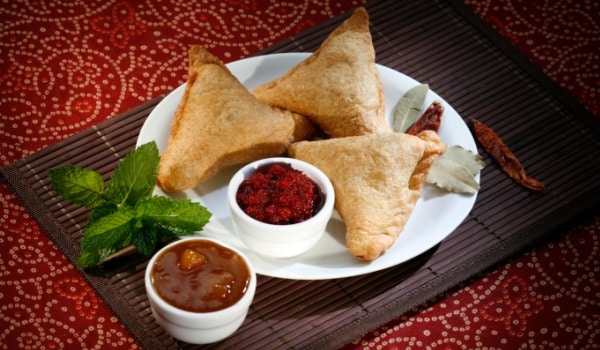 Samosa Recipes: Perfect snacking option along with a cup of hot tea.
Samosa made Gujarati style, stuffed with a mix of green peas and masalas. With just a few ingredients, this samosa recipe can be prepared within an hour. Flavourful, crisp and packed with tangy lime, salt and coriander leaves tossed with green peas.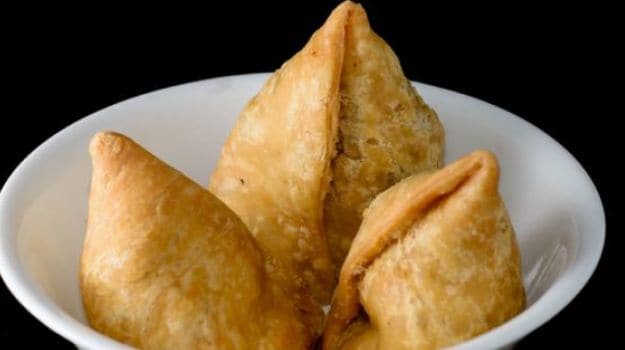 Samosa Recipes: Masaledaar green peas stuffed in crisp, fried samosa cones.
This one comes with a flavourful masala onion filling. This samosa recipe has a spicy yet ectremely delicious stuffing. Serve it with home-made chutneys and its a clear winner.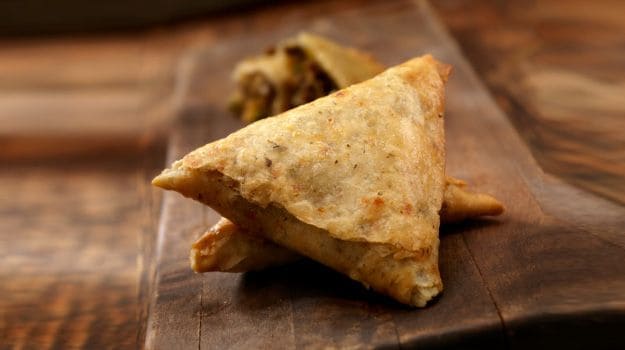 Samosa Recipes: Perfectly slices onion tossed with spices and stuffed in deep fried samosa cones.
A delicious mix of soaked moong dal with and subtle spices, stuffed in dough and deep fried. You cannot have a better snack option at home when unexpected guests arrive!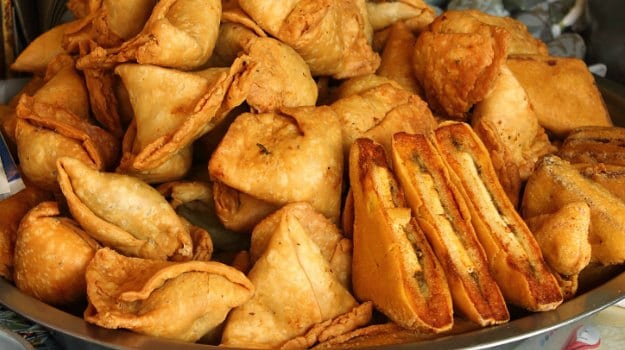 Samosa Recipes: Pair with your favourite chutney and you are all set.
For those who can't resist mushrooms. Stuff them in and fry away. Mushrooms replace the good old potato filling in this version of the samosa.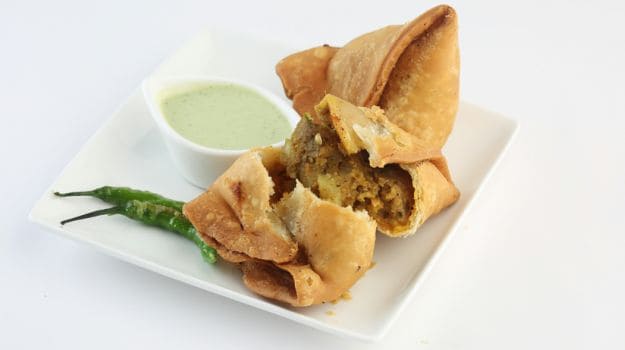 Samosa Recipes: All those mushroom lovers, here is our favourite snack recipe!
The best-loved, most celebrated recipe, simplified. Fill this basic samosa dough with anything spicy and delicious stuffing for a snacky treat!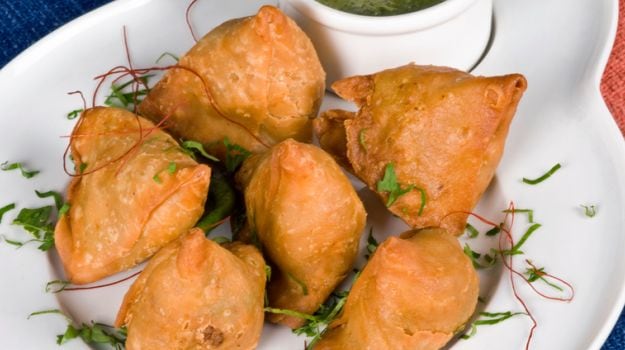 Samosa Recipes: The good old classic samosa pastry so you can fill your favourite stuffing to relish.
For those who love fusion cooking, skip potatoes and stuff in some noodles. These noodle samosas would absolutely be loved by kids.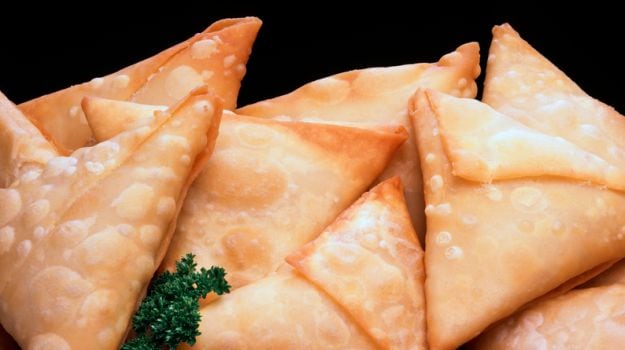 Samosa Recipes: Move over the classic samosas, here is noodle samosa stealing all the attention!
Pockets of dough stuffed a mouthwatering mixture, deep fried. This is our most loved classic samosa, so easy and fuss-free that you can simply dish up some hot and piping samosas along with a cup of hot tea when unexpected guests arrive.
Fasting or simply calorie conscious, these singhara atta samosas are as good as the classic version. This samosa recipe will serve you best when you crave anything crispy during this Navratri.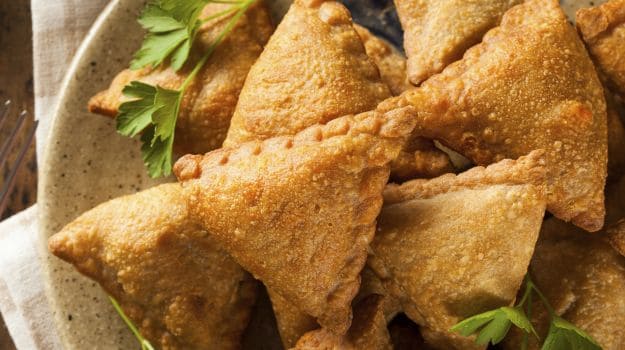 Samosa Recipes: Now you can feast on samosas while fasting.
For the love of meat, dough pockets stuffed with keema masala mixture, fried golden and served with a refreshing hung curd dip.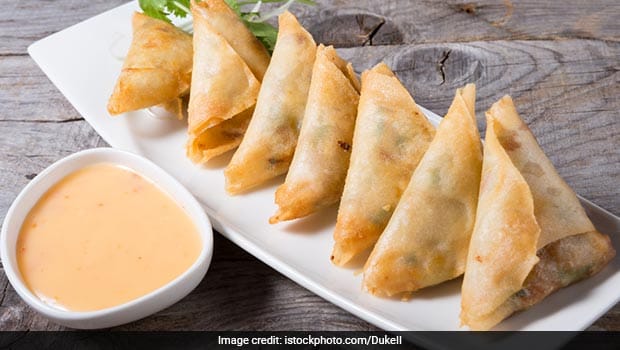 Samosa Recipes: A meat lovers delight!
The lighter version of the traditional oil laden samosas. Get your samosa cravings fulfilled without compromising on your health.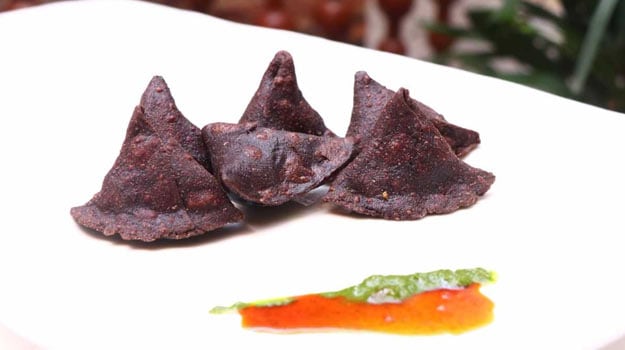 Samosa Recipes: This healthy, tea-time snack is perfect for your next party.
Ditch the fried samosas and bake this samosa at home packed with raw banana paste along with an array of spices. Quick, easy and absolutely delicious snack that won't make your regret relishing.


What if you could even have samosas for dessert? Yes, you can! Here's a delectable samosa recipe filled with melted chocolate and nuts, deep fried to perfect crisp. Serve at your next dinner party and watch your guests craving for more!


A sweet delight packed into your favourite snack!
These samosa recipes are sure to solve your evening hunger pangs, prepare at home and let us know your favourite one in the comments section below.