Indians and their love for biryani need no introduction. Widely consumed across the country, biryani finds unique variation in each region - Hyderabadi biryani being one such popular option for all. Aromatic rice, with juicy chunks of meat and lots of spices, this dish defines indulgence. But have you ever wondered whether it is healthy (or not)? Given that biryani contains rice, oil and red meat, people often consider it to be carb-rich and unhealthy. But let us tell you, it is not actually so. In fact, a study, published in the African Journal of Food Science and Technology, finds that a hearty plate of Hyderabadi biryani may be beneficial for your health.


Also Read: Love Biryani? Try These 5 Hyderabadi Biryani Recipes To Amp Up Your Dinner Table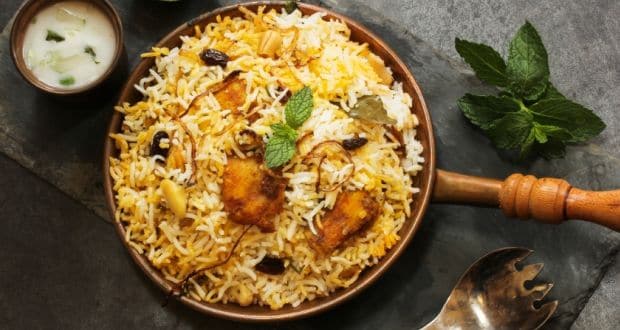 Health Benefits Of Hyderabadi Biryani | Is Biryani Good For Health?
As per the study, "World-famous Hyderabadi biryani is a rich and classic preparation from rice, vegetables, egg, meat and fish, along with different spices. Being a complete meal in itself it has high nutritional values and health benefits."


Let's take a look at some of the major benefits of Hyderabadi biryani.
1. Enriched With Antioxidants:
Biryani contains a wide range of spices - including turmeric, cumin, black pepper, ginger, garlic and saffron. Each of these spices is loaded with antioxidants, benefitting our internal organs.
2. Aids Digestion:
The turmeric and black pepper used in the preparation promotes digestion and prevent bloating. Ginger and cumin, on the other hand, work as natural antioxidants that detoxify the body, speeding up the activities of the digestion enzymes.
3. Prevents Inflammation.
Cumin and curcumin have anti-bacterial, anti-inflammatory, anti-tumour as well as antiviral properties, which makes them an all-in-one cleansing spice. Saffron also plays a major role in increasing liver enzymes and thereby detoxifying the body.
4. Vitamin-Enriched:
Onion, ginger and garlic not only make the dish appetising but also make it healthy. These foods are brimming with a good amount of allicin, sulfuric compounds, manganese, vitamins B6 and C, copper and selenium.
5. Boost Liver Health:
All the spices together help produce glutathione - also known as a liver antioxidant - in the body. This compound helps detoxify the internal organs and promote liver health.


Also Read: 5 Hyderabadi Salan Recipes That Are A Must-Have On Your Menu
Hyderabadi Biryani Recipe | How To Make Hyderabadi Biryani:
Now that we spoke about Hyderabadi biryani at length, how about making it at home for the next meal? We have found the easiest recipe for you.


All you need to do is layer half-boiled rice with fried onions, mint and cooked mutton, and seal it with dough. Then, slow-cook the food in 'dum' style. And finally, you will have delicious Hyderabadi biryani ready to be relished. Click here for the recipe.


While biryani is love for all, you must remember, moderation is the key!


Disclaimer: This content including advice provides generic information only. It is in no way a substitute for qualified medical opinion. Always consult a specialist or your own doctor for more information. NDTV does not claim responsibility for this information.